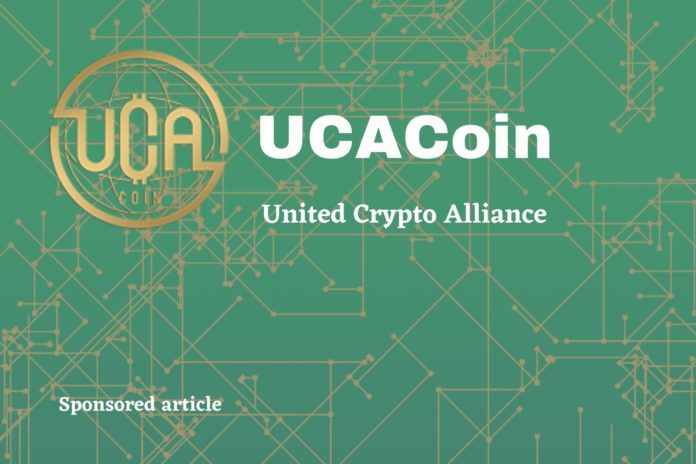 Ever since the inception of Bitcoin, the blockchain-based decentralized cryptocurrencies have come a long way. While we have made considerable progress on the technological front, we still have some work to do with mass adoption
Complexities of acquiring, holding, transferring, and selling have been the major blockade to mass adoption of crypto currencies. As well as, several security lapses with the crypto wallets make people think twice about holding their earnings in crypto assets.
You want the latest news about Crypto? Sign up to our weekly Newsletter!

The United Crypto Alliance (UCA) is now working on a large scale to push the use of decentralized cryptocurrencies in retail as well as corporate players. With its native cryptocurrency UCA coin – a decentralized payment coin – the alliance plans to have a stable-cryptocurrency with long-term success.
What makes UCA Coin special is that it has its alliance partners spread all across the world. Working with its alliance partners, UCA aims to bring a better and simpler understanding of crypto use for the mass.
Integrating the Entire Ecosystem With UCA Cards
Instead of going ahead with the conventional approach of having a cryptocurrency wallet, the developers of UCA Coin have launched their own UCA Card that makes crypto spending easy all across the globe.
UCA Card is available in several denominations. This is a good strategy to push the UCA Coin adoption by distributing more UCA Cards in the market. As the community will grow, the acceptance of UCA Coin will grow thereby increasing its price over a period of time.
The UCA Card is available in both – the digital and the physical versions. Besides, it can also be individually adapted to the needs and requirements of the UCA alliance partners.
All the revenue raised from the UCA Card Sales further goes back in the advertisement, distribution and stabilization of the UCA Coin thereby creating a robust infrastructure.
UCA Coin users can exchange their coins with other cryptocurrencies as well as fiat on a crypto exchange.
Financing the Clean Energy Project
The team behind the UCA Coin has also undertaken another noble cause in hand. The earnings generated from UCA Coins shall be used in financing the development and production of clean and renewable energy.
They plan to create a single supply system, that can supply electricity for retail as well as industrial needs. The project plans to make this renewable energy access simple and cost-effective.
A percentage of the profits generated from the clean energy project shall be invested in UCA Coin burning. The coin burning will further restrict the availability of UCA coins, which will increase its price.
For the coin burning process, UCA coins are bought from the exchanges and sent to a so-called burn address. This is a wallet address with no permanent access to its private key. As a result, these coins are permanently withdrawn from the market.
Further Line of Action and Exchange Listing
Being developed as a 'genuine payment coin', UCA Coin shall be tradeable on different exchanges. The goal of the team is to list the UCA Coin in at least one major exchange in the next two years.
Presently, the UCA Coin is already listed on three exchanges with a daily trading volume of nearly 100,000 USD. However, this facility is only available to a community of 16,000 people which are its first alliance partners.
After a proper exchange listing, the UCA Coin shall be immediately listed on a payment gateway used by nearly 2 million shops worldwide. However, it's up to the discretion of the shop owners to integrate the UCA Coin at their end.
The United Crypto Alliance is also working on ways to bring UCA Coin transactions at POS and ATM devices by joining hands with other established players in the market.
Below is the timeline for the further line of action for the UCA Coin project.
Q2/Q3 2020: In the next two quarters, the team will work on integrating the UCA Coins at ATMs and Point-of-Sale (PoS) devices.
United Crypto Alliance will work on developing its own masternode platform thereby creating a passive income source for masternode operators.
The UCA team is also working on developing its own exchange wherein investors can easily exchange ERC 20 tokens as well as fiat currency.
2021: UCA team has many other functions lined up for 2021 like expanding its footprint on a global map, generate profits and further invest them in new projects.
All further details regarding UCA Coins technical specifications, coin usage, coin distribution, and other things shall be available on its whitepaper.
Please follow and like us:
Related
source: https://cryptoshib.com/uca-coin-creating-crypto-ecosystem/
TheBitcoinNews.com is here for you 24/7 to keep you informed on everything crypto. Like what we do? Tip us some BAT

Send Tip now!