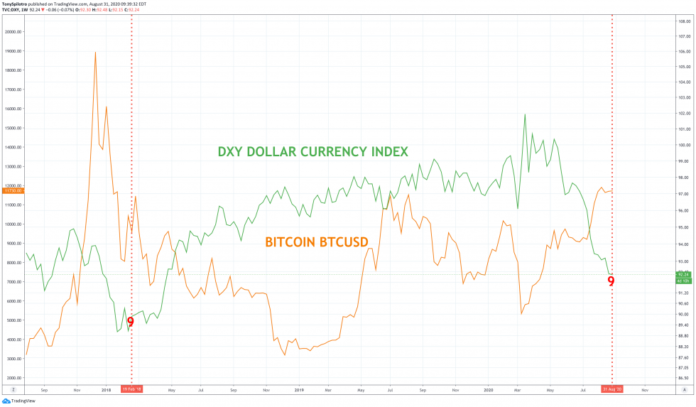 Both Bitcoin and altcoins have enjoyed a near-perfect environment for them to thrive, all based on the dollar's weakness and decline. It has allowed these digitally scarce assets to rise significantly in 2020.
However, a rare signal suggesting that the dollar will soon reverse could put an end to the recent crypto bull rally. Here's why.
The Dollar Isn't Dying, And A Day Of Reckoning May Be Coming For Crypto
Unless you're trading on a local regional exchange designed for just one country's residents, chances are just about every asset listed trades against the dollar. It's how the global reserve currency achieved its "almighty" status.
Because the dollar is tied to so many assets, almost all financial markets lie in the balance of the greenback. When the dollar is strong, equities tumble, precious metals lose their luster and crypto tanks.
RELATED READING | CHECK OUT BITCOIN AND GOLD'S "UNCANNY" CORRELATION DURING POWELL SPEECH
During the Black Thursday flight to cash, investors so feverishly selling off assets in exchange for dollars is what sent asst prices tumbling that day.
Since then, however, the dollar has been in steady decline, allowing gold to set a new all-time high, silver to spring up, and stocks to recover to new records. Bitcoin broke above $10,000, and the rest of the crypto market has been booming with shocking month-over-month ROI.
But could this money-making frenzy come to an end if the dollar reverses?
Historic DXY and Bitcoin Relationship Warns Of Potential V-Shaped Drop
Because all assets are tied to the dollar, when investors are in profit, it is cash they turn to secure any paper gains. This type of behavior proves that cash is still the undisputed king, despite a very real challenge from other currencies, like the Yuan, gold, or Bitcoin.
While the recent downtrend in the dollar could be a sign of the times changing, these changes will happen slowly over the course of the next several years.
And before that happens, there will be an epic fight to the finish. The most recent battle was won by Bitcoin, altcoins, gold, and silver, but the dollar is readying its revenge.
According to the TD Sequential indicator, among the most accurate reversal-calling tools in finance, the DXY Dollar Currency Index is signaling a weekly 9 buy setup. After a sequence of 9 successive candles leading to recent lows, it may indicate that the trend is exhausted and is close to turning around.
Since the trend has been down, this means the DXY could soon turn up. The DXY shows an inverse correlation with Bitcoin, meaning that when the dollar dives, the crypto market soars.
DXY Dollar Currency Index Versus BTCUSD Chart Comparison | Source: TradingView
This also could suggest that as the dollar rebounds, crypto is in for a reckoning. But given the circumstances and challenges the dollar is facing, a rebound rally isn't guaranteed despite what the highly accurate indicator may claim.
RELATED READING | MAD MONEY: WILL THE GREENBACK COMEBACK DERAIL BITCOIN'S RALLY?
If the 9 count fails and no reversal follows, the count will continue until the sequence reaches the number 13. Maybe then you can bet your lucky dollar on a reversal in the king of fiat.
Looking at past examples of the rare TD 9 buy signal on weekly DXY charts, the most recent example was a 9 signal on February 18, 2018.
This was just a week or so following Bitcoin's early bear market V-shaped drop. The DXY reversed so sharply, the 9 candle closed as a 1, indicating a new uptrend has begun and the count starts over.
BTCUSD Chart With DXY TD 9 Buy Signals | Source: TradingView
The rebound from that move took Bitcoin price to approximately $11,750 at the top of the wick. Bitcoin was moments ago just rejected from the same area.
Could this be the start of a new downtrend for Bitcoin and a stronger dollar for many weeks to come?
Featured Image from Deposit Photos.
Bitcoinist.com is author of this content, TheBitcoinNews.com is is not responsible for the content of external sites.
source: https://bitcoinist.com/what-a-rebounding-dollar-could-mean-for-bitcoin-and-altcoins/?utm_source=rss&utm_medium=rss&utm_campaign=what-a-rebounding-dollar-could-mean-for-bitcoin-and-altcoins
TheBitcoinNews.com is here for you 24/7 to keep you informed on everything crypto. Like what we do? Tip us some BAT

Send Tip now!