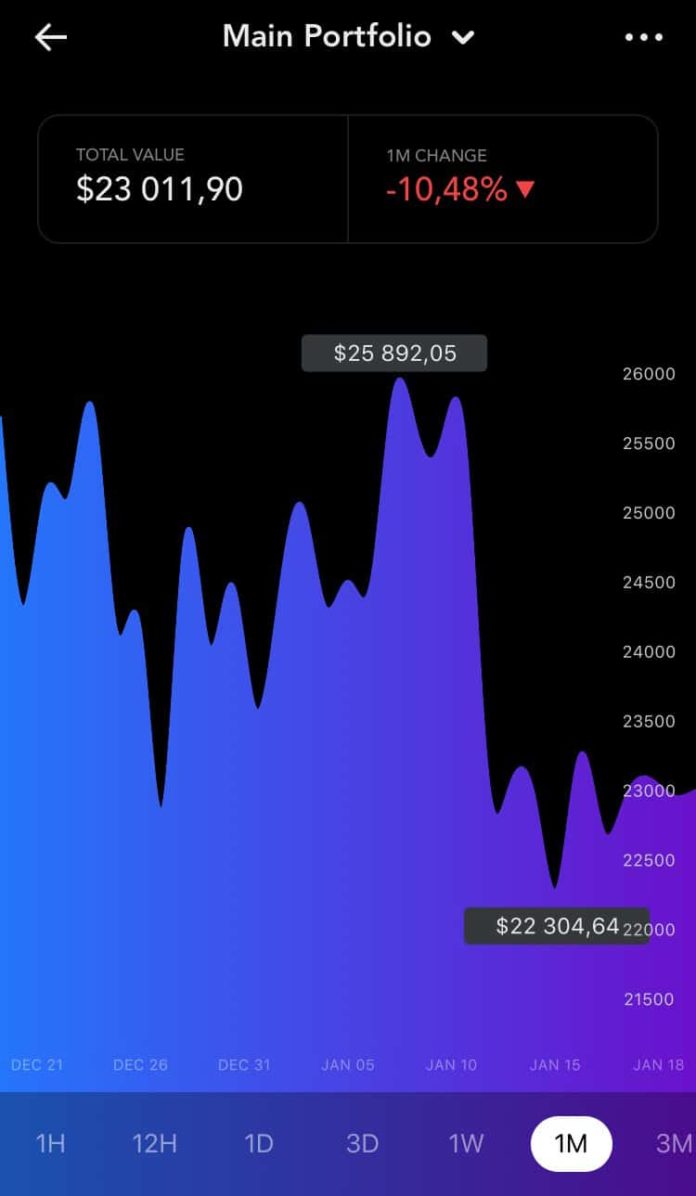 Advertisment

Blockfolio is a cryptocurrency portfolio tracking solution available on Android and iOS. The number of altcoins continues to grow and buyers, traders, and hodlers everywhere are finding it increasingly difficult to manage all of their investments. Many coins are spread across different exchanges and smart users are storing their coins offline in hardware wallets like the Trezor or Nano S. How is a crypto enthusiast supposed to manage all of this?
Portfolio tracking of course. A few solutions have popped up in recent years and Blockfolio has quickly gained a strong reputation in the space. To date, the company has attracted more than 4.5 million users and is showing good growth. Now in its fifth year of operation, the tracking app features information on over 6 000 coins and 240 cryptocurrency exchanges.
Features
Free & Private
The application is completely free to download and has no intruding adverts anywhere. This project is not a blockchain-based one which means that all data is stored centrally on a server somewhere. Fortunately, that's not a problem because it doesn't require you to register or pass on personal details of any kind. In a world where just about every other service is looking to record your personal info, this is a huge benefit.
Charting & Price Alerts
The charting application is pretty slick and allows a user to price cryptocurrencies according to a global average or a specific exchange if you tend to use one exchange in particular for your trading. As expected with these kinds of apps, you can also track your entire portfolio based on various timeframes.
Another neat feature is the price alerts. This is particularly useful for people with predefined targets who don't want to watch the charts all day long. Some exchanges or charting applications don't yet offer this. Whether you're a day-trader or a long-term investor, it helps to be notified only when you actually need to be.
Blockfolio Signal
Signal is a relatively new feature that brings token creators and holders together through the app. The novel idea behind Signal is to filter out a lot of the noise that can be found on other ICO channels like Telegram and Discord where the sheer number of users quickly overrun the platform.
Signal is a one-way push notification system allowing token holders to get relevant updates from their favorite projects as they update them. One-way is the key phrase here since searching through lines and pages of smileys, trolling, and junk text to find the relevant info can be a real pain.
Blockfolio has 300+ teams on the platform broadcasting over twice a week. Some of the projects who have already made the cut include the likes of Augur, Civic, Zcash, Ark, and Neo.
And More
News aggregator. A one-stop shop from all your favorite cryptocurrency news providers including CoinCentral!
Coin customizer. Make sure you're only tracking the coins relevant to your portfolio
A large amount of national currencies so you can track your portfolio in the currency you actually work with on a daily basis.
The Critics
Funding
According to a report out of Fortune, CEO Ed Moncada says that the app is not currently monetized although it has run three ads since 2015. He went on to say that the company turned down multiple potential advertisers, most of them from ICOs. This makes a lot of sense considering how many platforms lose users over bots, spam, and excessive advertising. It does, however, raise the question of how the company plans to make money.
Last year in October, Blockfolio received a hefty sum of $11.5 million of series A fundraising. This explains how the team can continue to develop its flagship product. The fundraising was led by Pantera Capital, a well-known hedge fund in the cryptocurrency space. Additional investors included the likes of Bitmex, Huobi, and DCM Ventures amongst others. Pantera's reputation should continue to give Blockfolio an extra level of credibility.
How Does it Plan to Make Money?
This leads many critics to believe that the only way to make money in the future may be from selling user data. The idea isn't a stretch given how much advertisers pay for this kind of data these days. Currently, that doesn't appear to be an issue since there's no way to tie a user's portfolio to the actual coins that they may hold. As long as users do not need to pass on personal information this shouldn't be a problem.
Competition
Blockfolio has an exceptional rating on the app stores garnering a score of 4.8 out of 5 for iOS and 4.7 out of a possible 5 for Android. As mentioned previously there are quite a few other competitors out there like Delta, CryptoCompare, and CoinTracking. Delta, however, is arguably the only one who comes close, at least in terms of user feedback.
Conclusion: Blockfolio
Blockfolio has possibly the sexiest interface of the major portfolio trackers out there. That may not be the most important element of any decent service but humans are visual beings and sleek interfaces certainly attract the masses. Fortunately, the application backs up that interface with good functionality by way of great charting, portfolio statistics, and price alerts to name a few.
The post What is Blockfolio: How Does the Cryptocurrency Portfolio Tracker Stack Up? appeared first on CoinCentral.
Coincentral.com is author of this content, TheBitcoinNews.com is is not responsible for the content of external sites.
source: https://coincentral.com/blockfolio/
TheBitcoinNews.com is here for you 24/7 to keep you informed on everything crypto. Like what we do? Tip us some BAT

Send Tip now!