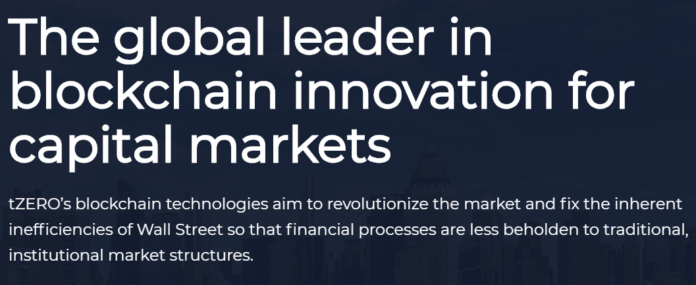 tZERO (TZRO) is a cryptocurrency launch and distributed ledger platform that provides an alternative trading system (ATS) for companies to raise capital outside of the traditional securities market. In other words, tZERO's developers hope to create an alternative to the stock market. The company's aim is to revolutionize Wall Street through the integration of new market structures.
tZERO isn't just some startup trying to find its way in the market; the company is a subsidiary of Overstock.com (NASDAQ:OSTK). tZERO is also one of the first SEC regulated cryptocurrency issuance and trading platforms in the US. The company filed an SEC form D at the beginning of the year. Form D filings permit companies to sell securities. In August, the company updated the Reg D filing to include security token protocols.
tZERO integrates regulations directly in the token creation protocol. They offer enterprise-level blockchain solutions including token issuance, management, and trading. This strategy saves businesses seeking to integrate blockchain technology huge amounts on research, development, and regulatory costs.
Speaking on the concept, Overstock's founder, Patrick Bryne called security tokens an "innovation of historic proportions." Bryne isn't the only executive excited about this platform. The company already received $270 million from Hong Kong-based GSR Capital this year. What made the deal even more lucrative for the firm was the commitment by GSR Capital to spend an additional $104.55 million for around 3.1 million shares in Overstock, plus, another $30 million on tZERO's ICO. In total, GSR Capital pledged $134 million to the development of the project.
How Does tZERO Work?
The tZERO platform utilizes cryptographically secure distributed ledgers to streamline existing market systems. The integration of blockchain technology creates increased auditability, transparency, and efficiency in traditional market processes. Additionally, blockchain integration reduces costs and transaction times.
Businesses can issue security tokens for fundraising purposes through the platform. Aside from security token offerings (STO), tZERO clients can create private blockchains on the company's network. This feature provides any business with the ability to offer blockchain services through the tZERO platform.
A Brief History
The tZERO project began in 2014. The project's original name was Medici, named after the 15th-century Italian banking family. Overstock created Medici as a cryptocurrency sales platform. The company intended to use the platform to sell cryptocurrencies directly. Another revenue generation strategy for Medici was to license the software out to other interested crypto retailers.
Meet Patrick Bryne
Patrick Bryne is the executive chairman of tZERO. This inventive character successfully built Overstock into a $1.8 billion dollar global marketplace.
Bryne is a long time crypto advocate. In 2012, he pushed for Overstock to become the first online retailer to accept Bitcoin payments. In 2015, Bryne again made crypto headlines after he became the first person to purchase a digital bond with blockchain technology using the Medici platform.
Breaking the Trade Barrier
In 2016, tZERO launched the world's first public crypto security called OSTKP. Speaking on the achievement, tZERO's executive chairman called the product the company's Chuck Yeager moment. Considering that this was the global introduction to real-time trade settlement, it's fitting to compare the moment to when Chuck Yeager first broke the sound barrier.
SAFEs
In December 2017, tZERO started selling simple agreements for future equities (SAFEs). SAFEs provide companies with an alternative means to raise capital outside the securities market. Cryptocurrency companies use SAFEs often. tZERO only sold this product to accredited investors.
The difference between accredited and non-accredited investors is that the later doesn't meet the SEC's minimum net worth requirements of $1 million. It was reported that investment interests were so high at the time that company succeeded in getting $100 million in financial commitments in the first 12 hours.
STO
On October 6, 2018, tZERO concluded their security token offering. The company raised $134 million from over 1,000 global investors. tZERO had hoped to raise $250 million at the event. Despite the shortcomings of the event, tZERO's CEO, Saum Noursalehi, called the moment an "exciting milestone for tZERO." On October 16, investors received their tZERO security tokens in their wallets.
Although investors had already received their tokens, all TZRO remain locked up until January 10, 2019. This 90-day delay is in accordance with federal securities law and regulations. They can trade, sell, or transfer their TZRO to a secondary platform only after the 90-day waiting period expires. The company will allow new investors to purchase tokens at this point as well.
tZERO also plans to develop an SEC-approved trading platform by August 6, 2019, according to a company press release. The goal of the platform is to add liquidity to the market by enabling participants to sell their tokens to non-accredited investors.
Where Can I Buy TZRO?
Unfortunately, you need to wait until the January 10, 2019 deadline to get your hands on some tZERO if you missed their STO event. The company plans to allow another round of accredited investors to participate in the event at that time. You don't need to worry if you happen to be a bit short on your $1 million dollar minimum net worth requirements. You can also buy tZERO directly from other investors at this time.
Where Can I Store TZRO?
tZERO is an ERC-20 compliant token. At this moment, all TZRO sits in custodial wallets per securities regulations. Users can store their tZERO in any ERC-20 compliant wallet after the designated 90-day waiting period expires.
TZRO
The company hasn't released any information regarding the total and circulating supply of TZRO yet. This information will become available in the coming weeks as part of the company's commitment to SEC regulations.
tZERO: Exclusive Distribution Approach
tZERO's selective approach to market distribution pushes the demand for their token higher. At the same time, tZERO seeks to be the gateway for new businesses trying to enter the security token space. The company definitely has the experience and financial backing to make some serious waves in the coming months. For now, you will need to wait until after the new year to get your hands on some tZEROs.
The post What Is tZERO? (And Why It Could Be a Big Deal) appeared first on CoinCentral.
Coincentral.com is author of this content, TheBitcoinNews.com is is not responsible for the content of external sites.
source: https://coincentral.com/what-is-tzero/
TheBitcoinNews.com is here for you 24/7 to keep you informed on everything crypto. Like what we do? Tip us some Satoshi with the exciting new Lightning Network Tippin.me tool!