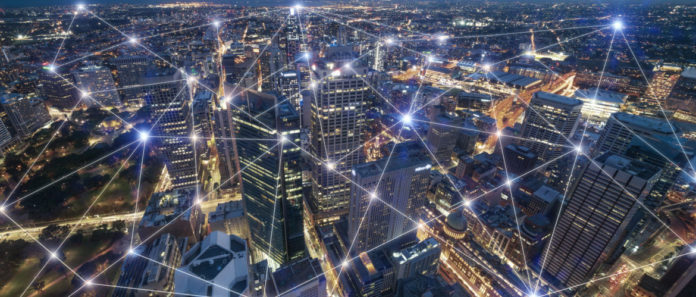 By Dirk Elsner and Christopher Grigo
Although the Internet is no longer for all new territory. However, many still find it difficult to imagine the potential of the network. In the future, not only computers and phones can connect to the Internet, but also all sorts of other technical devices. These not only communicate with each other (from machine to machine, so to speak), but can in the future pay each other for services.
Internet of Things

If you believe the Frankfurter Allgemeine Zeitung , then the " Internet of Things " (English "Internet of Things", abbreviated IoT) actually a old hat, because it is already 20 years old. IoT refers to the "intelligent" networking between objects both internally and externally via the Internet. Various objects, everyday objects or machines are equipped with processors and embedded sensors so that they are able to communicate with each other. If you believe experts, the Internet of Things will influence our work, our living together, transport, products and their manufacturing processes, services, society and politics. Nothing is left out, everything is networked.
Machine-To-Machine-Payment
An often-strained example is the networked refrigerator, which constantly checks the food and can independently reorder milk when needed. Combining the IoT technology with modern payment methods, so-called "machine-to-machine-payment". This is necessary when IoT networked devices trigger services and related payments without any human intervention.
What is IOTA?
IOTA
is a cryptocurrency that sees itself as a secure communication and payment medium for the Internet of Things (IoT). Instead of a classic blockchain, the system uses the so-called tangle,
which offers advantages in terms of scalability and speed.
Im Gegensatz zur Blockchain gibt es bei IOTA keine Miner und Blocks, sondern lediglich Transaktionen. Diese sind miteinander verbunden und jeder, der eine Transaktion absendet, nimmt am Konsens teil. Wenn eine neue Transaktion gebildet wird, müssen zwei vorhergegangene Transaktionen verifiziert werden. Bei der Blockchain handelt es sich um einzelne chronologische Stränge, die Block auf Block setzen. IOTA hingegen nutzt viele Stränge. Durch einen derartigen Prozess besteht die Möglichkeit, die verifizierten Transaktionen endlos weiterzuführen.
Die IOTA-Stiftung verfügt über umfangreiche Industriekooperationen. Unter anderem entwickelt die Stiftung gemeinsam mit der Deutschen Telekom, Fujitsu und Samsung einen sogenannten "Datenmarkt" auf Basis der in IOTA eingesetzten Technik.
In the past, both the IOTA project and the cryptocurrency itself were the subject of much criticism . This includes security holes .
Already a reality today are the cash-free shops of Amazon Go , where sensors register the goods packed in the shopping cart in the supermarket and trigger the payment process when leaving the store without a cashier. Another example: using machine-to-machine payment, a machine could buy the necessary preliminary products autonomously in the "Internet of Things" and then receive a corresponding credit note upon delivery of the finished product created by them.
Projects
Meanwhile, some industrial consortiums have formed. Here, founders, managers, global companies, and startups have come together to explore the possibilities with IoT- a. The CityxChange project funded by the EU is considering whether IOTA will be used to pay for sales and trade data streams in the future . These are block-based technology-based digital coins (also called tokens). The IOTA (Internet of Things Applications) token was developed with the goal in mindto allow autonomous payment between communicating machines. For example, it is conceivable in the future that electric vehicles charge the costs via IOTA directly via a secure, wireless IoT connection to the charging station during a charging process. Although IOTA is not yet free of deficiencies and criticism for autonomous micropayments and other methods , the activities show a new future of payment, which does not require a comprehensive payment processing infrastructure.
iota-news.com is author of this content, TheBitcoinNews.com is is not responsible for the content of external sites.