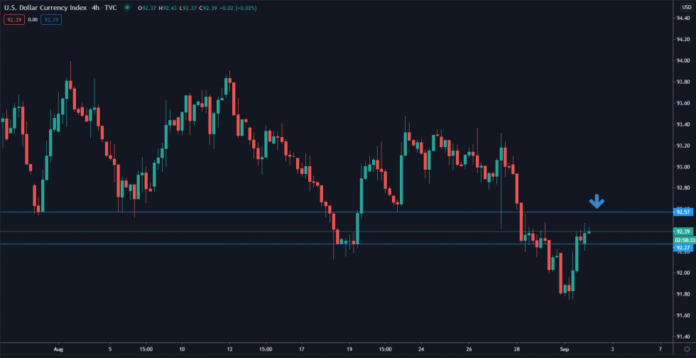 Bitcoin is looking to retest $11,760 as support, a cryptocurrency analyst recently shared.
He made these comments as BTC/USD showed signs of an extended downside correction a day after retesting $12,000 as a level of resistance. The pair was trading at $12,086 at the highs on Tuesday.
Nevertheless, a higher profit-taking behavior near the said intraday high sparked a downward move. A part of the correction sentiment also took cues from the US dollar index, which rebounded on Tuesday after crashing to its two-year low. Traders assume a stronger greenback as the sign of a weaker Bitcoin.
The analyst said something similar in his Wednesday Bitcoin analysis as he predicted a plunge towards the $11,700 level. He compared the cryptocurrency's downside sentiment with the dollar's move to the upside, noting that the greenback, too, is eyeing a breakout above an important technical level.
He then made a case that there exists an inverse correlation between the two assets. That said, a likelihood of DXY testing 92.57 for an extended breakout increased Bitcoin's risks of a deeper downside move below $11,760.
"To maintain our bullish course, I'd like to see BTC bouncing at [$11,760] and DXY rejecting at the arrow," the analyst tweeted. "I'll reduce crypto exposure to less than half if both of those demands aren't met."
The Fundamentals
The dollar recovered on Tuesday due to two factors. First, traders are looking to buy the greenback at its cheapest levels in the last two years. Second, they are optimistic about it after US manufacturing August data showed expansion at its fastest rate since later 2018.
This optimism reduced demand for safe-haven and scarce assets. Bitcoin, which is often touted as the digital iteration of gold, fell as the US dollar rose. Meanwhile, the real spot gold also reported intraday losses.
"The report confirms that the US economic recovery is real," said Naeem Aslam, chief market analyst at Ava Trade, "and hence we experienced a bounce in the dollar index. Speculators have been selling the dollar like there was a death sentence issued for the dollar index by the Fed. The mighty dollar has come back."
Bitcoin has soared by about 65 percent this year and reached a year-to-date high near $12,500 in August amid a massive stimulus drive across the leading economies aimed at helping the markets through the COVID-19 pandemic.
What's Next for Bitcoin?
Technical levels aside, Bitcoin strives to maintain its bullish bias over fears of a second wave of COVID-19 infections. The pandemic appears far from over, which may put further pressure on the global economy. If that happens, central banks will have no choice but to expand their quantitative easing programs.
As a result, the U.S. dollar's decline would most likely continue.
"It would appear that QE cannot be reversed without cratering the financial markets it is intended to support," said New York-based Greyscale Investments in its August report, adding that it would raise bids for safe-havens like gold and Bitcoin.
Bitcoin was trading at $11,893 at the time of this writing, down 0.26 percent so far into this Wednesday.
Bitcoinist.com is author of this content, TheBitcoinNews.com is is not responsible for the content of external sites.