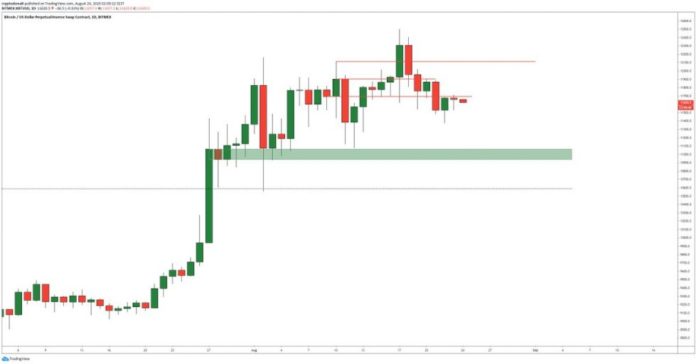 Bitcoin is starting to gain some slight momentum as the cryptocurrency's price climbs up towards $11,800
This marks a notable surge from recent lows of $11,400 that were set just a few days ago, and it does appear that the crypto is poised to see further upside
One factor boosting BTC's outlook is Ethereum's intense swing up to highs of $410
In the past, Ethereum has front-run movement seen by Bitcoin and the rest of the crypto market
If this trend persists in the near-term, this latest ETH rally could mean BTC will soon rally past $12,000
Bitcoin is showing some slight signs of strength today as its price pushes towards $12,000, with this momentum coming about following a prolonged period of weakness.
This strength also came about close on the heels by the movement seen by Ethereum that sent it from lows of $388 to highs of nearly $410.
It's possible that BTC will mirror this move and continue pushing higher in the near-term.
That being said, one analyst is noting that he is still expecting Bitcoin to reel towards $11,000 in the near-term.
Bitcoin Climbs Towards $12,000 as Market Rebounds 
Following a prolonged period of trading around $11,600, Bitcoin is finally starting to gain some slight momentum that has allowed its price to rally higher.
At the time of writing, Bitcoin is trading up just under 2% at its current price of $11,800.
This latest push higher has led the crypto one step closer to its key $12,000 resistance, but it has yet to test this level following the recent break beneath it.
In the near-term, one factor to closely watch is how Ethereum reacts to the momentum it incurred overnight.
This momentum allowed it to climb from under $390 to nearly $410, and it has yet to post any clear rejection at these highs.
Because ETH has recently been guiding the market, it is possible that Bitcoin will soon follow in its tracks and break above $12,000.
Analyst: BTC Still Needs to Test $11,000 Before Climbing Significantly Higher 
One analyst believes that Bitcoin will continue struggling to garner clear momentum so long as it fails to tap its key near-term liquidity region at $11,000.
He doesn't expect a break above $12,000 until this level is tapped.
"BTC update: Still pretty clean, price keeps retesting resistance on the way down. Once one of these actually gets broken I think there is a good chance $12100 gets tested again, I wouldn't bet on that happening though. $11000 remains the main draw in my opinion."
Image Courtesy of DonAlt. Chart via TradingView.
The coming day should offer significant insight into the long-term significance of Bitcoin's ongoing push higher.
Featured image from Unsplash.
Charts and pricing data from TradingView.
Bitcoinist.com is author of this content, TheBitcoinNews.com is is not responsible for the content of external sites.