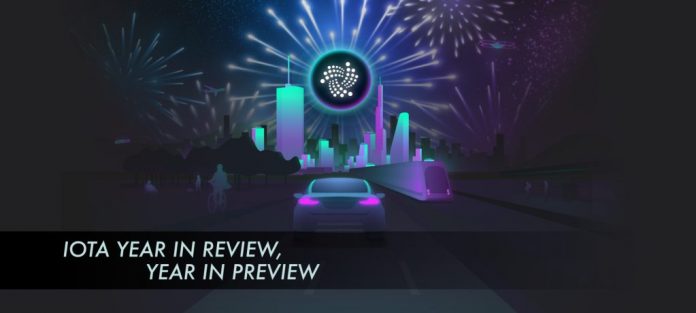 Advertisment

2018 kicked off in the midst of a crypto craze reminiscent of the dotCom one almost 2 decades ago; the grand promise and vast potential of distributed ledger technology had finally started to reach the mainstream and everyone wanted in. During such bull-fear-of-missing-out periods, focus gets blurred and details get lost on many. At the IOTA Foundation, we decided to keep on track and focus our resources on growing the team into a solid one that would prevail during the inevitable upcoming bubble bursting. We are incredibly proud of the extraordinary talent acquisition we achieved over the last year, building an almost 100 man and woman army of researchers, developers, domain experts and ecosystem building enthusiasts.
For us, the chief focus of this year was to put in place the foundation of the Foundation and the vital building blocks of the technology itself, to ensure the long-term success of IOTA and its vision. Stabilizing the core client and improving the overall ecosystem around it has also been a high priority, which anyone who has used IOTA in the last year has undoubtedly noticed.
Naturally, as IOTA's end goal is to become a true standardized decentralized immutable ledger we have also put significant resources into Coordicide. Throughout 2018 we have validated aspects of our earlier roadmap and come up with great improvements, but also started researching a potential breakthrough that if validated, would greatly accelerate the performance of Coo-less IOTA.
Keeping in the spirit of adoption, we have also focused a lot on growing the ecosystem, both in terms of the IOTA community through meetups, events, and the Ecosystem Development Fund, but also by continuing to mature our relation with the industries we deem necessary to conquer for IOTA's success.
Here is a small non-exhaustive snapshot refresher of some of the exciting developments of IOTA that took place in the past year:
Summit of the IOTA Foundation
This July we had a great summit of most members of the IOTA Foundation team (though we have added A LOT more people since then), which was a great experience to bond and enable teams to align more efficiently.
Social Impact and Government Regulations
The IOTA Foundation officially signed an MOU with UNOPS. Through this collaboration, the IOTA Team will work with different units at UNOPS to increase transparency and efficiency, as well as safety and security for UN workers who are out on the field on a mission.
Attended 40+ events with major international and local government and NGO entities to explore and discuss the potential impact of DLT.
Smart City
The IOTA and European Smart City Consortium +CityXChange received a green light from the EU Commission. The European Commission, under the Horizon2020 program, has officially approved the +CityxChange consortium. The consortium has received a total of 20 Million Euros in funding, with an additional 10 Million of in-kind contributions. Under the leadership of the Norwegian University of Science and Technology (NTNU), seven cities will develop and test new data-sharing and DLT-based solutions together with an impressive list of 11 large enterprises, 9 SMEs, 3 non-for-profit organizations and 2 universities.
The ENGIE Lab CRIGEN and the IOTA Foundation (IOTA) signed a Memorandum of Understanding to cooperate in experimentation with the IOTA Tangle in the Energy and related IoT domains. Together we will explore and test the possible use of IOTA in improving ENGIE's business processes/products- and services applicable to Energy and adjacent areas such as smart cities, smart buildings, and mobility.
IOTA engaged in a one-week design sprint with Audi Denkwerkstatt — which is Audi's Think Tank — in Berlin to explore Tangle-based use cases, build a low-level prototype and to gather customer feedback. The aim is to establish business models independently or in cooperation with others.
IOTA's Tangle now powers IAMPASS biometric palm vein authentication for digital identity. With the unique, yet simple, act of a palm vein scan, IAMPASS facilitates immutable audit trails for high-security environments, as well as a cost-saving way to generate easy user access. The novel technology powered by the IOTA Tangle is a key component in the ongoing development of Smart Cities across the globe.
HIGH MOBILITY and the IOTA Foundation signed a Memorandum of Understanding to collaborate on the integration of IOTA content, blueprints and tutorials into HIGH MOBILITY's connected car developer platform.
ElaadNL released the first charging station in the world where charging and paying can be done with IOTA, in a machine 2 machine way. The charger is part of the new ElaadNL test site.
Financial Services
IOTA signed an MOU with SinoPac, one of the largest financial institutions in Taiwan. Under this mandate, SinoPac will develop a new notary certification solution called "iCertificate", as well as other products for the financial sector.
The largest bank in Scandinavia, DNB, has teamed up with IOTA to work on new financial use cases. At the heart of this collaboration is a focus on MyData and the Data Marketplace set up by the IOTA Foundation. Over the coming weeks, the teams will work on a use case which will be made accessible to the public.
Industry 4.0/Supply Chain & Global Trade
IOTA announced a new partnership with [email protected] to standardize and simplify communication used across connected devices in the Internet of Things (IoT). In many ways, this development represents the focus of IOTA to decouple from the typical 'crypto' umbrella and to spearhead the cementing of DLT as a standard tech stack for IoT.
IOTA Foundation and RIDDLE&CODE announced their agreement to create a fully trusted path from sensor to Distributed Ledger by integrating their respective technologies. This collaboration enables autonomous machine-to-machine transactions using the IOTA Tangle.
Technological progress
We introduced the beta release of the Trinity Desktop wallet. The mobile wallet design has been optimized for desktop with some neat additions while maintaining a familiar flow.
We also introduced an IOTA Hub built on a unique architecture that was designed with the IoT environment of the future in mind. This unique architecture has made it more challenging for service providers like exchanges to integrate IOTA compared to traditional blockchains.
We also made some significant changes to the JavaScript library. The goal was to make the library easier to maintain and make the codebase more developer-friendly. So that not only us, but anyone from our community can easily make changes and add new code.
The Qubic Team at IOTA has been developing the concept of Quorum-Based Computations (QBCs) on the IOTA Tangle. The Qubic Protocol intends to establish a global decentralized platform for new trustless applications, allowing for new economic models, and enabling the broad landscape of Industry 4.0 and Web 3.0.
IOTA integrated with Ledger for secure storage and user access. IOTA token holders can now isolate their tokens from their computer or smartphone. Through a state-of-the-art secure chip, users can protect their private keys and safely store and transfer funds with the cutting edge Ledger hardware wallets
A new lightweight trinary cryptographic hash function (Troika) was developed by the great team of CYBERCRYPT A/S, a world leading system provider in robust cryptography and cybersecurity.
IOTA Ecosystem Development
The IOTA Foundation established the legal framework and internal governance model for the IOTA Ecosystem Development Fund (EDF), designed to foster a vibrant ecosystem of community development around the IOTA core protocol. We released three cohorts of grantees, that have been awarded by the fund and many more in the future.
The IOTA Foundation announced the formation of a Research Council to provide invaluable inputs to the research strategy and will consist of distinguished academics within their expertise areas. The ethos behind this initiative is to scale research into the various domains of the IOTA project with external researchers.
IOTA held the Perfect Brainstorm where business people, developers, and visionaries teamed up to create use cases for real-world implementation. The community came through with brilliant well thought out concepts and ideas that will undoubtedly boost IOTA's ecosystem development significantly in 2019.
IOTA got a new official podcast, Untangled, which will be released every other week and explore the many different use cases of the Tangle in the real world in a tangible way for real people. Through interviews with community members, developers, experts, business executives and IF members the podcast will offer a number of different perspectives about topics which will differ between episodes.
Suffice to say, 2018 was a very busy year. The community and Foundation have grown a lot since 2017, and I want to highlight just how many greatly talented and dedicated people that are currently working on IOTA. Throughout 2018 virtually everyone has been working at maximum capacity and regularly work late until the A.M. We can definitely say that IOTA has one of the most dedicated teams in the crypto-sphere.
Year in preview
2018 was a very interesting year overall for the broader DLT community, "ICO projects" came and burst in a similar fashion to the firework that painted the evening sky tonight. While the mass death of barely-alive-in-the-first-place projects causes some uncertainty and skepticism among the newcomers, it is something veterans and pioneers of this space have been longing for. In order for DLT to become established, we need quality over quantity, we need convergence on standards and consolidation of communities to bring to life what we've been working on for years. With less noise, 2019 will act as a Darwinian selection mechanism, much like that of which the IT companies post-dotCom Bubble experienced. This is a good thing and absolutely necessary for the real maturation of the space.
While IOTA is only officially 3 years old, and the IOTA Foundation barely 1 year old, the project is well positioned going into this new era. While the lion share of 2018 was focused on bootstrapping and creating a solid fundament, 2019 will be focused on scaling the overall project and reaching production readiness. A consequence of this hyperfocus on strengthening the fundamentals of IOTA was that core development became somewhat isolated in the Foundation. This is something that will radically change in 2019. IOTA was always meant to be, have always been and will always be an open source grassroots project. The Foundation already has plans in place to make community engagement on development, research and adoption a lot more interactive and open in the new year, starting almost immediately.
Although we live in an ever increasingly fast-paced world, it is important to remember that big ambitions take time to materialize. The IOTA Foundation has already been working for over a year on some of the most significant developments of the IOTA ecosystem that will be realized in 2019.
We want to thank all of our collaborators, community members, and enthusiasts for the continued support and look forward to an even more exciting year ahead for us all. Happy new years!
For the latest Bitcoin News, join our Telegram! 
iota-news.com is author of this content, TheBitcoinNews.com is is not responsible for the content of external sites.