In the wake of Monero's recent adoption by the Alphabay and Oasis Darknet markets and the subsequent price explosion, Monero is undeniably the market's preferred choice of "anon coin," or anonymity-focused cryptocurrency: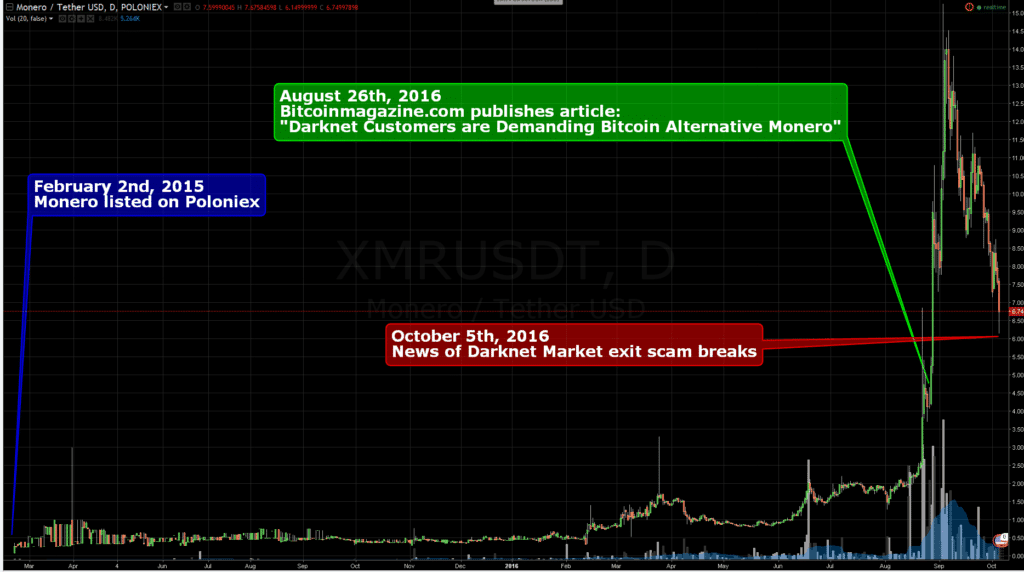 TradingView Monero (market symbol: XMR) chart, priced in US Dollar(-pegged crypto, Tether). Note that (inside) traders were buying XMR before news of its DNM adoption became known and selling it before the exit scam became known… XMR is perfect for insider trading.
99 Bitcoins previously recommended Monero as a reliable option for obscuring the trail of your Bitcoin spending and we stand by that. If you're thinking of getting involved in Monero, this guide covers the coin's history, features and future prospects in detail. Later sections are dedicated to the practicalities of trading and mining Monero.
A Quick Comparison of Bitcoin and Monero
Monero's slow rise to the top
Following its launch in April 2014, Monero has progressed, slowly and steadily (for most of its history), to claim its place among the major cryptocurrencies:
Read more ... source: TheBitcoinNews

News from Darknet