By Thom Lachenmann
There are only a limited number of ways to get exposure to Bitcoin on the public markets right now. Until the Winklevoss twins are able to launch their COIN exchange traded fund, options are limited for investors who want access to Bitcoin.
One of those methods to gain exposure to Bitcoin is to buy Greyscale Bitcoin Investment Trust (OTCQX:GBTC). GBTC "is a private, open-ended trust that is invested exclusively in bitcoin and derives its value solely from the price of Bitcoin. It enables investors to gain exposure to the price movement of bitcoin without the challenge of buying, storing, and safekeeping Bitcoins. The BIT's sponsor is Grayscale Investments, a wholly-owned subsidiary of Digital Currency Group."
One GBTC share is about 0.094 Bitcoin right now.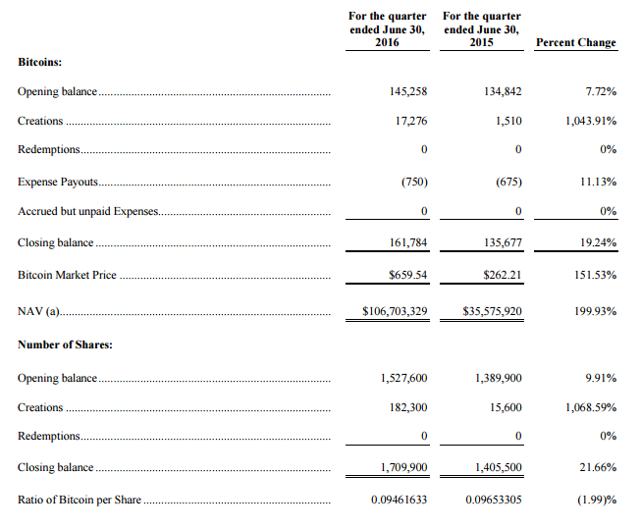 Click to enlarge
But the problem with buying GBTC is that because it is one of the only ways to get exposure to Bitcoin on the public market, it is priced at a premium to NAV. Right now, at $93, it trades at a premium to NAV.

Click to enlarge
If you take 161,784 Bitcoin that the trust holds and multiply by about $580, the most recent price of Bitcoin, you get $93,834,720 for the total value of the trust. Divide that by 1,709,900 shares outstanding and you get $54.87.
GBTC currently trades at about $93, or almost a 73% premium to NAV.
With the retail investor now having far more access to mediums like Coinbase and other Bitcoin wallets that'll allow individuals to buy Bitcoin directly, investors should not feel the need to rush into GBTC right now at this premium.
In our last article about Bitcoin, we recommended having exposure to Bitcoin over multiple platforms. We actually currently own GBTC right now, but we bought it at a point where it was trading a lot closer to NAV. If it comes down toward NAV, we think GBTC would be one of the few good ways to get exposure to the digital currency.
For right now, investors that want exposure to bitcoin should focus on methods of buying actual Bitcoin and setting themselves up with Bitcoin wallets. Going forward, investors will likely have more than one tradable financial asset to consider on the public markets, but for right now only GBTC is available. For now, we recommend getting your exposure to Bitcoin through other means until GBTC returns closer to its net asset value.
Much information for this article was sourced from GBTC's latest 10-Q – worth a read if you're interested in potentially investing.