Start the conversation
Seeing growing use over the next several years, a new Needham Co. Bitcoin price prediction estimates the digital currency's present value at $655.
That's not far from the present value of $604 that fellow investment firm Wedbush Securities came up with in a similar Bitcoin price prediction analysis last fall.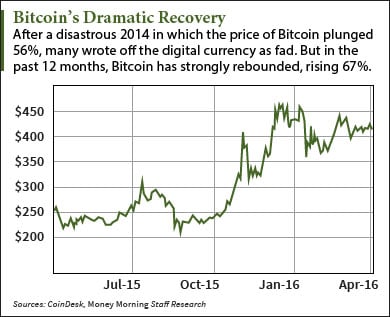 Both are substantially higher (45% and 57%) than the Bitcoin price today of about $417.
Notoriously volatile, the Bitcoin price rocketed 8,500% in 2013, then fell 87%. And in the past year, the price of Bitcoin is up 67%.
But the digital currency refuses to go away.
That two respected Wall Street firms are devoting resources to Bitcoin price analysis speaks to how far the cryptocurrency has come in just a few short years. Once derided as a tool for criminals and anarchists, Bitcoin is now taken very seriously by the financial community.
That's because the world's big banks and financial institutions realize that Bitcoin and the technology that underpins it, the blockchain, have the potential to completely
Read more ... source: TheBitcoinNews

News from Darknet