Jeff Garzik has spent the past several months pitching investors on a pretty out-there startup idea. He proposed building computer servers attached to satellites, loading them with data about everyday bitcoin transactions, and then launching those satellites into space. As one of the core developers of the virtual currency, Garzik was able to attract the attention of venture capitalists, who have been eager to throw cash at all sorts of bitcoin startups this year. However, the fundraising efforts failed.
On Oct. 13, Garzik sent an e-mail to customers and partners, saying he'd decided to place his startup, Dunvegan Space Systems, in a "deep freeze." The company was "nowhere close to the necessary fundraising target," so it halted all "space-related marketing and operations," Garzik wrote. "Let's look forward to the time when DSS is un-frozen, and we're getting back to lofting satellites and drones into space."
A chill in bitcoin-related investments is not just affecting bizarre satellite-launching ventures. After an aggressive start to 2015 that entailed venture capitalists kicking $373 million into bitcoin startups in the first half of the year, growth slowed substantially in the third quarter, according to data from researcher CoinDesk. The $85 million in investments last quarter represents a relatively modest growth rate of 15 percent from a year earlier and a 41 percent drop from the previous quarter.
On Nov. 2, dozens of the most influential contributors to bitcoin's development will convene virtually on Bitcoin.com's Web forums as part of an event designed to answer questions about the digital currency's future. They'll have much to discuss.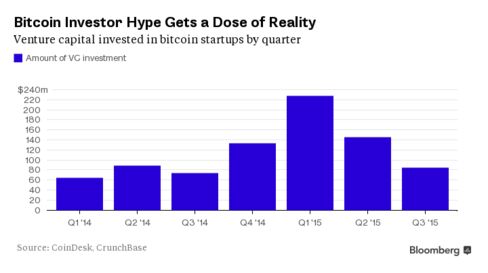 The total amount of venture capital invested in bitcoin companies is expected to surpass $1 billion by the end of October, according to Barry Silbert, a bitcoin bull and co-founder of SecondMarket, which is being acquired by Nasdaq. But the next milestone may come slower as investors tread cautiously. "It is natural that VCs are waiting to see whether their previous investments have panned out before increasing investment," said Gil Luria, an analyst at Wedbush Securities.
Some of the early bets have not panned out. Buttercoin, a bitcoin marketplace that went through Y Combinator's tech incubator, closed its doors this year, along with several other startups, while many survivors have merged so they can continue operating. BitPay, a bitcoin payment processor backed by Founders Fund and other venture firms, cut staff in September, affecting nearly 30 employees and contractors. "We have decided to restructure our workforce to better align ourselves with the pace of growth of the wider bitcoin economy," Stephen Pair, BitPay chief executive officer, wrote in an e-mailed statement.
Bitcoin believers can be found among some of the highest-profile venture capitalists. Adam Draper's Boost VC has invested in numerous bitcoin startups, and his father, Tim, has promoted the digital currency as the future of money. "Our Bitcoin companies are rocking, and there are lots of buyers and not many sellers of bitcoin out there," said Tim Draper, a founding partner of Draper Fisher Jurvetson. "The transformation is here."
Andreessen Horowitz backed 21, which makes bitcoin computers. Bloomberg LP is an investor in Andreessen Horowitz. The firm declined to comment about its investments in bitcoin, and Adam Draper didn't respond to requests for comment.
A big source of the hard times for bitcoin startups is bitcoin itself. The price of the digital currency has declined 9.5 percent since the beginning of this year. Bitcoin Investment Trust, a publicly traded bitcoin fund created by Silbert, is down 35 percent since it listed in May. The hype has died down at online stores as well. After seeing huge growth in bitcoin sales last year, Web retailer Overstock.com said bitcoin transactions account for about 0.02 percent of sales this year, which is half of what they were in 2014.
Investors are now more interested in bitcoin's underlying technology, called the blockchain. It's a mechanism for quickly and accurately recording transactions in an online ledger, and it could have important applications in banking and e-commerce to facilitate faster bank transfers or international transactions. On Oct. 14, bitcoin startup Bitreserve changed its name to Uphold and switched its focus to letting people transact in any form of money or commodity they choose, using the blockchain. "There's a lot of pivoting of companies saying we want to build things for companies on the blockchain," said Michael Terpin, an investor in bitcoin who is backing more startups this year than he did in 2014.
Terpin's faith hasn't wavered, and he said a slowdown isn't cause for alarm. "The rate of growth is slowing, and that's not a surprise," Terpin said. "For the most part, we are seeing a mild hiccup." He compared bitcoin to the dot-com bubble but said we aren't on the verge of bursting, at least not yet. "Nothing goes up forever," Terpin said. "I don't think we are in a 2001 crash moment in bitcoin. We are in the 1997 inflection point."
Garzik is similarly committed to bitcoin. His satellite project has a potential customer who may place an $18 million order in March 2016, which could revive the company. In the meantime, Garzik is working on a new startup called Bloq, which is exploring ways for "professionalizing the entire bitcoin ecosystem." He described it as "a more—ahem—down-to-earth bitcoin company."