Start the conversation
The Bitcoin price is up 12% in the month of April and has more than doubled over the past 12 months.
As of midday today (Tuesday), the CoinDesk Bitcoin Price Index was hovering around $467. As recently as January, the price of Bitcoin was as low as $358.77. And one year ago today, the Bitcoin price was $218.82, putting its 12-month gain at 113%.
That's pretty impressive for an asset that has been declared dead 53 times since the beginning of 2015, with 14 of those "obits" coming since the beginning of this year (according to 99Bitcoins.com).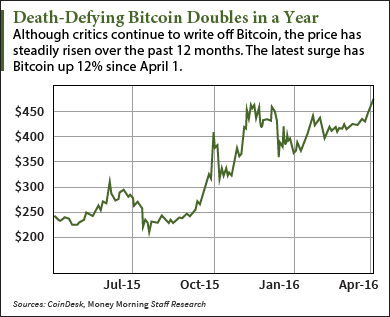 Contrast the jump in the price of Bitcoin with just about any other investment over the past 12 months; it's not even close.
Stocks? The Standard Poor's 500 Index is up a paltry 1.35%. Bonds? Interest rates remain at historic lows. The Dow Jones Commodity Index is down more than 18%. Gold? Up 3%.
Of course, many investors still don't trust Bitcoin. It hasn't stood the test of time like gold, and for
Read more ... source: TheBitcoinNews

News from Darknet