Start the conversation
The Bitcoin price is up 12% in the month of April and has more than doubled over the past 12 months.
As of midday today (Tuesday), the CoinDesk Bitcoin Price Index was hovering around $467. As recently as January, the price of Bitcoin was as low as $358.77. And one year ago today, the Bitcoin price was $218.82, putting its 12-month gain at 113%.
That's pretty impressive for an asset that has been declared dead 53 times since the beginning of 2015, with 14 of those "obits" coming since the beginning of this year (according to 99Bitcoins.com).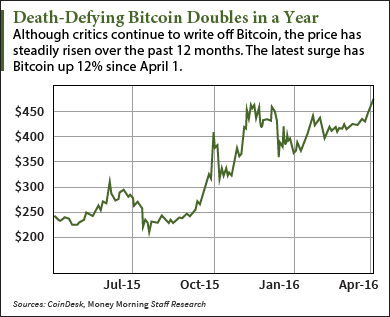 Contrast the jump in the price of Bitcoin with just about any other investment over the past 12 months; it's not even close.
Stocks? The Standard Poor's 500 Index is up a paltry 1.35%. Bonds? Interest rates remain at historic lows. The Dow Jones Commodity Index is down more than 18%. Gold? Up 3%.
Of course, many investors still don't trust Bitcoin. It hasn't stood the test of time like gold, and for most of its existence has been very volatile.
Investing in Bitcoin Slowly Going Mainstream
But the Bitcoin price has become far more stable over the past year as acceptance of the digital currency has grown. Even the stuffy Wall Street Journal ran a story earlier this month with the headline "Is Bitcoin Becoming More Stable Than Gold?"
And while Bitcoin's critics remain convinced that it's doomed, adoption of the technology continues to march forward.
Over the past year the number of Bitcoin wallets has nearly doubled. Transaction volume is up 32%. And venture capital keeps pouring in.
Just since the beginning of 2016, venture capitalists have plowed $191 million into Bitcoin startups. At that rate, VC investing in Bitcoin will reach $573 million in 2016, topping the $490 million invested last year.
So Bitcoin isn't going away, which is one reason why the Bitcoin price is again on the rise.
But there are several other catalysts at work on the price of Bitcoin right now.
Here's why the recent spike in the Bitcoin price is just a taste of what's to come…
Why the Bitcoin Price Is Rising – and Has a Long Way to Go
Join the conversation. Click here to jump to comments…