Start the conversation
The price of Bitcoin took a tumble over the past week as concerns about a lingering issue again became too obvious to ignore.
The Bitcoin price fell about 9% in the five days following Feb. 29, when delayed Bitcoin transactions revived fears that its network had reached capacity.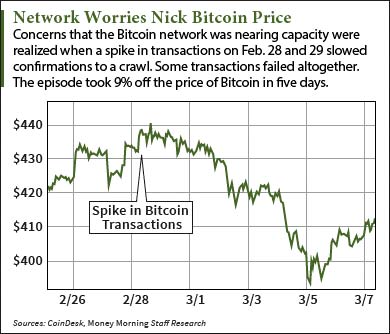 This most recent drop in the price of Bitcoin echoed the one in January, when the digital currency fell as much as 16%.
A prominent Bitcoin developer, Mike Hearn, triggered that drop with a scathing blog post that claimed Bitcoin had "failed" because the top developers had not resolved the network capacity issue. Adding to the drama, Hearn also announced he was abandoning Bitcoin.
Network capacity is a problem for Bitcoin because as it stands, the system isn't able to absorb the rising number of transactions. The only mechanism available is attaching a fee to the transaction.
But even that doesn't always guarantee a transaction will go through.
Here's what happened last week to highlight this issue…
How Transaction Snags Dropped the Price of Bitcoin
A week ago the number of
Read more ... source: TheBitcoinNews

News from Darknet