Start the conversation
The price of Bitcoin took a tumble over the past week as concerns about a lingering issue again became too obvious to ignore.
The Bitcoin price fell about 9% in the five days following Feb. 29, when delayed Bitcoin transactions revived fears that its network had reached capacity.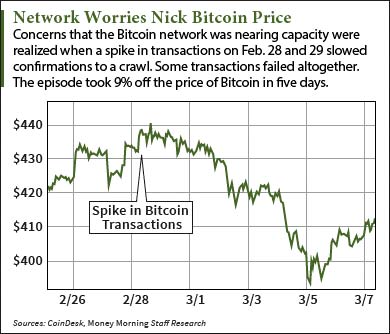 This most recent drop in the price of Bitcoin echoed the one in January, when the digital currency fell as much as 16%.
A prominent Bitcoin developer, Mike Hearn, triggered that drop with a scathing blog post that claimed Bitcoin had "failed" because the top developers had not resolved the network capacity issue. Adding to the drama, Hearn also announced he was abandoning Bitcoin.
Network capacity is a problem for Bitcoin because as it stands, the system isn't able to absorb the rising number of transactions. The only mechanism available is attaching a fee to the transaction.
But even that doesn't always guarantee a transaction will go through.
Here's what happened last week to highlight this issue…
How Transaction Snags Dropped the Price of Bitcoin
A week ago the number of transactions spiked, possibly by a person or group wishing to prove the Bitcoin network's vulnerability.
If that was the intention, it succeeded. The overload of transactions started to cause major delays. Average transaction times stretched from 10 minutes to beyond 40 minutes. Some failed to go through at all.
That kind of chaos on the Bitcoin network spooked a lot of users, causing the price of Bitcoin to sink.
Over the weekend, the Bitcoin price stabilized at just over $400; the price of Bitcoin today has been hovering around $410.
And while the number of transactions has eased, the problem remains. But a solution is needed soon if the digital currency is to realize its full potential.
You see, the system functions by assembling transactions into "blocks" that get verified by other computers on the network. A block is created about every 10 minutes and cannot be larger than 1 megabyte.
The 1 megabyte limit was no problem for a while. But Bitcoin's rising popularity has pushed the network to its limits.
The exasperating thing is that last week's network hiccup didn't have to happen. You won't believe why it did…
Why This Threat to the Bitcoin Price Hasn't Been Resolved
Join the conversation. Click here to jump to comments…