17th October, 2019, Singapore, Singapore – Of late, the various international markets have been increasingly warming up to the young digital trading assets platform, BiKi.com. Withglobalization initiatives well under way, the new player has seen its appeal escalate on the global scene as it continues to hop from city to city on its world tour, progressively augmenting its richly-connected and vast networks. The ability to offer a fast-track to project development and growth has also generated intense interest amongst projects to work with the resourceful exchange. The first half of October saw BiKi cementing even more global relationships, this time in Japan and Russia.
The BiKi team branched out in Japan, attending Devcon Osaka, the biggest ETH convention of the year, as well as other events such as Blockchain Summit Privacy 2.0 in Tokyo, where Business Development Director, Matthias Ang, delivered a keynote about BiKi's Market Impact Plan — a plan to help projects literally grow and penetrate into the Chinese markets with continuous branding exposure on top Chinese crypto news sites, as well as with Chinese influencers, some with over 100,000 followers, as their community moderators. New ties were forged with established Japanese firms that will be part of the BiKi ecosystem in Japan who can offer media and community-building support in order to grow BiKi's listed projects. The groundwork laid out by the young exchange in Japan will also be instrumental in helping its projects penetrate the strict government controlled Japanese markets.
Over in Moscow, Russia, at Blockchain Life, the BiKi team is opening new doors with the diverse networking opportunities at the massive convention, where 6,000 people from 70 countries are in attendance. BiKi's newly appointed Business Development Director, Dennis Hui, is speaking on fourth generation crypto exchanges with a focus on how BiKi.com has expanded its role from being solely a medium of exchange to include marketing and community-building aspects, amongst others. As with Delta Summit in Malta, the BiKi team will also be organizing an exclusive private meetup for potential partners following the convention.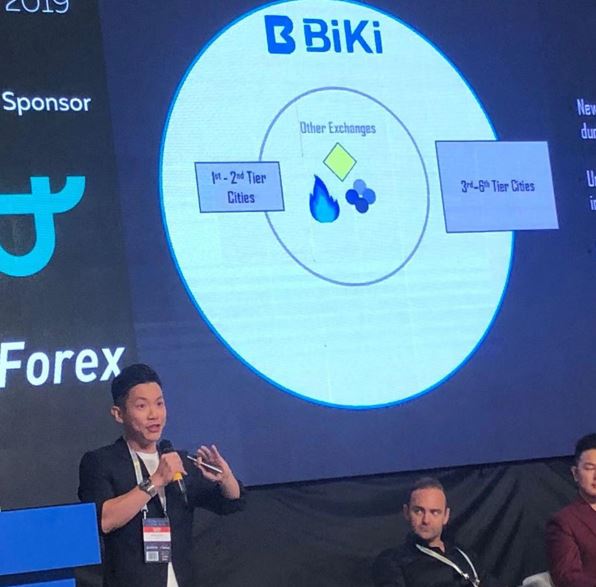 Since announcing its ambitious globalization plans two months ago, the BiKi team has wasted no time in implementing its internationalization initiatives. The current Moscow foray marks its 8th global stop as the exchange continues to form lasting ties and garner local support in each of the 8 countries it has set foot in. Projects keen on getting listed and activating rapid growth are encouraged to enquire at [email protected].
The end of October will see the BiKi world tour head west to San Francisco Blockchain Week. In addition to the Futurist Conference in Toronto, Canada, BiKi will continue to make inroads into the western markets by participating at the impending San Francisco gathering of top blockchain projects, influencers from academia and developer communities, as well as investors from all around the world.
About BiKi.com
Headquartered in Singapore, BiKi.com is a global cryptocurrency exchange ranked Top 20 on CoinMarketCap. BiKi.com provides a digital assets platform for trading more than 150 cryptocurrencies and 250 trading pairs. BiKi.com is focused on providing the safest, most stable and most effective cryptocurrency trading platform. 100% of the transaction fees are used in buyback and burning of platform token, BIKI. Since its official opening in August 2018, BiKi.com is considered one of the fastest-growing cryptocurrency exchanges in the world with an accumulated 1.5 million registered users, 130,000 daily active users, over 2,000 community partners and 200,000 community members. BiKi.com has received investments from Huobi co-founder Du Jun, Genesis Capital Zhu Huai Yang, FBG Capital, ChainUP and others totaling approximately 10 million USD.
Company Contact:
Chang Jie Lin, BiKi.com
+65-94556702
Media Contact:
Cecilia Wong, yourPRstrategist
+65-91826605
Blockchain: 0x0fe223b7890593162fb764836a864430f27d74fa168c203d107e4cb6720e95f4