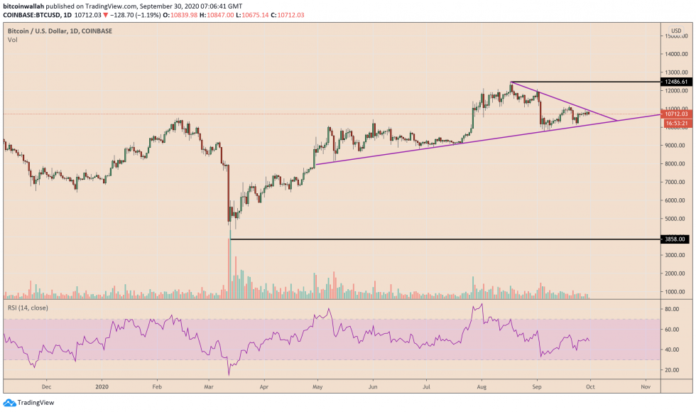 Bitcoin and global stocks fell hours after the first presidential debate between Donald Trump and Joe Biden concluded on a chaotic note.
The benchmark cryptocurrency erased a significant portion of its Tuesday gains to turn 1.19 percent lower. At the same time, futures tied to America's S&P 500 index plunged 0.85 percent, hinting to open in negative territory at the New York opening bell Wednesday.
Asia-Pacific markets, including Australia's ASX 200, Japan's Nikkei, and China's Shanghai Composite, also dropped. In Europe, futures linked to London's FTSE were down 0.5 percent.
VIX
The sell-off across the risk-on markets happened as investors reiterated their concerns over an uncertain US presidential election. Their negative sentiment took cues from Trump's assertions of widespread voter fraud and his vows to actively challenge the outcome.
Fears of a disputed election pushed VIX futures–a barometer to gauge market uncertainty using volatility–higher. Economists, strategists, and analysts predicted a further uptick in VIX ahead of the US election that may lead to a short-term stock market sell-off.
"[Trump's] suggestion that he would actively contest the results for weeks after the ballots are counted increases the level of uncertainty for market participants and will likely lead to higher volatility as we approach election day," said Mark Haefele, the chief investment officer for global wealth management at UBS.
Impact on Bitcoin
While the Bitcoin market does not concern itself with geopolitical setups, the cryptocurrency's erratic correlation with global market sentiments since their synchronous crash in March 2020 suggests an influence.
So it appears, traders/investors with exposure in both Bitcoin and the stock markets tend to sell the cryptocurrency to offset their losses across equities. Overleveraged traders also use their Bitcoin profits to fill their margin positions. That further creates an additional downside pressure on the cryptocurrency.
One of the other reasons why traders sell Bitcoin concerns liquidity. In March 2020, the cryptocurrency crashed alongside the global stocks because investors sought to hedge in cash. As a result, the US dollar index surged 8.80 percent during the rout.
The Federal Reserve's expansionary policy and the US Congress's $2 trillion COVID-19 stimulus package prompted investors to move back to stock, gold, and Bitcoin markets. The US dollar fell during aid distribution.
And now, with the package running out, and the second stimulus bill delayed, the US dollar is rising again.
Bitcoin, on the other hand, is trading almost 13 percent lower from its year-to-date high near $12,500.
The cryptocurrency now trends in unchartered territory. It expects volatile sessions ahead as long as it maintains a correlation with the S&P 500.
Bitcoinist.com is author of this content, TheBitcoinNews.com is is not responsible for the content of external sites.