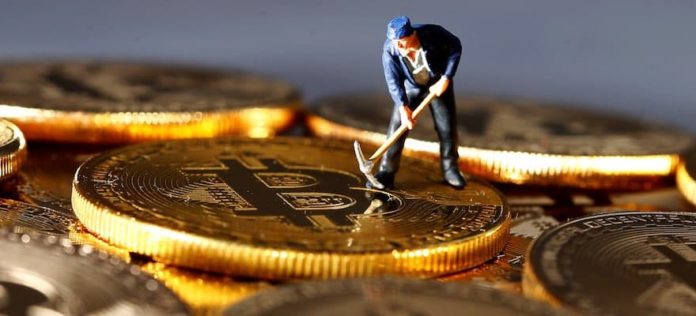 Investment research firm Fundstrat has predicted that Bitcoin mining could drive the value of a single Bitcoin to "$36,000 by 2019 year end, with a $20,000-$64,000 range." The prediction was put into writing by Sam Doctor, Fundstrat's head of data science research.
In the report, Doctor explained that the firm believes that "the current path of hash power growth" will be the main driving factor for BTC.
CRYPTO: Our quant/data scientist @fundstratQuant publishing #bitcoin mining white paper. Crypto mining economics lead/explain $BTC price—suggests $39,000 per bitcoin by YE19. key takeaways below… pic.twitter.com/f5ZQ4py3jS

— Thomas Lee (@fundstrat) May 10, 2018
It's been a rough couple of months for Bitcoin following the crypto's December boom and subsequent bust; at several points since the beginning of the year, BTC has sunk below $8000, lows that it had not reached since 2017. However, some analysts believe that a recovery may already be underway; the coin has stabilized near $9000 over the last several weeks.
Miners are More Likely to 'Hodl', Stabilizing the Market
BTC's fall has largely been attributed to a global rise in crypto regulations; the governments of countries such as South Korea, Russia, and the United States have begun taking cryptocurrency regulation more seriously.
Banks and internet companies have also independently taken action to restrict access to cryptocurrency-related products and services. Some banks around the world have blocked their customers' crypto-related transactions; Facebook, Snapchat, Google, Twitter, and other social media platforms have banned or limited cryptocurrency advertisements on their sites.
However, Doctor believes that BTC miners are playing a key role in stabilizing BTC's valuation. Doctor reportedly said that Bitcoin miners are more likely to hold onto their coins during dips in valuation in order to sell when BTC's price rises to make greater profits.
In a conference call with CNBC, Doctor said that "the primary net sellers, in our view, are bitcoin miners, and the rest are transactions between investors."
Doctor also explained that "the release of the next generation of rig hardware should trigger a new round of capex as well as hash power growth, which could accelerate if BTC price appreciates." At present, Fundstrat estimates that the cash break-even price for the popular 'Antiminer' BTC miners models s7 and s9 are $6,003 and $2,368 per coin, respectively.
You want the latest news about Crypto? Sign up to our weekly Newsletter!