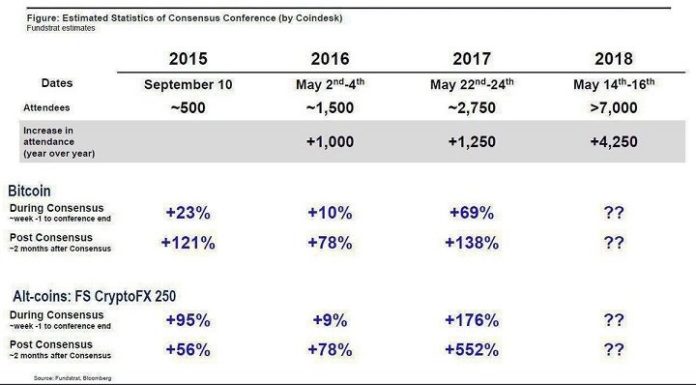 The fourth annual Consensus conference, Bitcoin's biggest event of the year, begins today, May 14, 2018. Will bitcoin price surge once again during the event as it has in previous three years?
---
RELATIONSHIP BETWEEN BITCOIN PRICE AND CONSENSUS
A look at the previous three Consensus Conferences shows significant crypto price movements during and immediately after. This trend has been maintained in all three conferences so far.
Thus, it stands to reason that the pattern could continue in 2018. Blockchain conferences create a lot of hype and buzz. Traders are less likely to sell during the duration of these important crypto gatherings as important announcements are expected.
In 2015, bitcoin prices increased by 23 percent during the conference and continued on a 121 percent rally in the two months that followed. About 500 people attended the 2015 gathering, which took place on September 10.
The following year, the attendance tripled to 1,500. Bitcoin prices increased by 10 percent during the Consensus week and 78 percent in the following two months. Then in 2017, attendance doubled. At the same time, Bitcoin price spiked by 69 percent at the time and 138 percent in the following two months.
The 2018 event is expected to have triple the attendance of last year with over 7,000 people expected at the conference. If the historical trend holds, bitcoin prices could grow by at least 50 percent during the conference and a further 100 percent rally till the start of summer.
This means bitcoin price could break the $10,000 mark this week and approach $16,000 by July. Though these figures are still shy of Tom Lee's $20,000 mid-year bitcoin price prediction.
Altcoin prices have also had spectacular rallies during and after previous Consensus Conferences as they tend to follow Bitcoin. In 2017, the average altcoin price increase during the meeting was 176 percent while mean prices spiked by 552 percent in the two months that followed.
POTENTIAL COMPLICATIONS
Historical figures are a vital analysis tool in the crypto market. However, the nascent nature of the industry makes it difficult to rely solely on these figures to establish a pattern.
It will be interesting to if the pattern holds as the situation in 2018 is a lot different from previous years with this year's record attendance and unprecedented global attention.
This year has also seen an increase in regulatory oversight measures from government and financial regulators. Meanwhile, negative rhetoric from naysayers like Warren Buffett, Bill Gates, Charlie Munger, etc., has particularly been in the news as of late, while South Korea appears to be widening its probe on crypto exchanges in the country.
Crypto enthusiasts and traders, however, will have their fingers crossed hoping for history to repeat itself. The market waits with bated breath to see what becomes of it as Consensus begins.
Will history repeat itself causing a bitcoin price rally during and after the Consensus Summit? Let us know in the comment section below.
---
Image courtesy of Twitter @Super_Crypto, Shutterstock
The post Bitcoin Price Historically Surges With Consensus Conference, Data Shows appeared first on Bitcoinist.com.
Bitcoinist.com is author of this content, TheBitcoinNews.com is is not responsible for the content of external sites.