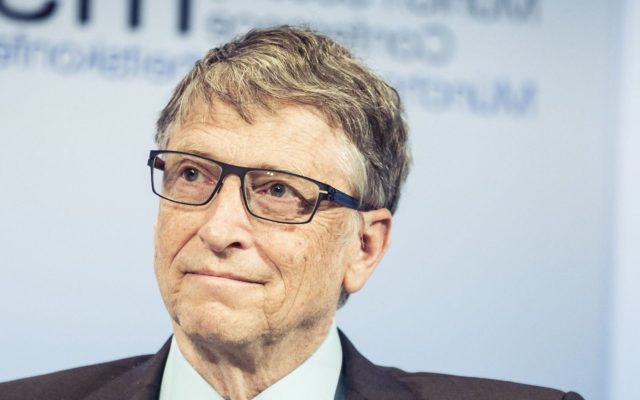 Bill Gates, the world's second-richest person, recently published a blog post reflecting on 2019, in which he noted that his extreme wealth is unfair. Here's why Bitcoin fixes this.
US Tax System Needs Reform
Bill Gates is still among the richest people in the entire world — second richest, with a net worth of $108.8 billion, according to Forbes. However, in his blog he recently noted that his net worth shows that the current US economy is not fair.
The distance between top and bottom incomes in the United States is much greater than it was 50 years ago. A few people end up with a great deal—I've been disproportionately rewarded for the work I've done—while many others who work just as hard struggle to get by.
This notion of an increasing gap in wealth has been confirmed by the US Census Bureau's Gini index.
Gates expressed his thoughts last Tuesday, in which he reflected on 2019 and his pressing concerns regarding the US tax system. He proposed one solution which could help close the gap, which is for US authorities to raise taxes on the wealthy.
He noted, "The truth is, I've been pushing for a fairer tax system for years. It was nearly two decades ago that my dad and I started calling for an increase in the federal estate tax and for an estate tax in our home state of Washington, which has the most regressive tax system in the country".
According to Gates, he strongly believes that those with more money should pay a higher percentage in taxes, which would, of course, include him and his wife, Melinda.
I'm for a tax system in which, if you have more money, you pay a higher percentage in taxes. And I think the rich should pay more than they currently do, and that includes Melinda and me.
More importantly, he believes that the current economy and tax systems favorize the wealthy, and the wealth itself, which he sees as unfair and wrong.
He further added that the estate tax should also be higher, which would, once again, mostly affect the rich. The system that passes major wealth along to the rich individual's children is also not good for anyone, as it brings forth a generation that does not appreciate hard work and contributions to the economy.
Can Bitcoin Close the US Wealth Gap?
Bitcoin has already proven itself as one of the world's most accessible and lucrative assets ever.
As reported by Bitcoinist, bitcoin outperformed every single asset class from gold to oil and stocks, in 2019. In the last decade, bitcoin price has also gained over 100,000% at its peak – something no other investment tool has been able to do. This, coupled with the fact that anyone with an internet connection can access the market, means that any US citizen has the opportunity to dramatically increase their wealth without the need to be a recognized 'accredited investor'.
Despite Bitcoin seemingly being the perfect tool for closing the growing US wealth gap, Gates called the leading cryptoasset a "pure 'greater fool theory' type of investment" in an interview with CNBC, back in 2018. Since then, he has failed to give an updated opinion on the matter.
Currently, Bitcoin's price is still recuperating losses from the steep 2018 correction, but experts are predicting that it may return to $12,000 and beyond by June 25th, following the upcoming block rewards halving.
Do you agree with Gates' views on the current state of the economy in the US? Let us know in the comments below.
Image via Wikipedia The post appeared first on Bitcoinist.com.
Bitcoinist.com is author of this content, TheBitcoinNews.com is is not responsible for the content of external sites.