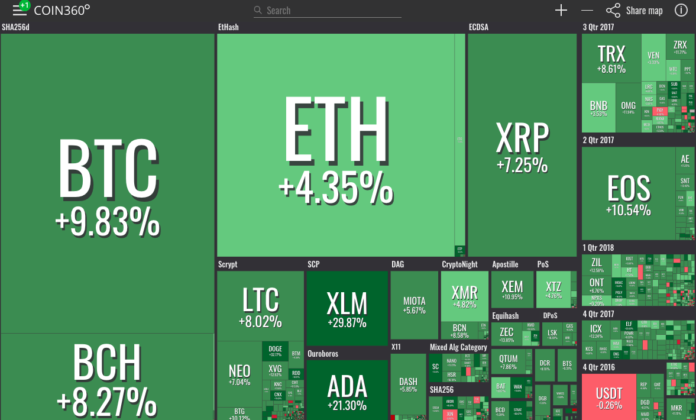 Wednesday, July 18: crypto markets are continuing to climb fast, with 98 out of the 100 top cryptocurrencies by market cap in the green over the past 24 hours, according to data from Coinmarketcap.
Market visualization from Coin360
Bitcoin (BTC) has grown by $1,000 in just a couple of days, inching firmly to the $7,500 point after having reached an intraday high of $7,542. The top cryptocurrency is trading at around $7,429 at press time, up about 10 percent over a 24 hour period and having gained around 15 percent over the past month, reaching monthly highs.
Bitcoin price chart. Source: Cointelegraph Bitcoin Price Index
Ethereum (ETH) is still hovering around $500, trading currently at around $492. The top altcoin is up almost 4.5 percent over the past 24 hours, with an intraday high of $526.
Ethereum price chart. Source: Cointelegraph Ethereum Price Index
Total market cap has broken $296 billion for the first time since June 11, when Bitcoin was below $7,000. The markets have gained over $40 billion over the past 7 days, with total market cap at around $295 billion by press time.
Total market capitalization chart. Source: Coinmarketcap
Stellar (XLM) and Cardano (ADA) have seen some of the biggest gains over the past 24 hours, up around 30 and 21 percent respectively. XLM is trading at $0.30 at press time, up around 59 percent over the past week.
Earlier today, Cointelegraph reported that Stellar has become the first blockchain protocol to acquire a Sharia compliance certification in the money transfer and asset tokenization field.
Cardano is trading at around $0.18, up about 41.5 percent over the past seven days.
Last week, one of the most popular U.S. crypto exchanges Coinbase announced that it is exploring addition of a number of new altcoins, including Stellar and Cardano.
Earlier today, billionaire investor and Avenue Capital Group co-founder Marc Lasry, claimed that Bitcoin could reach as high as $40,000 due to the coin becoming more "mainstream." Lasry suggested that Bitcoin investors will be "making 5 to 10 times their money in 3 to 5 years."
Cointelegraph.com is author of this content, TheBitcoinNews.com is is not responsible for the content of external sites.