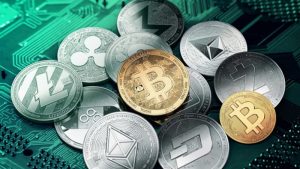 The price of Bitcoin may have taken a tumble from its 2017 peak but the leading cryptocurrency continues to be a solid investment as we pass the halfway point of 2018. According to the latest Bitcoin price charts, BTC has dipped at the end up June but has rallied in recent weeks thanks to positive developments in a number of sectors. The start of the latest leap came following BlackRock CEO Larry Fink's apparent change of heart regarding cryptocurrencies. Following reports that investment firm BlackRock has been running a crypto thinktank since 2015, markets analysts appeared to adopt a bullish attitude. The world's largest asset manager admitted that it is interested in the applications of crypto rather than viewing them as an "index of money laundering." With such a powerful financial institution potentially ready to exert its influence on its wealthy investors, Bitcoin could become a very, very popular commodity.
BTC Price Surge Leads to Bullish Sentiments
In support of this assumption, the dominance rating of Bitcoin has improved to 46% in the last four weeks. According to the Coinbase rating, Bitcoin is now more in demand that it's been in a long time and that's a sign people are purchasing BTC to hold rather than as a route to altcoins like Ripple, Ethereum and NEO. The underlying assumption is that people are now feeling confident in the long term prospects of Bitcoin, especially in comparison to other cryptos. In light of this increased dominance rating, the value of BTC price in USD moved from $5,755 to $7,820 between June 25 and July 23. Another potential positive for the Bitcoin share price in recent weeks is the regulatory push by Coinbase. The world's largest exchange recently revealed that the Financial Industry Regulatory Authority (FINRA) had approved its acquisition of three companies licensed by the U.S. Securities and Exchange Commission (SEC). The news moves Coinbase another step closer to become a SEC licensed company in its own right, something that would allow it to offer security tokens as well as traditional financial assets. In simple terms, security tokens are digital tokens that are backed by something tangible such as real estate, shares in a company etc.
If the largest Bitcoin exchange can offer this type of investment opportunity, it will unlock a whole new market and, in turn, further boost the price of Bitcoin. What's more, it could set a precedent that other exchanges could follow. The end result would be a domino effect through which the crypto industry as a whole could find a friend in US financial regulators. As Imperial College researcher Dr. Zeynep Guruc notes, cryptocurrencies need to pass six tests in order to become a legitimate currency. Among the hurdles Bitcoin et al need to clear is regulation. Once the masses consider cryptocurrencies a safe product, they'll be more willing to use it in place of fiat currencies. From this, the Bitcoin price against the dollar will naturally increase.
Bitcoin Price Change Hinges on Long-Term Utility
The long term prospect of anything is dependent on whether or not it brings value to our lives. We use cars because they make getting from A to B easier. Smartphones sales were more than $125 billion between 2016 and 2017 because they allow us to communicate, surf the web and more. If Bitcoin can position itself as a similarly integral asset in our culture, its value will be set. In the short term, it's hard to predict whether this will happen. However, what analysts are banking on right now is that the steps towards this situation are being put in place. As more financial institutions and regulators throw their weight behind this technology, it becomes ever more likely that Bitcoin will become an everyday asset.
For the short term BTC price, this has resulted in bullish sentiments across the board. Will this hold? Only time will tell. However, as the Bitcoin share price continues to rise, more investors are starting to find their way back into the BTC marketspace.
The post Bitcoin's Recent Rise Could be the Dawn of Another Boom appeared first on The independent republic.