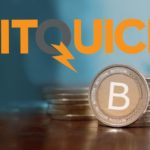 About Bitquick
Bitquick is an US-based exchange which allows users to buy and sell Bitcoins using fiat currencies. The exchange was established in 2013 by Jad Mubaslat founded, with its headquarters in Cincinnati, US.

On February of 2014, Bitquick became the first-known Bitcoin marketplace to provide public proof of reserve.
According to the exchange, up until 11 June 2019, it had served 91,402 customers and has sold a total 57,558.16 Bitcoins since it was launched.
Supported Currencies
The platform accepts the following fiat currencies:
US Dollar (USD)
Canadian Dollar (CAD)
EURO (EUR)
Russian Ruble (RUR)
Australian Dollar (AUD)
The only supported cryptocurrency is Bitcoin (BTC).
Supported Countries
BitQuick's services can be accessed by users from 49 US states. The only state that is not supported is New York as BitQuick does not have a BitLicense to operate in the region.
BitQuick Interface
The exchange has a simple, yet intuitive interface. The design is clean and allows users to easily access the information they need. All of the site's functions are very responsive and it adapts well even in mobile format, but there are no Android and iOS apps available.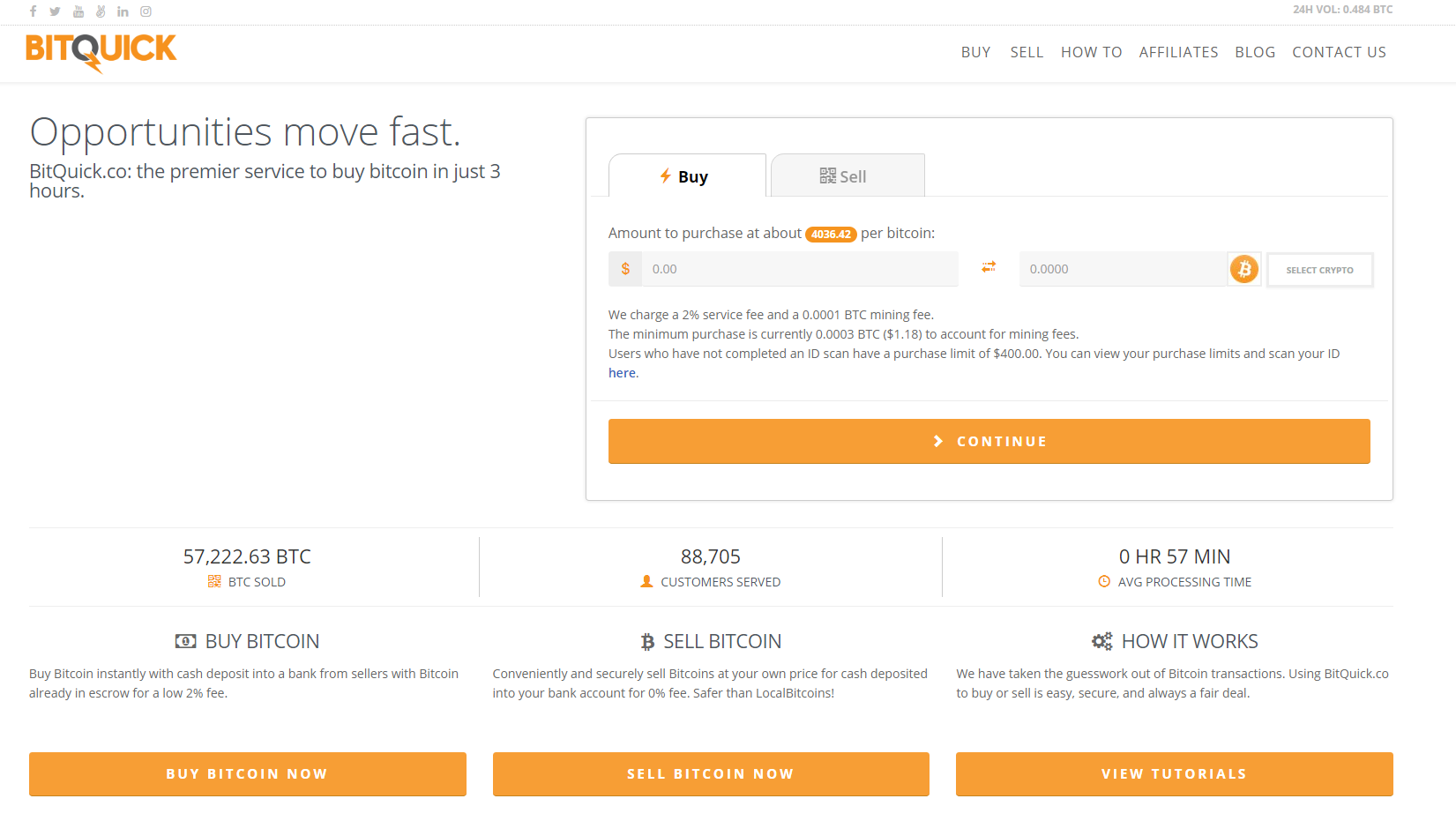 Source: Cryptowisser
Accepted Payment Methods
There are only two methods of purchasing bitcoin on the platform: Cash deposit and SEPA transfer. This implies that you will have to physically go to the bank of a Bitcoin seller and deposit cash into their account. After the deposit is seen by the seller, your bitcoins will be released into your BitQuick account.
Unfortunately, there are no other payment methods available. Also, buyers have three hours to make the deposit starting from the time they placed their hold. Users that have three or more unpaid buyer holds in a 72-hour period, will be automatically banned from the exchange.
Security
The exchange has a third-party Escrow wallet in which it keeps the currency during the transactions and also provides a proof of reserve display that enables anyone to check just how many coins are kept in each of the Escrow accounts.
No two-factor authentication is required as users to not have to create an account to be able to trade. There is no information regarding the storage of their Bitcoin and what kind of encryption is used for their email.
SMS verification for buyers will be needed starting tomorrow! #bitcoin https://t.co/Ee65xFHE6f

— BitQuick.co (@BitQuickco) July 23, 2015
On March 2016, Bitquick was the victim of a hack, as an anonymous hacker managed to breach their servers. Fortunately, no user funds were lost in the incident, and the exchange immediately shut down for a month to strengthen the security of their platform and ensure that trading can be done safely again.
Fees
BitQuick has two types of fees: service fees and mining fees.
Buyers are charged with a 2.00% fee of the total value of the trade. Sellers do not have to pay Bitquick any fees, only the mining fee of the network.
Mining fees are set at 0.0001 BTC for BTC trades (which was recently lowered from 0.001 BTC). 0.0001 BTC is a very low mining fee, which is another advantage for sellers.
The platform is great for those interested in quickly selling BTC, as they have low fees and fast transaction times. But the platform is not that recommended for buyers, as the trading charges that come with are rather expensive.
There are no charges when making deposits, aside from bank fees. There are also no fees applied to withdrawals.
Should the seller want to withdraw Bitcoin from escrow address, there is a huge five percent fee applied to this.
Verification Process
There is no verification required, and users do not even have to create an account for a quick purchase. The only requirements are an external wallet address and a valid email address. Sellers will be asked to complete a form that requires some personal information.
Starting from 2015, users are required to go through SMS verification or submit an official document such as a photo of driver's license, IDs or Passports.
Transaction Processing Times
BitQuick has been reported to be fast when it comes to processing Bitcoin transactions. The general time is usually between 1 to 3 hours, due to the fact that only 1 confirmation is required by the exchange. On the other hand, proof of the payment should be uploaded within 3 hours so there are no extra fees.
Trading Limits
There are no limits for buying or selling on BitQuick. But, there are some buy limits which can appear based on the order type, seller, selected payment bank, or various other factors.
Customer Support
Customers are able to contact Bitquick support only during business hours: Monday to Friday 8 – 22h EST and Saturday to Sunday 9 – 20h. Support is offered in the form of email and a ticketing system. The support team is responsive, usually answering questions within a couple of hours. The site also has video tutorials which are easy to follow and a short section of frequently asked questions.
Conclusion
BitQuick is a legit platform that allows traders to make quick Bitcoin purchases using cash. If you do not mind the high fee that comes with buying and you are pressed for time, then this is a good option for you. Sellers are more at an advantage here, as they have no fees to pay except for the mining fee.
Another downside is that Bitcoins is the only crypto available, so if you are an investor looking to trade in multiple crypto assets we recommend that you go to another website.
Pros
Fast way of trading BTC
Accepts fiat in cash
Cons
High fees
Accepts only cash deposits and SEPA
You have to physically go to the bank to make a deposit
No other security measures are known
Only available to US residents (except New York)
Only bitcoin is supported, no other altcoins

coindoo.com is author of this content, TheBitcoinNews.com is is not responsible for the content of external sites.