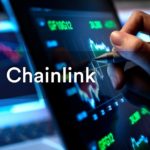 By analyzing historical price trends, significant developments, and reacting adaptive to changing market sentiments, we can generate accurate Chainlink Price Predictions for August 2020. With optimism for another market Bull Run remaining tempered, it could make sense to follow these predictions by analysts with proven track records of success.
Chainlink Overview
Chainlink is a decentralized oracle network that aims to connect smart contracts using real-world data. Oracles function as data feeds for smart contracts, because blockchain cannot access data outside the network. LINK is the native currency for the network that is used to facilitate payments for node operators and effectuate transactions.
At the moment, LINK is ranked the 12th largest cryptocurrency with a market cap of $2,683,666,869. The 24-hour trading volume was at $684,318,966 at the time of writing this piece. The circulating supply of LINK is 350,000,000, with a total supply of a billion coins. The price stood at $7.67, which was a 7.09% increase from the previous day.
Chainlink Price Prediction: Analysis
The crypto started June strong at $4.13 and performed well to end the day at $4.38. It did not see much action until 11th June, when it traded in a $4.20 to $4.40 range. The peak performance for June saw the price rise to $4.46. LINK had its worst performance on the same day, plummeting below the $4 support level to settle at $3.97.
The next week, LINK made a consolidated effort but failed to make any significant moves that would take it past the previous support level. The price remained with a range between $3.90 and $4.10, breaking the pattern only once, on 17th June, to reach $4.17. Fortunately, Chainlink was able to eventually surge above $4.10 resistance and settle at $4.47 by 22nd June.
A new high was set following a bullish momentum that had the price testing the $5 range. By 23rd June, the price clearing key hurdles to reach $4.94. However, the move proved disastrous, as the coin lost all its gains, falling back to $4.80. This was the start of a bearish momentum that saw the coin decline gradually to the end of June. Chainlink ended June 2020 at $4.57.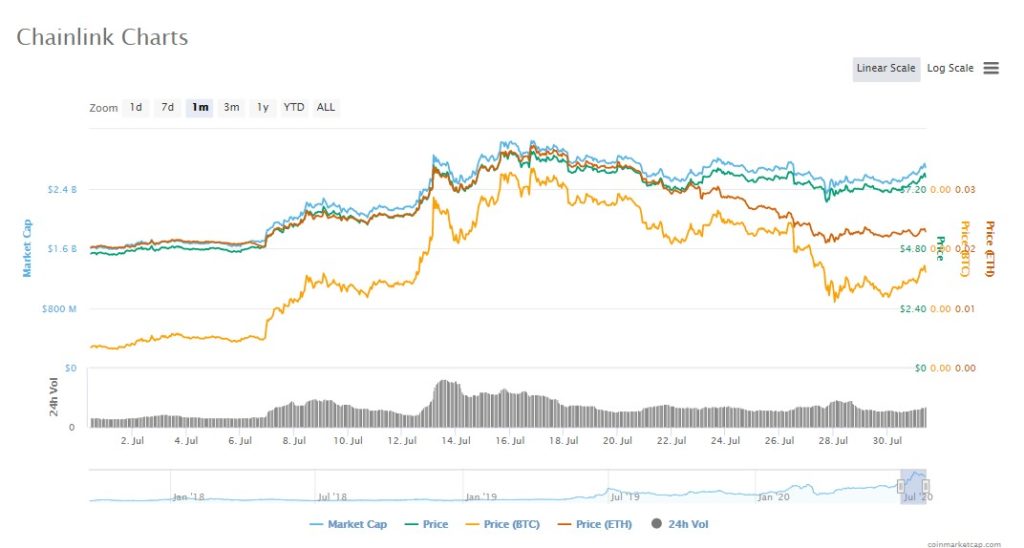 coinmarketcap.com
Starting at the same price, 1st July had the crypto experiencing relative inactivity, but there was progress. After closing at $4.70, there was an extraordinary effort to make a second attempt towards the $5 resistance level. The coin fell short of expectations, achieving a high of $4.91 and closed at $4.80. Prices maintained this range until 6th June, when a bullish moment saw LINK burst past the $5 resistance level.
The strong move went on steadily, pushing the coin to a new benchmark at $6.39 on 9th July. After the new high, the price corrected slowly but managed to maintain gains made by 10th July. A rally on 11th July saw prices reach a new high of $7.87 by 13th July. The trend continued sending the coin to fresh highs at $8.17 and $8.71. By this time, LINK had gone up in price consecutively for three weeks, gaining 100% value, and a brief spot in the top ten by market cap.
Developments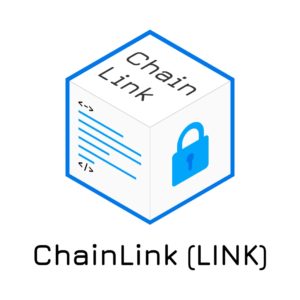 coinswitch.co
Chainlink has secured a collaboration deal with Huobi, a cryptocurrency exchange, to integrate price data technology. The venture will allow both companies to enhance data integrity and price accuracy. The agreement will also see Huobi running its own Chainlink node through its wallet service. This will enable Huobi to sign its own price data in a way that users will be able to confirm transaction data from the exchange.
Bullionix, a decentralized platform that allows anyone to create gold-backed, non-fungible tokens, is also integrating Chainlink. The network will be displaying an accurate gold price on the XAU/USD reference feed on Bullionix. According to Bullionix, the collaboration with Chainlink will see the platform utilizing highly reliable and manipulation resistant data on the gold market.
Both Huobi and Bullionix see the integration with Chainlink allowing them to be more innovative in their service delivery. Other projects that are currently integrating Chainlink include Synthetix, Ampleforth, and Aave, among others.
Chainlink Price Prediction: Market Opinion for August 2020
A lot of renowned cryptocurrency analysts and prediction websites are issuing their Chainlink price predictions. Here are some that can help you understand the prevailing market sentiment on LINK.
WalletInvestor
WalletInvestor has a bullish outlook on the future of Chainlink. According to their projection, LINK could achieve a new high at $10.226 by 12th August. The forecast also has prices trading within the $7.637 and $10.226 range, at least for the first two weeks of the month.
Here is the Chainlink price forecast for two weeks:
| Date | Price | Min Price | Max Price |
| --- | --- | --- | --- |
| 2020-08-01 | 7.637 | 6.406 | 8.803 |
| 2020-08-02 | 7.700 | 6.553 | 8.891 |
| 2020-08-03 | 7.880 | 6.573 | 9.118 |
| 2020-08-04 | 7.927 | 6.656 | 9.055 |
| 2020-08-05 | 8.250 | 7.004 | 9.480 |
| 2020-08-06 | 8.259 | 7.015 | 9.464 |
| 2020-08-07 | 8.236 | 6.942 | 9.386 |
| 2020-08-08 | 8.359 | 7.138 | 9.604 |
| 2020-08-09 | 8.422 | 7.191 | 9.708 |
| 2020-08-10 | 8.602 | 7.383 | 9.897 |
| 2020-08-11 | 8.649 | 7.457 | 9.822 |
| 2020-08-12 | 8.971 | 7.754 | 10.226 |
| 2020-08-13 | 8.980 | 7.625 | 10.107 |
| 2020-08-14 | 8.958 | 7.675 | 10.175 |
Cryptoground
Cryptoground forecast that Chainlink will perform poorly in August. Their projection has the coin losing up to 76.43% in value at $1.813. They also see the price falling back in the first week of August, bursting through previous key support levels to settle at $1.710.
DigitalCoinPrice
DigitalCoinPrice prediction for Chainlink for July was $13.94. The site now projects that LINK could be valued at $13.64 by August, representing a 75.87% change from the original price. This could pose a 3.89% drop in value from the month before.
CoinPredictor
CoinPredictor is another forecast site that expects a poor performance from Chainlink in August. The forecast has the crypto shading 21.1% in value in seven days, settling at $2.167 and $2.55 by the end of the month.
CryptoRating
CryptoRating expects Chainlink to lose 1.55% during the first day of August and close the day at $7.63. However, the projection has LINK exhibiting a strong recovery to burst through July resistance levels, reaching $10.93 by the end of the first week. This prediction has LINK ending August at $11.37, which will represent a 46.71% change.
Verdict
Opinions on Chainlink price prediction for August 2020 are very contrasting. However, based on historical price action analysis, prevailing market sentiments, and key developments, you could make an accurate bet on the coin. If Chainlink manages to secure more collaboration deals, the news could help sustain the price by generating a strong bull run past $10 and sustain it.

coindoo.com is author of this content, TheBitcoinNews.com is is not responsible for the content of external sites.