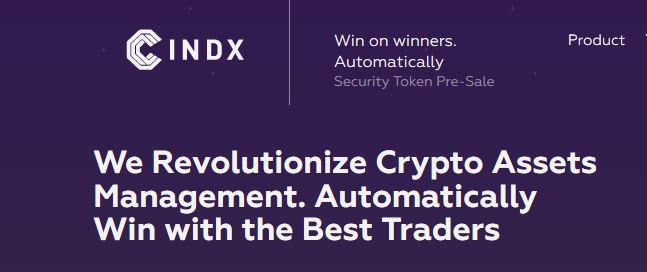 The cryptocurrency market is growing swiftly enough to attract not only investors and traders, but also scammers and fraudsters. These conmen often pose as creators of "promising" platforms that seek to raise capital through ICOs. CINDX takes its business seriously with particular attention and cares to legal matters and has taken great pains to ensure that CINDX is as compliant as possible with global regulations.
Estonia – August 1st 2018, CINDX made headlines this week with the announcement that they will be opening their ICO Pre-Sale in late August after investors interest in the ICO peaks to new levels. The CINDX Crypto trading platform has a myriad of features and benefits that haven't been seen in other platforms to date. A couple of standout features include the ability to execute trades off of Expert advice as well as zero trading fees until the user's portfolio becomes profitable.
The CINDX platform creates a complete ecosystem for cryptocurrency trading that is favorable to all the participants of the market and offers solutions to existing pain points. The platform enables access to a large number cryptocurrency exchanges, through one account, and makes it possible to follow the investment strategies of expert traders. Because of the structure of the platform, crypto investors are not obliged to hand their funds over to third parties. Crypto Asset Managers receive limited access to the funds of the investor to manage and trade their funds. This minimizes the risks of theft or loss of funds. Investors only pay a reasonable transparent success fee while having all of the objective trading statistics recorded on the blockchain.
This niche in the cryptocurrency market has not yet been filled, but the need for a platform like CINDX is obvious: according to the latest poll by Capgemini, 29% of investors with at least $1 million in capital have declared high interest in cryptocurrencies. The number of investors in cryptocurrency assets in Europe and the USA are expected to double within the near future. Additionally, a survey conducted by Ipsos research firm in Q2 2018 revealed that 25% of European respondents and 21% of respondents from the USA have said that they plan to invest in cryptocurrencies.
The Chief Executive Director of CINDX, Yury Avdeev, started the project with 9 successful projects on his résumé and $2 million cryptocurrency assets under his direct management. Val Jerdes, the Product Director and famous "angel" venture investor from Silicon Valley joined CINDX with 20 years of experience in investing in startups at the initial stage of development.
Advisers: Keith Teare is the Founder and Executive Chairman of the investment committee for the British venture company Accelerated Digital Ventures. He is also a shareholder of TechCrunch. Additionally. Austin Kimm, Co-Founder and Chief Operating Officer at Crypterium, has more than 30 years of experience in insurance and asset management with industry giants such as Renaissance and Aviva.
The CINDX project currently has two licenses in its portfolio that have been issued by the Estonian authorities: the first authorizes CINDX to implement virtual currency exchange transactions, and the second authorizes CINDX to work as a non-bank financial institution. Along with the convenience of CINDX's interface, the platform ensures that its users are safe by implementing standard KYC/AML requirements. These counteract money-laundering and ensure that each participant is identified. Every CINDX user must undergo this procedure.
The Pre-Sale for this highly anticipated ICO is set to begin on August 26th, 2018. During the initial Pre-Sale phase a bonus of 25% will be applied with only 51,500,000 total CINDX tokens available.
To learn more about this ICO Pre-Sale visit their official website by clicking here.
Media Contact:
CINDX
Attn: Media Relations
Tallinn, Estonia
Ph: +37253745367
[email protected]
Press Release Writing and Distribution by professionals for the Cryptocurrency industry. Steve Stanley, has written thousands of Press Releases and countless Articles spanning every industry and niche. It is easy to find his work on Google News and hundreds of other news outlets. There is no doubt that he is one of the only experts in his field when it comes to I.C.O: You can learn more about him and his services at http://ico-prmarketingservices.com