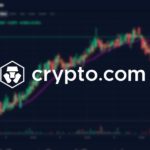 In today's Crypto.com review, we will be looking at some of the features, fees, pros, and cons of this exchange and its adjacent projects.
Crypto.com Review: Exchange Overview
Crypto.com started out as a project in 2017 called Monaco, which was later rebranded in 2018 to the name we know now. According to its website, the company lists fifteen different team members, with Kris Marszalek as its leader and several employees who previously worked at Ensogo.
Crypto.com gained popularity with its MCO project, which was released in an ICO in 2017. The aim of the project was to create a crypto credit card that would lead to mass adoption. The mobile app features an array of useful features, as well as an exchange and trading function. Other functionalities of the platform include staking options that allow users to unlock benefits such as interest rewards, cash-back, and rebates.
In 2019, Crypto.com expanded its list of products by adding a cryptocurrency exchange.
Supported Currencies and Available Countries
Crypto.com currently supports BTC, LTC, ETH, XRP, USDT, CRO, MCO, EOS, XLM, USDC, ATOM, LINK, and XTZ.
While there are only 29 pairs and no advanced trading features, such as leverage, the exchange is still in the beta stage, so there is still time to develop more. The platform has two native tokens, MCO and CRO. MCO is used for staking to unlock tiered benefits and to upgrade credit cards with higher feature sets.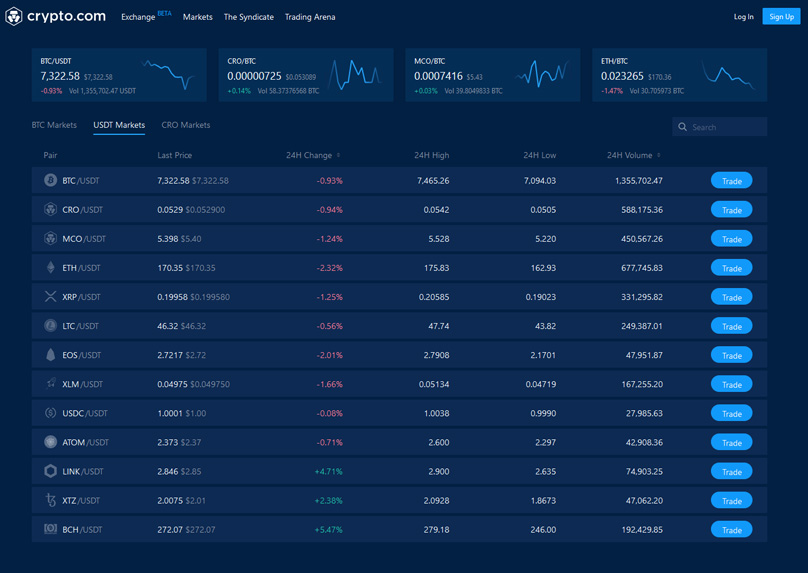 The exchange can be accessed by residents from UK, Germany, France, Spain, Italy, Netherlands, Switzerland, Romania, Sweden, Belgium, Austria, Finland, Poland, Denmark, Norway, Portugal, Czech Republic, Slovenia, Croatia, Bulgaria, Ireland, Lithuania, Latvia, Hungary, Slovakia, Greece, Estonia, Cyprus, Malta, Luxembourg, and Iceland.
The MCO cards are available only in the US and Asian markets, but it will soon become accessible to UK and European Union residents.
System Compatibilities
The Crypto.com exchange is only available on the desktop, supporting all major operating systems. Their Crypto.com mobile app also includes the same functionalities of the exchange, but the app has more trading features that are not available on desktop (more on that later in our Crypto.com review).
User Interface and Experience
The interface of the exchange and the mobile app have a sleek and pleasant design, and the charts and data are layered to be easily understood. The charts include dozens of indicators, and you can select to show a coin's performance based on various time frames.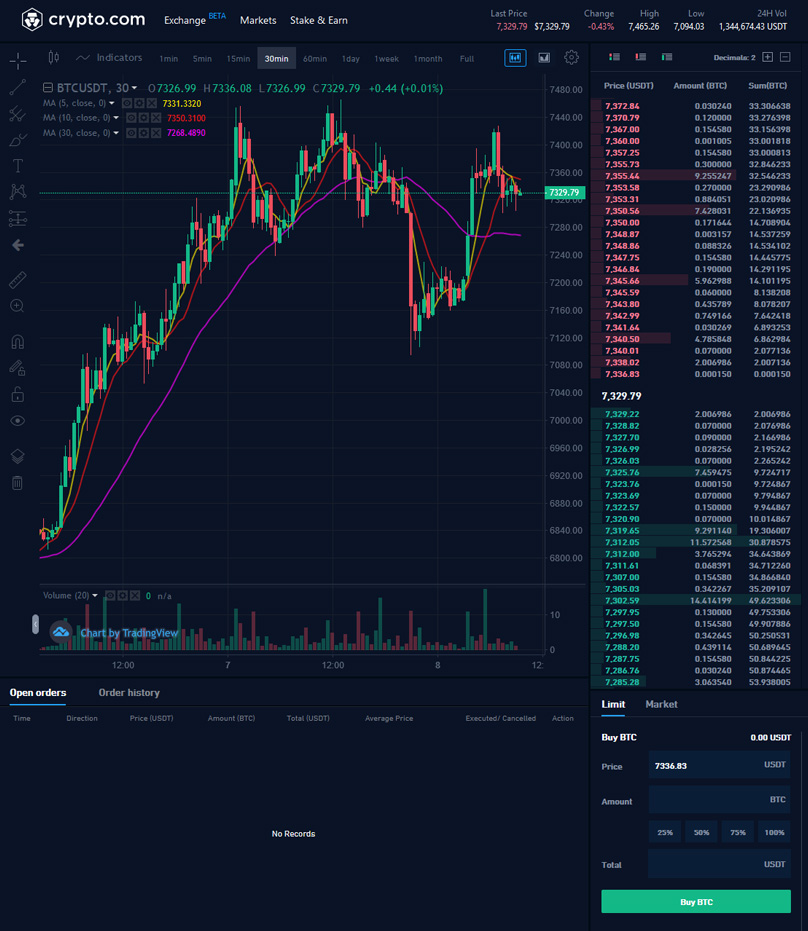 How to Get a Crypto.com Account
In our Crypto.com review, we will be showing you how to register for an account on the exchange:
Go to crypto.com/exchange and click the "Sign-Up" button (upper right-hand corner);
Provide the required personal details and follow the on-screen instructions;
Click on the "Continue" button;
You will receive a confirmation link in your registered email containing a one-time password (OTP);
Confirm your registration;
Type the OTP on the site;
Create your password for your exchange account;
Click "Submit;"
Verify your phone number. Choose the area code of your country from the dropdown, then enter your phone number;
You will receive an SMS verification code;
Enter the code into the field;
Click "Submit;"
You will have to verify your identity in order to unlock other features.
How to Use a Crypto.com Account
You begin at the Starter level when you sign up on the exchange;
Go to the "Markets" tab on the top left of the navigation bar, and select between the BTC, USDT and CRO markets;
Choose the pair you want and click on the "Trade" button;
In the bottom right corner of the page, there is the "Limit" and "Market" order section. Put in the amount and at what price you want to sell or buy your coins;
Click on the "Buy/Sell" Button when you are done to complete the trade.
Features
In our Crypto.com review, we will be covering several other products and features offered by this company:
CRO Staking
Users can earn up to 20% per annum (paid daily) if they stake a minimum of 10,000 CRO for at least 6 months. The daily interest formula is:
Daily Interest = Principal amount (in staked cryptocurrency) x (APR/365)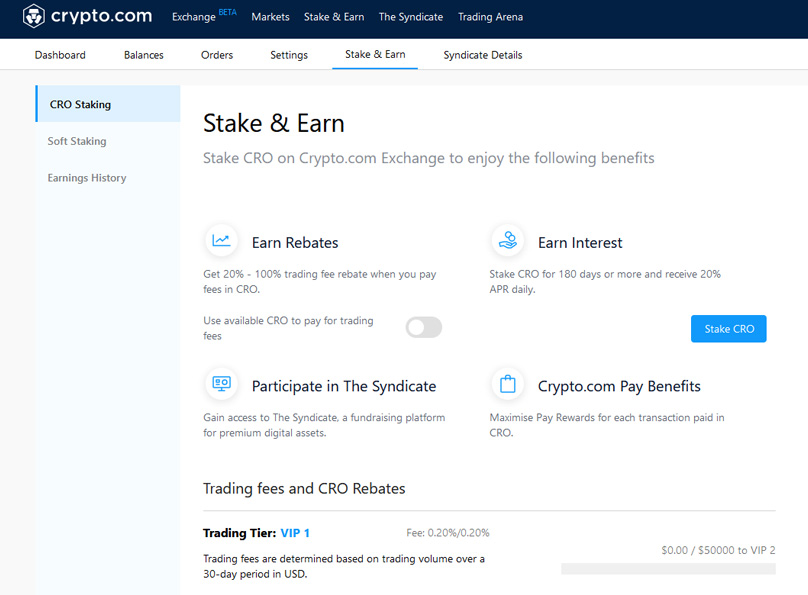 Soft Staking
Soft Staking enables users to earn rewards by holding crypto in their accounts, including BTC, MCO, LTC, and ETH. Extra rewards are given to users who actively stake CRO tokens.
Crypto.com App
The Crypto.com App offers more extended features than the exchange. From the app, you can buy, sell, store, and track cryptos. An added benefit is that from the app, you can deposit 7 fiat currencies (including USD, JPY, and EUR) with which you can buy or sell 53 different crypto assets. You can track over 200 cryptocurrencies and monitor various metrics.
MCO Visa Card owners can spend their card balances from the Crypto.com App.
MCO Visa Cards
MCO Visa Cards were the main product that propelled the Crypto.com company to mass popularity, allowing users to spend cryptocurrencies wherever VISA is accepted.
There are different tiers of MCO Visa Cards, based on the amount of MCO you want to stake for 6 months.
Ruby Steel Card – stake 50 MCO for 6 months (about $250 at current prices), a metal card with 2% back on all purchases, and a 100% rebate on a Spotify Premium subscription.
Royal Indigo or Jade Green tiers – stake 500 MCO for 6 months, you have unlimited airport lounge access, a 100% rebate on your Netflix and Spotify subscription, and 3% back on all purchases.
Icy White and Frosted Rose Gold cards– stake 5,000 MCO, you get 4% back on all purchases, 100% rebate on Spotify, Netflix, and Amazon Prime. You also benefit from Crypto.com private access, 10% Expedia rebate, and bonus interest.
Obsidian Black – stake 50,000 MCO, you get 5% back on all purchases, 100% rebate on Spotify, Netflix, and Amazon Prime, Crypto.com private access, 10% Airbnb, and Expedia rebate, bonus interest, and private Jet partnership.
A Midnight Blue plastic card is available for free with no staking requirements, which you can use for a 1% back on your purchases.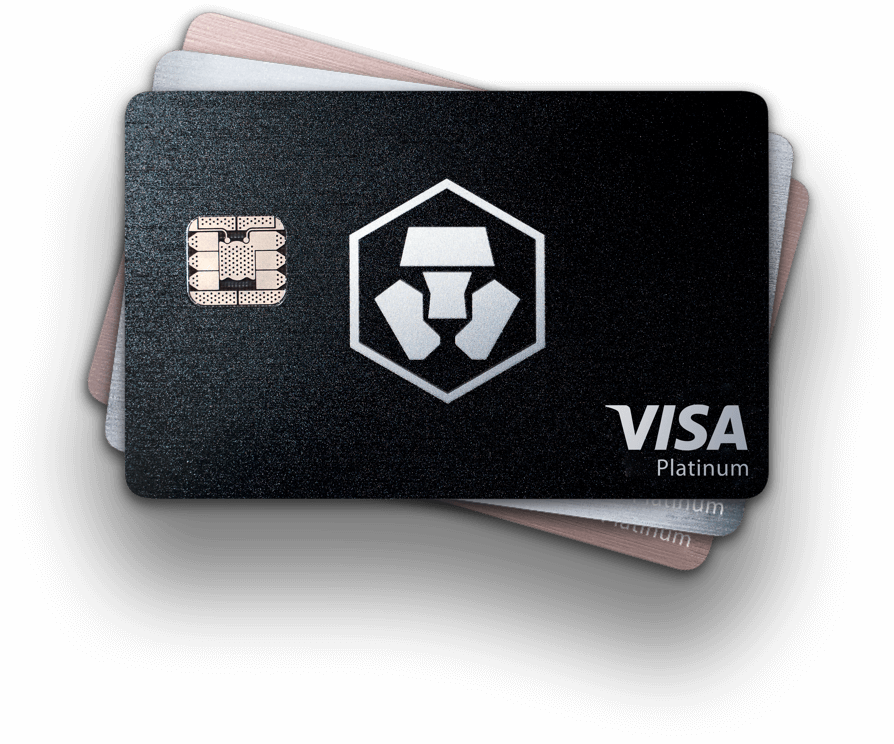 Crypto Earn
Users can deposit and stake their cryptocurrency via the Crypto.com platform and get up to 8% p.a. interest in return. Stablecoin deposits receive higher interest than regular coins, such as Ethereum and Bitcoin.
CRO deposits have the highest rate: up to 18% per annum if the user has an MCO stake of 500 more. MCO tokens have the highest stake rate.
Crypto.com Pay
Crypto.com Pay enables users to pay with crypto and get cashback in CRO when they buy something. The cashback is called Pay Rewards.
If you send CRO inside the Crypto.com App or buy gift cards using CRO, you can receive certain rewards.
Also, there is a Merchant Account that allows Pay SDK integration with 1 line of code or via WooCommerce Payment Gateway to enable their business to accept online crypto transactions.
Crypto.com Fees
The Crypto.com exchange has a rather competitive fee structure, with lower fees if you own more CRO. The maker/taker fees start at 0.2% of the trade value, and the fees get lowered the more you stake CRO tokens, which also produces a 20% ROI on the amount that you've staked.
TIER
30D TRADING VOLUME (USD)
MAKER/TAKER FEE
DISCOUNTED FEES

20% OFF

VIP1
$0 – $50000
0.20% / 0.20%
0.160% / 0.160%
VIP2
$50001 – $250000
0.16% / 0.18%
0.128% / 0.144%
VIP3
$250001 – $1000000
0.12% / 0.16%
0.096% / 0.128%
VIP4
$1000001 – $2500000
0.10% / 0.14%
0.080% / 0.112%
VIP5
$2500001 – $10000000
0.08% / 0.12%
0.064% / 0.096%
VIP6
$10000001 and above
0.04% / 0.10%
0.032% / 0.080%
Sending crypto between Crypto.com owners does not come with any fees.
Payment Methods
The exchange only supports cryptocurrency deposits and withdrawals. The Crypto.com App allows users to make deposits via bank transfer, debit or credit card, or crypto.
Security Features
Our Crypto.com review would not be complete without inspecting its security features. The platform has a number of security certifications, including Cryptocurrency Certification Consortium, ISO/IEC 27001:2013, and PCI:DSS.
The exchange claims that all their funds are kept in cold wallets. Crypto.com also has a cold wallet insurance fund should something happen to the funds. US citizens have their USD funds insured up to $250,000 by the FDIC. Their hot wallet uses only corporate funds.
On May 11th, the platform accessed the $150 million of pooled insurance cover to clients via insurance broker Marsh, and Lloyd's of London underwriter Arch Insurance, through institutional custody provider Ledger Vault.
Crypto.com has surpassed the Ledger Vault cover with a $100 million direct policy and used $110 million worth of digital asset custody insurance from BitGo under a pooled and direct policy.
Their mobile application and exchange feature 2FA through biometrics or the Google Authenticator app. But even if a breach occurred, the hacker wouldn't be able to send the funds, as the address has to be whitelisted by you.
Customer Support
The platform features 24/7 live chat support for all its customers, regardless if they are using the app, exchange, or card. There have been some complaints regarding response times, but they have time to scale their team to meet the demands of their growing user base.
Crypto.com Reputation
The MCO card has received positive reviews from the community, and the app and exchange have not gotten any complaints yet. There have not been any hacks or security leaks, but the exchange is still rather new.
Crypto.com Review: Verdict
Crypto.com is a versatile project that offers a wide variety of products, ranging from crypto Visa cards with perks to mobile fiat exchange services.
Featured image: coincodex.com
The Review
Crypto.com Review
PROS
Mobile app with fiat option
MCO Visa crypto card
Numerous staking rewards and advantages
Competitive fees
Review Breakdown
Supported Currencies
Rates and Fees
Security
Transaction Speed
Ease of Use
Customer Support

coindoo.com is author of this content, TheBitcoinNews.com is is not responsible for the content of external sites.
source: https://coindoo.com/crypto-com-review-exchange-fees-security-pros-and-cons/
TheBitcoinNews.com is here for you 24/7 to keep you informed on everything crypto. Like what we do? Tip us some BAT

Send Tip now!