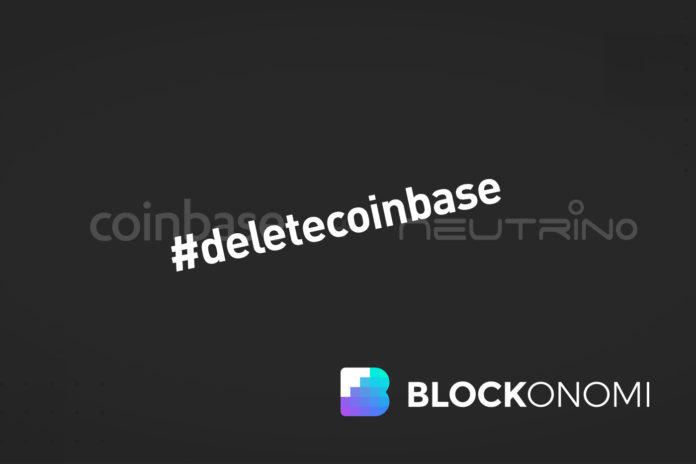 Game-breaking innovations and the ecosystem that surrounds them aren't without controversy. Crypto and blockchain technologies are no different. In recent weeks, cryptocurrency investors have opted in to delete their Coinbase accounts in the "#DeleteCoinbase" movement, as the American startup's business decisions have irked many industry participants.
But, squabbling about the company got worse just recently, as a company executive made a damning comment about Coinbase's inner workings…
You want the latest news about Crypto? Sign up to our weekly Newsletter!

Coinbase Acquires Neutrino
As reported by Blockonomi just two weeks ago, cryptocurrency giant Coinbase, headquartered in the heart of San Francisco, announced the acquisition of Neutrino, a blockchain intelligence & analytics boutique. In a company statement, the now-Neutrino owner, valued at a hefty $8 billion, noted that it participated in this business deal due to the importance of blockchain data in its raison d'etre of creating a global open financial system.
Coinbase added that Neutrino's roster of offerings would allow it to prevent the theft of digital assets, delve into ransomware attacks, and most importantly, identify bad actors in the ecosystem. The company elaborated on its rationale behind the deal, which monetary value remains undisclosed:
"[This deal] will also help us bring more cryptocurrencies and features to more people while helping ensure compliance with local laws and regulations. Neutrino's technology is the best we've encountered in this space, and it will play an important role in legitimizing crypto, making it safer and more accessible for people all over the world."
Although the premise of this acquisition was laid out, the statement was scant at best, pushing crypto community members to look into the nitty-gritty of the project. Just days, if not hours after Coinbase made this announcement, Bitcoin investors and other groups discovered that members of the Neutrino team, now based in Coinbase's London headquarters, aren't God-given angels.
Delete Coinbase Movement Gains Traction
Chief executive of the analytics unit, Giancarlo Russo, along with two other C-suite members, actively participate in Hacking Team, a cybersecurity startup that sold spyware and questionable pieces of software to purportedly human rights abuser groups and governments. The prime example that critics took to was the Hacking Team's involvement with the Saudi Arabian government, specifically the case in which the company may have aided the seeming murder of journalist Jamal Khashoggi.
Skeptics of the acquisition quickly rallied on Twitter through the #DeleteCoinbase tag, with participants of this movement including the @BTC handle, Mr. Hodl, Udi Wertheimer, Tone Vays, among other preeminent industry commentators. Funnily enough, some actually deleted their Coinbase accounts, posting emails and transcripts as proof of their torching of the crypto establishment.
Although the issue has likely affected Coinbase's private stock already, this debacle was only exacerbated recently, as a company executive took to business outlet Cheddar to double-down on the acquisition.
"We are aware of the backgrounds of some of the folks that were involved in Neutrino and we are looking into that," a Coinbase exec told Cheddar on Friday. https://t.co/kI8c6womqC

— Cheddar (@cheddar) March 1, 2019
In a jaw-dropping turn of events, Christine Sandler, Coinbase's head of sales, noted that her employer is fully aware of the backgrounds of Neutrino's team, which some argue is a tacit endorsement of the controversial Hacking Team's practices. Sandler added that Coinbase also decided to down the red pill, as it were, due to the fact that its previous blockchain analytics partners were selling data to third parties.
While this point wasn't the primary topic of discussion in the interview, many took issue with that brief comment on Twitter. The Tel Aviv-based Udi Wertheimer revealed that his faith in the company is long gone, while the @BTC handle asked if this whole imbroglio is a "sad joke."
XRP Addition Questioned
While the acquisition of Neutrino was the primary catalyst behind the creation of #DeleteCoinbase, the company's addition of XRP to its offerings has also overtly questioned. More specifically, over recent history, many have lambasted the asset for being a security token tied to Ripple. But, Sandler says that her company's decision to do just that is well in order, as she explained that Coinbase has the infrastructure to provide services for Ripple's go-to asset. She explains:
"There was some speculation about whether the asset would be classified as a security or not — we're not securities lawyers. We felt there were compelling arguments on either side. Should XRP be classified as a security, we have the infrastructure in place that would support that."
The post Delete Coinbase Movement: Firm's Analytics Partners Sold Data, Reveals Crypto Exec appeared first on Blockonomi.

Blockonomi.com is author of this content, TheBitcoinNews.com is is not responsible for the content of external sites.