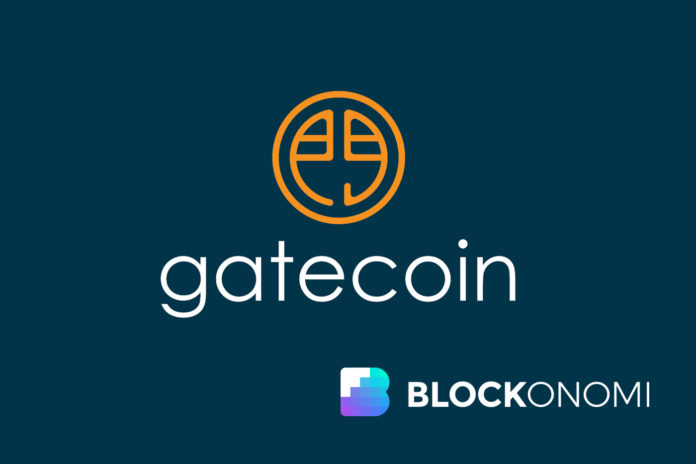 Gatecoin, a cryptocurrency exchange platform that has had a little bit of a torrid history for the past two years is now closing its doors per an announcement posted on its website.
In its announcement, the Hong Kong-based exchange wrote that it will be compelled to halt all of its operations immediately, per a compulsory liquidation order from an unspecified court. Gatecoin will now work with regulators to see off the liquidation process and to ensure its creditors receive their fair share of assets.
You want the latest news about Crypto? Sign up to our weekly Newsletter!

The company's announcement confirmed its travails, having experienced issues with its financial service providers in September 2018, it switched to an unspecified Payment Service Provider (PSP).
The statement reads:
"Even after we managed to mitigate our loss by replacing that PSP with more reliable alternatives to process our clients' transfers in September 2018, the situation did not improve because that PSP retained a large part of our funds. After months spent trying to recover those funds, we commenced legal action against that PSP but were advised that it is unlikely that we would be able to recover the funds from them in full."
Gatecoin Hacked
Gatecoin was established back in 2013 by Aurélien Menant, a founding member of the Bitcoin Association of Hong Kong. According to the exchange's entry on Wikipedia, it was one of the very first exchanges to list Ether (ETH) token in August 2015.
The exchange, which is based in Hong Kong, suffered a major hack in May 2016, where everything went sideways. The security breach gave hackers access to its hot wallets and in the process, about $2 million in digital assets were carted away.
At the time, the firm's official statement on the issue revealed that the criminals stole 15 percent of the company's total inventory of crypto assets; specifically, 250 Bitcoin (BTC) and 185,000 Ether (ETH) tokens.
As at that point, the total worth of tokens stolen was pegged at $2.14 million.
A Ripple Effect that Led to the Ultimate Liquidation
In its recent announcement, Gatecoin shed some light on what caused the liquidation.
Still reeling from the effects of the hack, Gatecoin's operations were put in further jeopardy after the Chinese government banned Initial Coin Offerings (ICOs) and crypto-to-fiat trading options in the country.
Soon after China took this drastic step, an extreme departure of crypto firms in China naturally occurred, with many of these firms looking to overseas banks as a means of saving and maintaining their operations.
However, while banks based in Japan had an affinity for blockchain technology, it seemed the crypto wave was too overwhelming for them to handle. So, the banks followed in China's footsteps and became hostile towards its native crypto sector.
As a result of the harsh business environment that had been created, crypto-based businesses in Japan, including Gatecoin, were repeatedly being shunned by banking institutions. Accounts of crypto firms in Hong Kong-based banks were being frozen and closed for no apparent reason.
According to a report by the South China Morning Post Gatecoin's account with its major banking partner, the Hang Seng Bank was suspended, while another bank, the Fubon Bank, imposed a daily transaction limit on its account that was significantly below what was required for the exchange's day-to-day operations.
The post Embattled Crypto Exchange Gatecoin Finally Closes Down appeared first on Blockonomi.