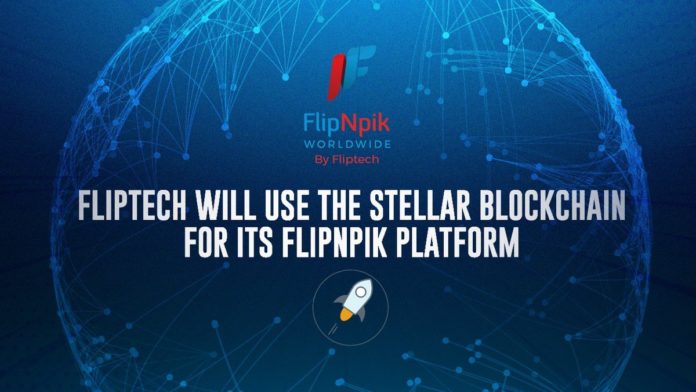 2 Aug, London, UK and Singapore, Singapore – FlipNpik is excited to announce that the FNP token will soon be listed on the StellarX marketplace. The new platform, powered by the Stellar network, is fast and without transaction fees.
FlipNpik will be one of the first coins listed on StellarX, the new professional grade trading interface for Stellar tokens. StellarX is an exciting project sharing the same values as FlipNpik. "Because we're built on the open Stellar order book, no one  —  no exchange, no miners, no middleman of any kind  —  takes a cut of your transactions," announced Christian R, co-founder of Stellar (XLM) and now StellarX.
"Indeed, you'll be able to trade FNP tokens completely for free on StellarX. The StellarX marketplace will benefit all our investors by allowing more visibility and liquidity of the FNP Token," stated FlipNpik CEO Henri Harland. "It's great news – we can reward the support of the community and make the FNP token a credible cryptocurrency with high potential value," he added.
Led by a strong team of experienced entrepreneurs and experts in the fields of digital currencies, finance and marketing, FlipNpik empowers small businesses and communities by providing a global platform that supports a unique ecosystem of mutually beneficial relationships.
FlipNpik is also working to list its token on exchange platforms located in Asia and Europe. New announcements should follow in the weeks to come.
'Whale bonus' for the Public Ending Soon
The FlipNpik private sale, which is open to the public and dedicated to small investors who can benefit from bonuses ranging from 50% to 100%, is still open for a few days.
About FlipNpik
FlipNpik is the first blockchain-based collaborative social media to allow users to monetize their social media posts by supporting their favourite local shops. Users are rewarded for posting and promoting businesses, and this translates to enhanced marketing and visibility for businesses. The FlipNpik mobile app is available on iOS and Android, and FlipNpik has listed businesses in Switzerland, Great Britain, Ireland, Singapore, Canada and France. https://flipnpik.io
About StellarX
StellarX is the first full-featured trading app for Stellar's universal marketplace. It was created by a team with deep user-friendly building experience and showcases a wide selection of assets: crypto, fiat tethers, commodities, bonds, and more. https://www.stellarx.com
Contact Information:
Henri Harland, CEO FlipNpik
[email protected]
Skype: Henrij.h22
Cecilia Wong, Your PR Strategist
You want the latest news about Crypto? Sign up to our weekly Newsletter!