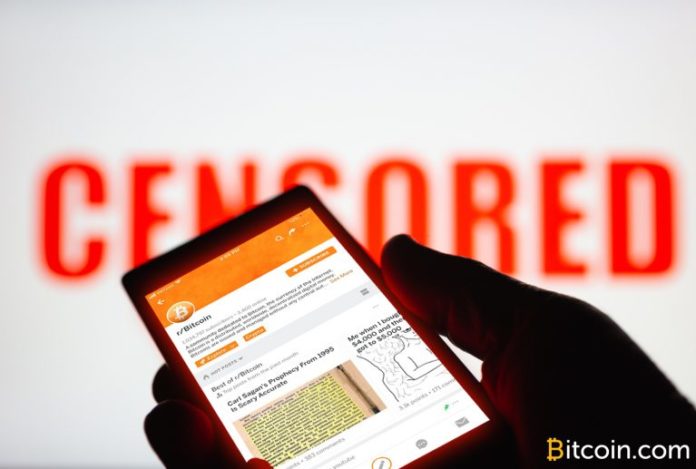 On May 2, the Bitcoin.com podcast series Humans of Bitcoin published an interview with early bitcoin supporter Jason King who became a moderator for Reddit forum r/bitcoin in late 2012. During the interview, King tells podcast host Matt Aaron how the forum r/bitcoin went from a fun area on the web to an environment filled with censorship and manipulation.
Also read: Crypto Community Monitors Bitfinex Wallets and the Strange 6% BTC Premium
Jason King Recalls Witnessing Heavy Censorship While Moderating R/Bitcoin
There's been many detailed posts concerning the censorship and propaganda tied to the Reddit forum r/bitcoin. In fact, the forum's lead moderator Theymos controls r/bitcoin, bitcointalk.org, and the en.bitcoin.it/ (Wiki) page as well. This week, Bitcoin.com's podcast host and coordinator, Matt Aaron, discussed what it was like to be a moderator for r/bitcoin with the well-known bitcoiner Jason King. According to King, he became a moderator for the forum at the end of 2012 and he believes the manipulation that took place was "actually one of the bigger tragedies in the space."
King recalls that in the early days, the most popular subreddit was one of the coolest places to hang out on the internet. Back then, even if people had different views they wished each other well, King remarked. King said he was privileged to be a part of the Bitcoin Reddit community and even more so when he was given the moderator role. Over time, however, the sentiment starting changing and there was a lot of negativity starting to grow.
"I had this view of it from inside of getting to watch us [r/bitcoin moderators] trying to mod bad content and being overridden by the owner of r/bitcoin," King revealed to Bitcoin.com podcast host Matt Aaron. "Basically when the block size debate started, anything to do with a larger block in any context — talking about larger block size for r/bitcoin just started getting killed.
And then it became this really crazy thing where if you just talked about wanting bigger blocks in Bitcoin — Then Theymos would just say: 'Well if you want bigger blocks, that's an altcoin' or 'That's not Bitcoin so you can't talk about that here.'
Theymos, the 'Bitcoin Media Monopoly,' and How R/Bitcoin Toxicity Still Exists to This Day
King insisted that the censored posts were not just a small amount of discussion as "thousands of posts got blocked." The former r/bitcoin moderator also said it was a very "weird time" and most of the people that made r/bitcoin great had left the forum and moved on. After a while, the forum went from not fun to extremely toxic and "a really negative part of the community," King stressed. The early bitcoin enthusiast further emphasized that the forum is still toxic to this day. After discussing the beginning stages of censorship, the conversation turned to r/bitcoin owner Theymos and his "Bitcoin media monopoly." During the end of the discussion, King also commented on how Theymos said King's mod account was considered "compromised" and described how he was eventually removed from the r/bitcoin mod team.
If you want to hear the rest of this interesting discussion with Jason King revealing his unique experience as an r/bitcoin moderator, check out the video below.
What do you think about the detailed discussion on how r/bitcoin changed into a censorship-ridden environment from the eyes of a former moderator? Let us know what you think about this subject in the comments section below.
---
Image credits: Shutterstock, Bitcoin.com Podcast, Jason King, Reddit, r/bitcoin, and Pixabay.
---
Have you seen our Bitcoin Cash (BCH) tips generator? Anyone can create tips in order to give BCH by email or printable tickets. Recipients easily redeem tips by visiting a web page with instructions, and if the funds are not redeemed you get the money back. Check it out today!
The post Former Mod Explains R/Bitcoin Censorship and Why He Was Removed appeared first on Bitcoin News.
Bitcoin.com is author of this content, TheBitcoinNews.com is is not responsible for the content of external sites.