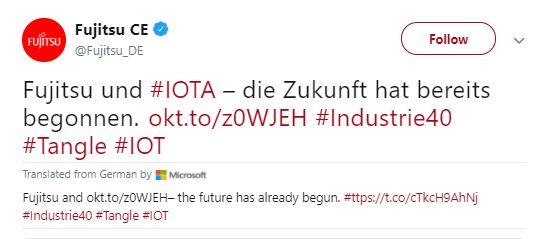 On 16th July, HelloIOTA, a forum dedicated for IOTA news, published an article about the 'the IOTA – Fujitsu connection'.
The relationship between Tokyo based IT giant, Fujitsu and the permissionless distributed ledger, IOTA is well registered from the time Dr. Rolf Werner, the CEO of Fujitsu began tweeting and liking #IOTA-tagged posts on Twitter back in 2017. This article covered details regarding IOTA Data Marketplace, Dr. Werner's joining IOTA foundation, Fujitsu partnership with Intel among other events.
Fujitsu CE's tweet | Source: Twitter
Fujitsu partnered with IOTA in the month of November 2017, when Dr. Werner addressed the business' who's who about the benefits of the Tangle, IOTA's underlying technology. Post this, Dr. Werner became a member of the IOTA Foundation's supervisory board. On joining IOTA foundation he said:
"The possibilities of decentralized and secured applications based on IOTA Tangle as a Distributed Ledger Technology are immense."
Fujitsu at the annual Hannover Messe, a trade exhibition, showcased the IOTA technology and driving the live demonstration was Dr. Rolf Werner, who stated:
"Fujitsu is well-equipped to help roll out IOTA as the new standard by being across both IT services and manufacturing."
The article mentioned regarding the demonstration. It stated:
"Many people consider Fujitsu's dedication to be one of many experiments to implement new technology. However, a company like Fujitsu would not promote "yet another crypto coin" at the world's largest industrial fair (Hannover Messe, Germany) to such an extent, would it? They have gone so far as to produce a full demo for an IOTA-run Industry4.0-factory."
Fujitsu has shown interest in the IOTA project on various circumstances and continues to do so while they collaborate with other large companies and are also emphasizing on expanding the usage of IOTA.
Earlier this month, Fujitsu announced about the instant availability of a new and extremely rapid
…
iota-news.com is author of this content, TheBitcoinNews.com is is not responsible for the content of external sites.