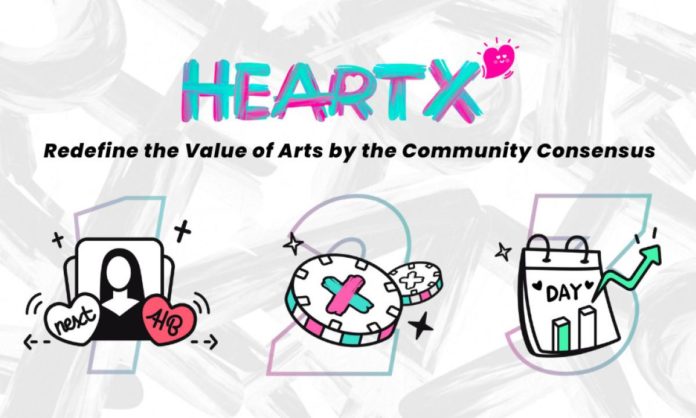 Central, Singapore, 20th March, 2023, Chainwire
HeartX, previously known as ArteX, a trailblazer in the digital art industry, has recently rebranded and unveiled a groundbreaking web3 marketplace and community that empowers artists, collectors, art consultants and art lovers to redefine the value of digital art. The HeartX platform provides a secure, immersive, and transparent space for creating, sharing, and trading digital artworks, catering to artists, collectors, and the web 3 community alike.
The sleek and user-friendly interface allows artists to upload and list their NFT-based digital art for a global audience to explore and purchase. HeartX's unique art evaluation system engages all users by enabling them to rate by voting on digital art pieces, earning tokens as a reward, and creating an interactive and dynamic online art community. This feature fosters closer ties between creators, collectors, and art lovers and creates an interactive and dynamic online art community. HeartX's Vote-to-Earn system allows people to show their taste and support, making it easier to join the web3 community.
The team announces the launch of HeartX's first season, which introduces a unique set of features designed to enhance user engagement and incentivize participation. The "vote-to-earn" model allows users to earn tokens by voting for art pieces, with both the most and least favored pieces resulting in token earning. With the tokenomics model, there are two types of tokens for the platform- the governance token $HTX and the utility token $HNX that encourage users to unlock new opportunities for growth and profitability. Additionally, multiple dimension ranking systems reward users, creators, and collectors, creating a positive feedback loop that encourages ongoing participation within the ecosystem. 
HeartX is excited to announce their team and partnerships as they prepare for launch in the rapidly growing web3 space. The team is composed of seasoned professionals with a diverse range of experiences and backgrounds, united by a strong passion for creating a seamless, secure, and user-friendly platform and ecosystem for users worldwide. HeartX has formed partnerships with some of the most innovative teams in the web3 space, with more to be announced.
"We believe that the value of arts can be redefined by community consensus," said HeartX founder Anson. "We also believe that 'art' shouldn't be that out of reach, which is why we are bringing people the HeartX platform." HeartX's vision for the future of digital art goes beyond being an online marketplace. It is a vibrant community of art lovers passionate about exploring and collecting digital artwork. The platform connects creators and collectors, offering artists a unique opportunity to showcase their digital artwork to a global audience and collectors a chance to build a reputation and find unique, innovative pieces.
The HeartX team has just released the HeartX whitepaper, outlining its vision for a decentralized future and highlighting the key features and benefits of the HeartX platform. The HeartX team invites everyone to read the whitepaper to learn more about its ambitious goals and innovative solutions. Learn more about HeartX's whitepaper here. 
The team is continuing to develop the HeartX project and looks forward to sharing updates with the community as they progress toward launch. The HeartX marketplace will be launched in both app and web version in mid-April. Join HeartX today and experience the future of digital art. 
About DECENT ARTS
Decent Arts Singapore Pte. Ltd. is a Web3 professional team dedicated to art.
Decent Arts aims to connect the offline and online art worlds to broaden the boundaries of traditional art and establish a more inclusive, diverse and decentralized Web3 art ecology.
Decent Arts focuses on the physical and digital art market and has created an online art community for trading and communication. It has launched digital art collections, and incubates a richer metaverse and Web3 products to allow more people to connect, understand, and finally fall in love with art.
The team currently has 30 members who are responsible for product planning, artist cooperation, technology development, platform operations, etc. Most of the members come from successful Internet companies in diverse fields including gaming, live broadcast, social networking, e-commerce, art, blockchain, digital collections, and more.
Contact
The HeartX Team
[email protected]