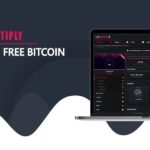 Bitcoin faucets are websites and sometimes apps that give out Bitcoins in the form of the smallest unit known as Satoshis. There are top faucets known to offer Bitcoins at certain intervals, and some give more free Bitcoins and rewards for small tasks than others. One of the top faucets in the industry is Cointiply, and in this article, we will take you through the process of how to maximize the use of this faucet to get free Bitcoins.
What Is Cointiply?
It is one of the most rewarding faucets out there that offer different ways to earn Satoshis. Apart from the faucet that can be spinned once every hour to get free Bitcoins, Cointiply rewards users for engaging in some activities to earn more Bitcoins, which we will get into in a minute.
It should be noted that faucets don't give a lot of Bitcoins at a time, but it can give enough for new users to start experimenting with crypto transactions. Without any further waste of time, let's get into it.
How Does Cointiply Work?
Cointiply issues free bitcoin rewards to users. These rewards are gotten by spinning the faucet wheel on the website hourly. Users also earn by taking part in fun things on the website, such as watching videos, completing simple tasks, playing games, completing offers, and participating in surveys. They can even multiply their coins by playing unique Sci-fi games. All they have to do is sign up on the website and start carrying out these activities in order to start earning.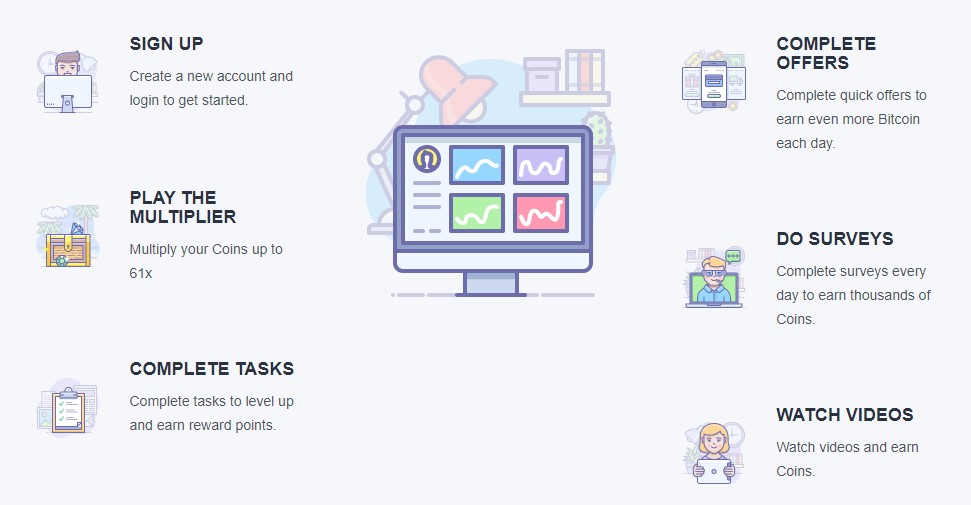 How to Use Cointiply
To earn from the Cointiply spin faucet, visit the faucet and click the "Roll & Win " button. Free coins will be awarded to you randomly based on the number you roll. Watching videos is a major way to earn more, but you have to qualify for it. Cointiply has several partners, including Hideout.tv, Smores.tv, and others through whom you can watch videos to earn rewards. Click on the option to see if you qualify to watch.
There are also browser games that you can play to earn more. In addition to this, you can engage in viewing ads, which are available to all countries 24/7. You can also take part in surveys to earn more coins. Just go to the offer walls to see available surveys which you can take part in to earn. One of these can pay as much as 100,000 coins. There are also Pay to Click (PTC) ads for which you get rewarded just for clicking.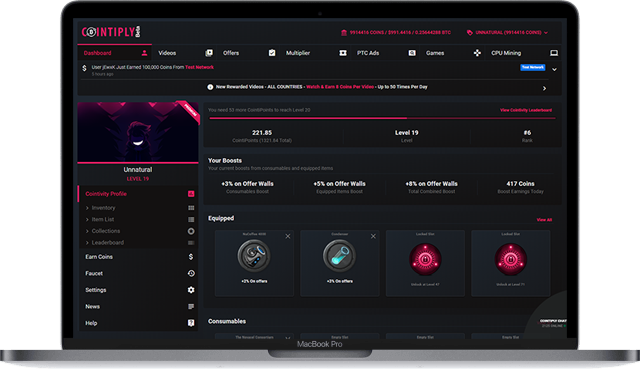 How to Win Cointiply Points
Apart from direct rewards in Satoshis, the faucet also rewards users with Cointiply Points. These can be won by completing tasks and boosting one's level.
These reward points can be easily converted to real rewards like the coins you earn and withdraw to a personal Doge or Bitcoin wallet. You can also earn an extra 25% of the earnings of friends and family that you refer to Cointiply.
How Many Days Cointiply Takes to Pay
Withdrawal can be easily made on Cointiply to a Doge wallet when you have up to 30,000 coins. To withdraw to a Bitcoin wallet, you will need to have earned at least 50,000 coins. As there are many payments to process at any given time, it typically takes 24-72 hours (2-3 days) to process payments and send your rewards to your wallet.
How to Withdraw from Cointiply
When you reach the required minimum number of coins to withdraw to a Bitcoin or Doge wallet, you can request payment by going to and placing your pointer on the "Activity & Payments" button and tapping on it if you are using a mobile device. It displays options, one of which is "Withdraw Coins". Click on it, and it will open a pop-up page that shows your coin balance and its equivalent value in U.S dollars and Bitcoin. Under it, you will see an option to either withdraw to your Doge wallet or Bitcoin wallet. Select the appropriate option.
Although you can easily withdraw your rewards, the website encourages users to leave their wallet balances on the website and earn interest once they have up to 35,000 points. You can also deposit Bitcoins in your Cointiply wallet to earn even more interest. A total of 5% interest is awarded annually, and this is calculated and paid to your balance every week.
Conclusion
These are the steps you can take to start earning Bitcoins on Cointiply. If you are feeling like doing some fun stuff and, in the process, get some cryptocurrency rewards, you can head there and start getting some Bitcoins to join the crypto revolution. There are online and mobile apps that you can use to earn on the go so everyone can participate.

coindoo.com is author of this content, TheBitcoinNews.com is is not responsible for the content of external sites.