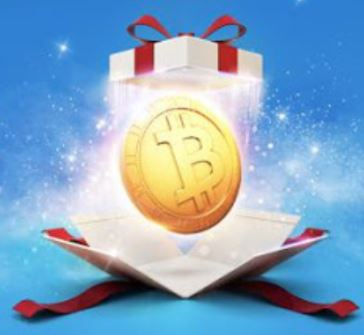 The recent Bitcoin market has excited investors who trade BTC futures trading – the huge volatilities have created many chances for us to make profits. Even with small funds invested in, investors can also earn a lot on the strong ups and downs.
In order to increase investors' profitability, crypto derivatives exchange Bexplus has launched the 100% BTC bonus activity to all traders in the crypto area. For example, if you deposit 1 BTC, you will get 2 BTC in total credited in your account. And each user can get up to 10 BTC for each deposit.
You want the latest news about Crypto? Sign up to our weekly Newsletter!

So, how can 100% BTC bonus benefit your trade?
For instance, if you deposit 1 BTC in your account, you can only open up to 100 BTC positions with 100x leverage. With 1% price move, you have a chance to earn 100% if betting in the wrong direction.
If you deposit 1 BTC, you will get 2 BTC credited. You can open a 200 BTC long or short position. And you can also earn up to 200% profits on 1% price rising or falling.  Furthermore, if you deposit 10 BTC, you will get 20 BTC in total transferred in your account. As long as you've made accurate market predictions, you can open positions on different trading pairs at the same time. Last but not least, the bonus will increase your margin rate which means that your positions will not be forced liquidation easily even during the strong market fluctuations.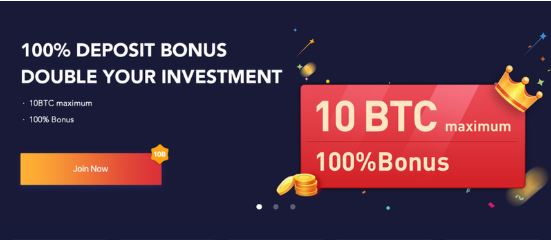 Claim Up to 10 BTC Bonus and Get Profits in Bexplus
Bexplus is a bitcoin-based exchange that focuses on cryptocurrency derivatives, offering BTC, ETH, XRP and LTC futures contracts. Bexplus is registered in Saint Vincent and the Grenadines. Since it's established in late 2017, Bexplus has experienced exponential growth. Its users now are covering more than 36 countries in the world.
Why is Bexplus's bitcoin futures popular?
Bexplus is the first platform to effectively aggregate liquidity, and from 5 top exchanges. This means that Bexplus traders will get the best possible price across all of the most popular exchanges. Prices are in real time, so order execution is lightning fast, as a result mitigates the risk of slippage. There are no KYC requirements; sign up with email address takes less than a minute. Users from 30+ countries around the world, including USA, can trade futures contracts in Bexplus exchange.
As an example, say you want to buy 1 BTC at a price of $10,000. To open such a trade on a fiat-to-crypto exchange you would need to pay $10,000. If the Bitcoin Price goes up by 1%, 1 BTC now worths $10,100. If you choose to then sell them to secure your profit, you'd have made $100 from your original $10,000 investment.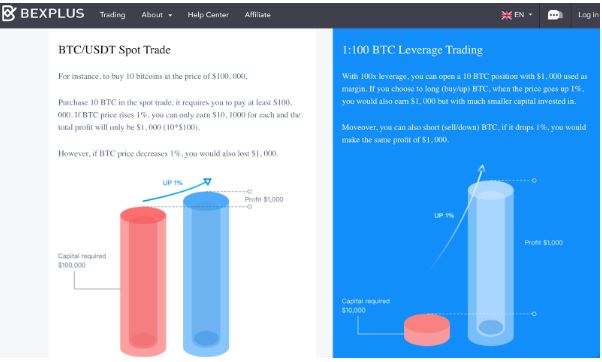 Now let's compare that to 100x leverage on Bexplus. Here you would only have to pay 1% open the same trade, which means $100 (0.01 BTC) to open a 1 BTC position. If Bitcoin's price rises by 1%, you will still have made the same profit of $100, but at a considerably reduced cost.
Long (buy/up) or short (sell/down)
In addition to price rising, traders can also profit from a crypto-asset as its price is declining by placing a bet against it. To open long or short positions and trade with the market trend in Bexplus, rather than sitting back and waiting out for the next market rally.
Interests-bearing BTC wallet
Bexplus launches BTC Wallet especially for users who have not much experience in futures trading and want to earn money without risk. BTC wallet is an offline storage system encrypted with multi-signatured technology. All BTC stored in the wallet will be highly secured and protected. Deposit BTC in the wallet, you can enjoy up to 30% annualized interests.

Start earning with Bexplus today!
Follow Bexplus on:
Website: www.bexplus.com
Facebook: https://www.facebook.com/Bexplusglobal/
Telegram: https://t.me/bexplusexchange
Twitter: https://twitter.com/BexplusExchange