Whether you're new to crypto or are a seasoned trader, Snapex has $100 worth of free cryptocurrency for you. All South Africans are invited to cash in on this offer, and we'll tell you just how, right here. Here is how to get $100 free cryptocurrency in South Africa.
What Is Snapex?
Snapex is an international crypto margin trading platform that has recently opened its doors to South African traders. The platform has been successful in many overseas markets, and has recently welcomed the enthusiastic traders of our rainbow nation. As a special incentive to gather like-minded traders, Snapex is offering new users a chance to boost their capital with $100. The welcome bonus is divided into different segments, offering traders a certain amount for completing various tasks. 
How Does The $100 Free Cryptocurrency Work?
Snapex has created a list of small tasks that users will be compensated for upon completion. These tasks are broken down into two sections, the newcomer exclusive trading bonus and the transaction fees redemption, these include: 
Newcomer Exclusive Trading Bonus
Receive $5 – Deposit 100 USDT (minimum), make at least 1 trade
Transaction Fees Redemption
Receive $2 – Complete Registration
Receive $2 – Complete KYC
Receive $2 – Link your phone/email
Receive $5 – Join the Telegram chat
Receive $3 – For making new invites
Receive $1.5+ – Daily check-ins
Receive $79.5+ – Trade on a real account and accumulate a trading volume of 500,000 USDT
There are 2,000 Welcome Bonuses available, and work on a first come, first serve basis. The initial newcomer exclusive trading bonus is paid in USDT, while the remaining rewards are paid in SNAP points, which can be redeemed and traded on the platform. 
For more information on this lucrative offer, see here.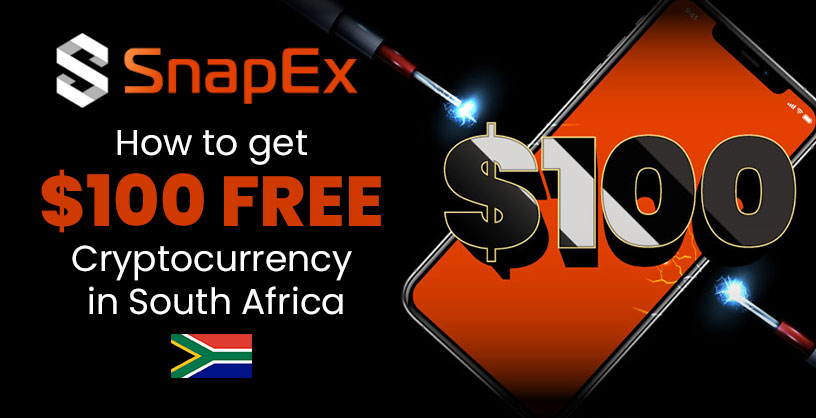 The post How to get $100 Free Cryptocurrency in South Africa appeared first on BlockNewsAfrica.
You want the latest news about Crypto? Sign up to our weekly Newsletter!