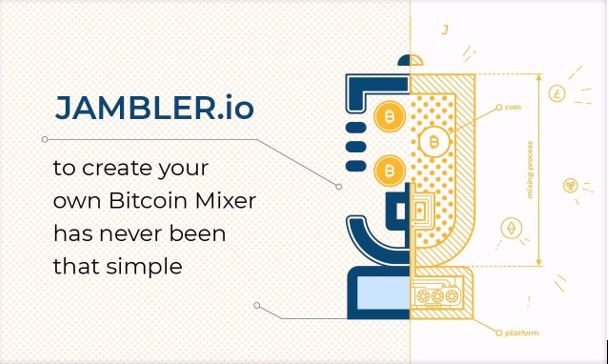 Jambler.io, the first platform that enables users to create their own Bitcoin mixer and capitalize on cryptocurrency anonymization services, has officially launched on August 19.
Jambler.io itself does not interact directly with customers, but provides them with cleansing services through a distributed partner network of bitcoin mixers powered by the platform. This approach allows avoiding a conflict of objectives between the platform and partners.
Furthermore, Jambler.io offers deeper cryptocurrency anonymization. Its algorithm involves selling surely clean money from cryptocurrency stock exchanges to customers, which are not associated with any particular account. This is especially important due to actual increasing number of deanonymization methods. In a word, Jambler.io purchases output transactions from cryptocurrency stock exchanges and/or miners, verifies their quality and resells them via partner Bitcoin mixers to end customers. Herewith, the transactions are purchased from a hundred unrelated investors and then distributed randomly through partner network to various end customers.
The platform does not store logs, does not require registration and verification and issues digital letters of guarantee in evidence of work with all members. Therefore, the project is of interest to three categories of people: end users, partners and investors. End users of mixers are provided with perhaps the best cryptocurrency anonymization tool. Partners are able to create their own Bitcoin mixer and start earning without any significant initial investments. Investors have the opportunity to make a short-term investment at 1% with an average turnaround time of 12 hours. People buy transactions all the time, thus, any person can earn up to 34% per month with Jambler.io. This is the essence of how the platform operates. The purpose of its work is to ensure safety for cryptocurrency owners and security for their savings.
These principles form the core of the platform's work. The aim is to provide protection for cryptocurrency owners and their funds. Jambler.io believes that privacy is a fundamental human right and to that end has created for its customers a Tor-friendly website: http://jambler2zgfnjykq.onion
To gain a better understanding of basic operation principles of Jambler.io, watch this animated YouTube video:
For more information, please contact Jambler team via E-mail: [email protected]
—
Jambler.io – Bitcoin's anonymity is our business!
Clearnet: https://jambler.io/
Tor-mirror: jambler2zgfnjykq.onion
Bitcointalk thread: https://bitcointalk.org/index.php?topic=4667343
Telegram chat: http://t.me/jambler
You want the latest news about Crypto? Sign up to our weekly Newsletter!