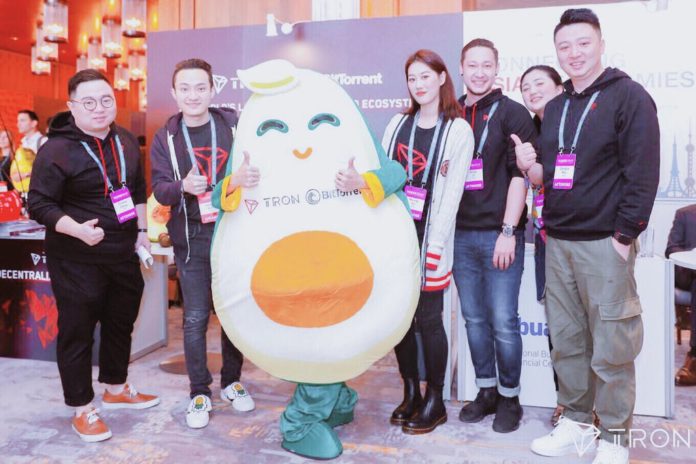 The "rivalry" between Justin Sun and Vitalik Buterin led crypto enthusiasts to witness a new chapter in a series of continuous trolls between the leaders of Tron and Ethereum.
On the first day of the Token 2049 event in Hong Kong, Justin Sun and his squad mocked Vitalik Buterin by joining the Ethereum Meetup with a giant human avocado.
In a tweet published by Tone Vays, it is possible to see a giant avocado with the Tron logo entering the Ethereum Meetup while a group of people giggling and sharing the fund took pictures and waited to see what would happen.
Documenting for Future:@justinsuntron & @Tronfoundation team r headed to troll @VitalikButerin at #Ethereum Speach #Token2049 w/ #avocado (I can tell u why but will be the fun in that 😂). Who's side does a #Bitcoin Maxi take?.. Rooting for #Avocado! #TRON $ETH $TRX & king $BTC pic.twitter.com/JDasjetIXH

— Tone Vays [#Unconfiscatable] (@ToneVays) March 13, 2019
Justin Sun's team also gave attendees free avocados, not only as an opportunity to promote their token but to ridicule Vitalik Buterin's words in which he used the fruits as an example for saying he didn't support Justin Sun even though he had supported the use of BitTorrent in the past.
That interview was from Aug 2017. Tron acquired bittorrent in Jul 2018. My praise for bittorrent had nothing to do with Tron.

This is like implying that because I like avocados, I approve of everyone who has ever bought an avocado.

— Vitalik Non-giver of Ether (@VitalikButerin) February 26, 2019
The roast between these two is common on Crypto Twitter. After the famous avocado comment, Justin Sun tried to joke with Vitalik by showing him a "Lambo" in the shape of this fruit, to which Vitalik simply replied with a gif that left him in a bad position in front of his community:
— Vitalik Non-giver of Ether (@VitalikButerin) February 28, 2019
Before the release of its mainnet, Tron was an ERC20 token running on the Ethereum network, however since Tron declared its "independence," Sun started to promote Tron as a better blockchain than Ethereum. This comparison is not to the liking of Vitalik or the Ethereum community, so when Justin published the first Tweets, Vitalik knew how to make fun of him, referring to the unoriginality of his project:
8. Better white paper writing capability (Ctrl+C + Ctrl+V much higher efficiency than keyboard typing new content)

— Vitalik Non-giver of Ether (@VitalikButerin) April 6, 2018
Justin Sun shared a set of pictures from the event. On his personal twitter, he can be seen posing with a stand full of avocados (you could get a real or a fake one) and mentioning Vitalik Buterin directly with the offer of a "Mega Avocado" just for him.
Until now Vitalik has not responded to this provocation; however, it is very likely that in the coming days the feedback and jokes between these two characters will keep happening for the amusement (or torment) of the community.
cryptocrimson.com is author of this content, TheBitcoinNews.com is is not responsible for the content of external sites.