In our Kraken review, we will be going through some of the features and characteristics that make this exchange one of the most popular trading venues on the market.
About Kraken
Kraken is a crypto-to-crypto and fiat-to-crypto exchange which works like a traditional stock exchange by matching buy and sell orders for a fee. The exchange is one of the most popular crypto trading platforms, and it has one of the highest Bitcoin to euro trading volumes in the world.
You want the latest news about Crypto? Sign up to our weekly Newsletter!

Kraken was established in 2011 by Jesse Powell and publicly launched in 2013. It was among the first cryptocurrency exchanges to be included in Bloomberg's terminals, as well as to ace a verifiable proof of reserves audit.
The platform is more geared towards professional traders, providing a comprehensive set of tools such as detailed charting and indicators, as well as crypto-trading options such as margin trading, OTC, dark pool trading, futures contracts, and options.
Supported Currencies
Kraken offers a wide variety of trading options, both in fiat and crypto pairs. The platform supports a total of 23 cryptos, including Bitcoin (BTC), Ethereum (ETH), Litecoin(LTC), Bitcoin Cash (BCH), Monero (XMR), Dash (DASH), Litecoin (LTC), Ripple (XRP), Stellar Lumens (XLM), Ethereum Classic (ETC), Zcash (ZEC), Dogecoin (DOGE), EOS (EOS), as well as many other altcoins.
Kraken users can also make deposits and withdrawals with a number of fiat currencies, such as CAD, EUR, GBP, JPY, and USD.
Margin trading is available for the following pairs: XBT/EUR, XBT/USD, ETH/XBT, ETH/USD, ETH/EUR, ETC/XBT, ETC/ETH, ETC/USD, ETC/EUR, REP/XBT, REP/ETH, REP/EUR.
Supported Countries
Kraken's services can be accessed by users from almost all countries except for:
Afghanistan;
Cuba;
Iran;
Iraq;
Japan;
North Korea;
Tajikistan;
Washington State (WA) and New York (NY) US States;
Liquidity and Trading Volumes
The exchange boasts high levels of liquidity, which in turn has led to high trading volumes. Good liquidity is essential for an exchange, as trades are funded much easier and faster.
Interface
Kraken's interface is divided into three templates: Simple, Intermediate, and Advanced. Its trading software is regarded as one of the most complex and comprehensive in the industry, as all its sections include an increasingly diverse set of trading parameters.
While the trading interface may seem a bit cluttered with all its features, it is perfect for advanced traders. This interface comes in 13 color schemes, that can be changed by the user with just one click.
The pricing chart can be set to go into full-size screen mode. The right side of the chart features basic drawing tools, Fibonacci extension, and retracement tools.
In the order book, you can find the bid and ask prices with the trade history and a watch list being listed below.
Users are also able to change the parameters such as moving averages and Bollinger bands for all chart overlays, as well as trading indicators.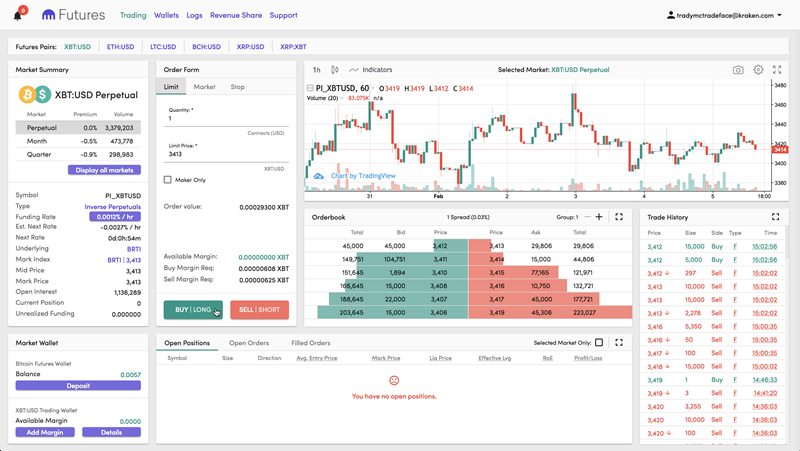 Payment Options
Kraken supports the depositing and withdrawing in a number of ways: bank transfers, SEPA, SWIFT, wire transfers, and cryptocurrencies.
Kraken Fees
Kraken's transfer fees vary based on transaction costs and can be adjusted according to the fee structures of the payment service. The current fees are:
EUR SEPA: Deposit (Free) / Withdrawal (€0.09) – EEA countries only;
USD Bank Wire Deposit ($5 USD) / Withdrawal ($5 USD) – the US only;
EUR Bank Wire Deposit (€10) – outside the US only;
USD Bank Wire Deposit ($10 USD) / Withdrawal ($60 USD) – outside the US only;
JPY Bank deposit (Free, ¥5,000 deposit minimum) / withdrawal (¥20) – Japan only;
CAD Wire Deposit (Free) / EFT Withdrawal ($10 CAD fee, $25K CAD daily max).
Almost all crypto deposits are free of charge, but there are fees when withdrawing:
Bitcoin (XBT): Withdrawal (0.001 BTC);
Ether (ETH): Deposit (small transaction fee to move ETH into Kraken's wallet) / Withdrawal (0.005 ETH);
Ripple (XRP): Withdrawal (0.02 XRP);
Litecoin (LTC): Withdrawal (0.02 LTC);
Bitcoin Cash (BCH): Withdrawal (0.001 BTC);
Tether (USDT): Withdrawal (5 USDT);
Trading Fees
Kraken's fee structure is a bit more complex, with a maker-taker system that is based on volumes calculated on a 30-day trading period. The fees are charged for each trade made, and are divided into four categories: trading, stablecoin, dark pool, and margin trading.
Trading fees: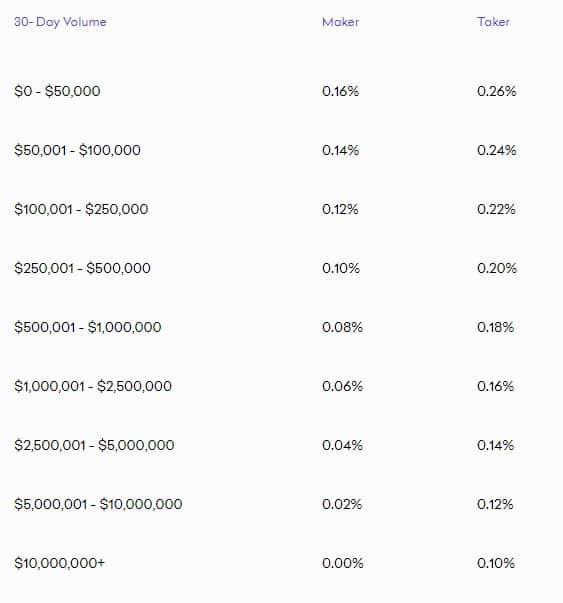 Stablecoin fees: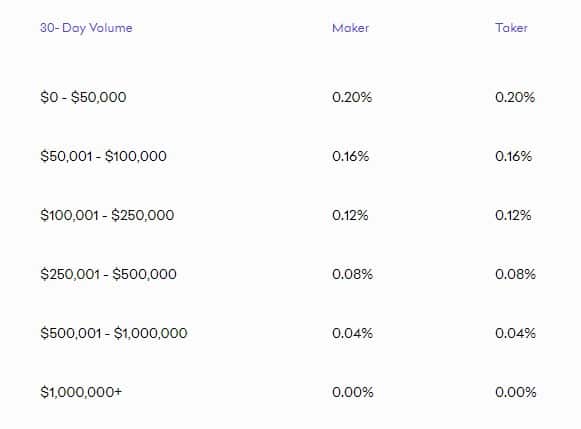 Dark pool fees: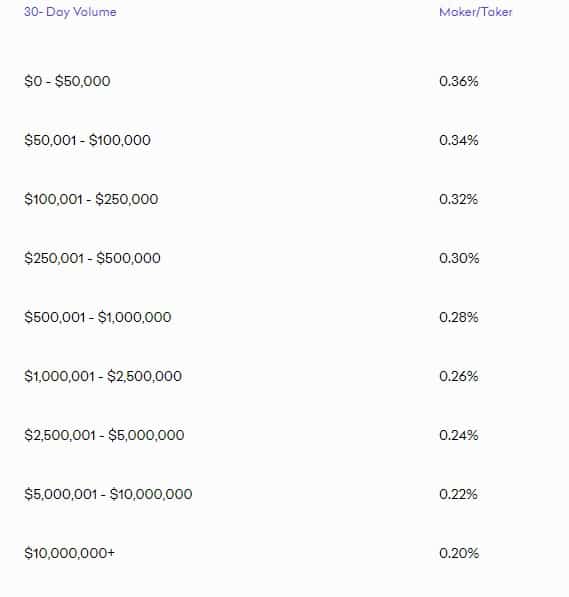 Margin trading fees: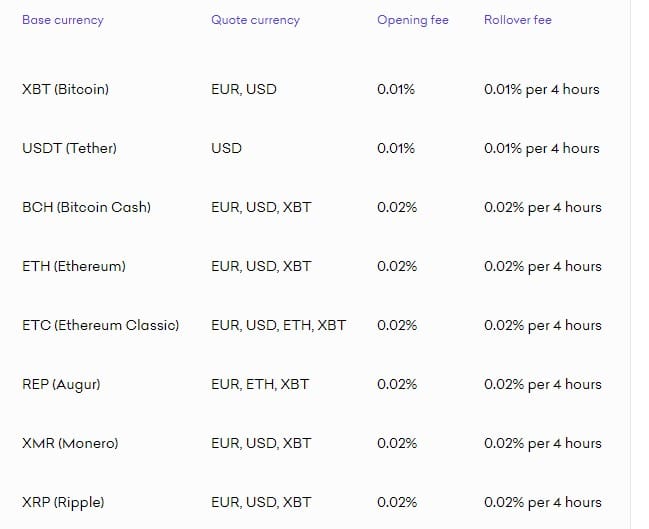 Verification Levels
Kraken has five verification tiers for its account with each of them having different requirements in terms of information and documentation. Each tier unlocks more features and limits the higher they go:
Tier 0: Email address
Features: cannot make any trades, deposits, etc.
Tier 1: Name, DOB, Country, and Phone
Features: no limits on crypto deposits, raised withdraw limit to $2.5k weekly & $20k monthly.
Tier 2: Tier 1+ physical address
Features: fiat trading, deposits and withdrawal limits of 2,000 EUR per week, or 10,000 EUR per month, increased cryptocurrency withdrawals limits of $10,000 per week and $50,000 per month.
Tier 3: Tier 2+ proof of residence and identity
Features: crypto withdrawal limits of $50,000 per week and $200,000 per month, fiat deposits and withdrawals of $25,000 per week and $200,000 per month.
Tier 4: Signed application form and KYC documents (a corporate account only)
Features: deposit and withdraw over $100,000 per week and $500,000+ per month in cryptocurrencies and fiat.
Security
Kraken is considered one of the most secure crypto exchanges in the industry. The platform stores 95% of its crypto funds in air-gapped cold storage wallets, which are geographically distributed all over the world.
All the sensitive and personal user information is encrypted and kept on secure servers. Other data protection measures include GSL and Master Key features.
The team also employs a 24/7 surveillance on the exchange and domain itself monitoring all the outgoing and incoming activity.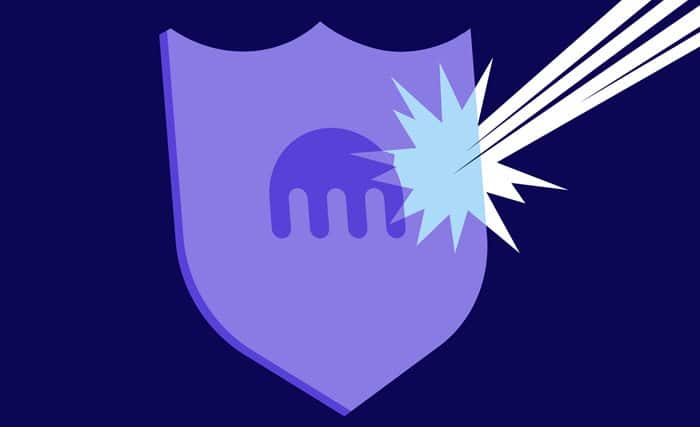 blog.kraken.com
For user accounts, Kraken requires that they activate 2 Factor Authentication. The exchange also features email confirmation for withdrawals, global setting time lock, granular API key permissions, customizable account time, and SSL encryption for its website traffic.
Kraken is compliant with all US 'know-your-customer' policies for preventing fraud and illicit funding.
In May 2017, Kraken was the victim of a DDoS attack, which prevented users from completing trades. The platform went online to solve the problem and improve its security. In spite of this, the exchange has never actually lost funds in a hack so far.
Customer Support
blog.kraken.com
Kraken provides 24/7 support through email, and users can also contact the support team directly through their chat feature. The website also features a detailed FAQ page with answers to most common questions regarding account, fees, and trading.
The platform can also be reached at its social accounts on Facebook, Twitter, and Reddit, where users can get quick responses to their problems. Many user complaints are regarding Kraken's internal ticket system, which is rather slow at times.
Usually, Kraken's response time is within 24 hours, but when there are higher volumes, the exchange will take some time to answer.
Verdict
The conclusion of our Kraken review is that the exchange is one of the leading platforms in its industry for a good reason. It has high liquidity, ample crypto listings, competitive fees, and plenty of advanced trading tools and options.
Featured image: bitnovosti.com
The Review
Kraken Exchange Review
PROS
High liquidity
Competitive Fees
Variety of cryptocurrencies
Easy to use
CONS
Different trading fees
Slow connection
Review Breakdown
Supported Currencies
Rates and Fees
Security
Transaction Speed
Ease of Use
Customer Support

coindoo.com is author of this content, TheBitcoinNews.com is is not responsible for the content of external sites.
source: https://coindoo.com/kraken-exchange-review-fees-security-pros-and-cons/
TheBitcoinNews.com is here for you 24/7 to keep you informed on everything crypto. Like what we do? Tip us some BAT

Send Tip now!