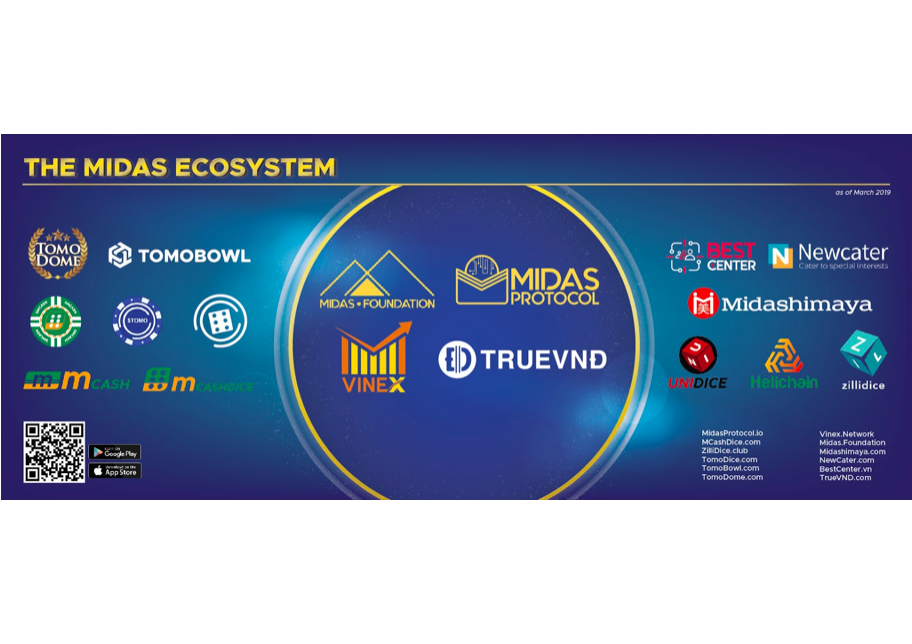 March 21st, 2019, Singapore – At the heart of Midas ecosystem, Midas Protocol is a universal wallet created for everyone, from new users to experts. It aims to be the most innovative wallet for all essential crypto needs, from safekeeping, intelligent trading and portfolio management.
Over the past years, growing a strong ecosystem has increasingly been targeted by many firms' as one of their priorities, regardless of the industry they belong in. Developing a robust ecosystem within industries focused on the use of blockchain technology is therefore not much of a diversion from the direction all other businesses are taking. The Midas ecosystem's concept lies in utilizing a collection of tools and platforms with a single aim to help people trade, invest and promote wise and secure use of cryptocurrency.
Available on both iOS & Android, Midas wallet supports multiple blockchains such as BTC, ETH, USDT, NEO, TUSD, TVND, TOMO, ZCOIN, MAS, DIVI various ERC-20s, NEP5, TRC-20 tokens, and counting. The wallet has also integrated with Kyber Network and IDEX for hassle-free in-app trading directly from a mobile wallet with over 500 tokens; integrated with Vinex Network for trading through API. It has a built-in dApp browser that runs seamlessly with deep-link and address book for convenience use. The most important and essential part of Midas infrastructure is the secure and user-friendly multi-coin wallet that gives users the ability to:
Run on all major platforms: Mobile (both iOS & Android), Desktop & Web (coming soon)
Safely store various type of cryptocurrencies
Safely send coins and tokens to friends and contacts.
Safely connect and spend cryptocurrencies on any E-commerce platform that accept crypto payment directly or via a crypto payment service provider.
Safely and directly trade with decentralized exchanges without sending private key to any external party
Safely and directly trade with centralized exchanges without sending API key to any third party
Monitor and manage their portfolio: how it changes over time, and historical transactions/trades in details
Get notified when important crypto news release or when a cryptocurrency in user's portfolio change substantially or trades get executed
Get rewards with high-performance ROI portfolio
Subscribe, follow, copy trade strategies from top investors/traders
For better security, the data file that contains private keys and API keys is encrypted by a user's password, therefore user's data & private key are protected from thieves. Midas has also partnered with Sentinel Protocol to integrate Midas Wallet to Sentinel Protocol's Interactive Cooperation Framework (ICF) API with Threat Reputation Database (TRDB), which contains Security Intelligence Whitelists and Blacklists detailing confirmed IOC's of threats related to phishing, malware, hacks, and scams.
Midas Protocol has joined some of the world's leading wallets and exchanges  as a member of the Foundation for Interwallet Operability (FIO).
Alongside Midas wallet is a crypto exchange – Vinex.Network, another key pillar of the ecosystem. The dynamic and fast growing exchange has listed many highly sought-after coins & tokens. It has also been featured on Coingecko recently. Essentially, Vinex.Network exchange offers:
High performance trading: the capability to process 500,000 orders per second
Extensive APIs: Support 3rd-party trading platforms and algorithmic trading bot
24/7 support
Mobile support
Staking reward ( $DIVI & more coins adding soon)
Airdrop center
OTC support
Leaderboard as Social Trading Functionality
Other features are underway
In parallel with their core development, Midas is also working with various partners to offer a range of new additions to their ecosystem:
A stablecoin for Vietnam market: TrueVND (http://www.truevnd.com), listed on Vinex.Network, IDEX, Tokenomy and a peer-2-peer TVND exchange (http://www.tvnd.market)
TomoDice (http://www.tomodice.com) and McashDice (http://www.mcashdice.com): gaming platform dApp that run flawlessly from Midas dApp browser.
TomoBowl (http://www.tomobowl.com): A social gaming arena where players can play directly against each other or in a group. Tomobowl will be a dApp fully integrated into Midas wallet.
Tomovatar (integrated in Tomobowl): a set of avatar that can be used on Tomobowl, Tomodice, Tomodome, and Mcashdice. This set of avatar is non-fungible in nature, hence tradable directly on a marketplace on Tomobowl.
TomoDome (http://www.tomodome.com): the hall of fame for Tomochain builders and supporters as well as for the partners of Tomochain to showcase their branding in one place.
Midashimaya (http://www.midashimaya.com): the Amazon on Blockchain, a decentralized and online department store that offer to shop owners the capability to open shop and sell to buyers who can sign and pay directly by using Midas wallet on dApp browser.
NewCater (http://www.newcater.com): a decentralized auction platform using smart contract for bidding of items, including collectibles such as Tomovatars.
CoinUp24 (http://CoinUp24.com): a blockchain and crypto-focused news what will provide curated news to Midas wallet users.
B.E.S.T Center (http://www.bestcenter.vn): a blockchain engineering training and headhunting center located in Hanoi, Vietnam where conferences will take place to exchange ideas for blockchain movement in South East Asia.
These several described projects have perhaps shone a better light at the whole Midas ecosystem and ignited the land of opportunities to those more interested. One cannot however hope, that mere words are enough to completely describe The Midas ecosystem in its entirety, it is only the users' experience that is able to and which we await with great anticipation.
To learn more visit the Website – https://www.midasprotocol.io
Follow on Facebook – https://www.facebook.com/midasprotocol.io
Chat with Midas Protocol on Telegram – https://t.me/midasprotocolglobal
Connect on Twitter – https://www.twitter.com/MidasProtocol
Subscribe on YouTube – https://www.youtube.com/c/midasprotocol
Media Contact
Contact Name: Phillip Phung
Contact Email: [email protected]
MidasProtocol is the source of this content. Virtual currency is not legal tender, is not backed by the government, and accounts and value balances are not subject to consumer protections. This press release is for informational purposes only. The information does not constitute investment advice or an offer to invest
---
Disclosure: This is a Sponsored Press Release

themerkle.com is author of this content, TheBitcoinNews.com is is not responsible for the content of external sites.