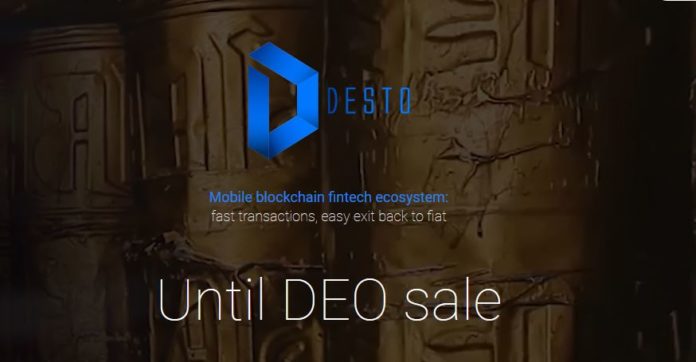 DESTO, the innovative mobile blockchain financial technology company, announces its forthcoming ICO. DESTO's mission is to blaze a new trail within the financial world, by offering "cashless commerce" underpinned by blockchain technology.
Wilmington, Delaware, March 23, 2018, The core purpose of DESTO's unique, accessible and inclusive payment alternatives is to provide financial enfranchisement to the 2.5 billion individuals around the globe currently without traditional bank access.
Its borderless financial services offering is being supported with its token, DEO. The company's companion mobile payment solutions will be underpinned by blockchain technology via DESTO PAY and the DESTO APP.
A spokesperson from DESTO announced the ICO in the following statement that was released to the press: "We are delighted to announce the DESTO token ICO and share details of how we are focused on bringing cashless commerce and blockchain to the 2.5  billion people worldwide without access to banks."
The statement continued, "These "unbanked" individuals are excluded from traditional banking infrastructure for three main reasons: first, due to their geographical locations (i.e. customers in remote areas or regions). Second, banks are non-inclusive of individuals residing within developing nations (e.g. within some countries in Africa, South America and parts of Asia) with rudimentary banking infrastructure. Third, for many of the same demographic within developing countries, banks are cost-prohibitive to utilise, with high fees and costs attached. On the other hand, DESTO is affordable, accessible, and available to anyone with mobile or smartphone access."
In response to being asked what distinguishes this ICO from others, these comments were made:
"We are more merely an ICO. DESTO is an entire whole ecosystem – from the payment solution gateway and app, to the token, the exchange, and all the way to the reserve and community where DESTO VENTURES and partner community members mine legacy cryptocurrencies. As with any self-renewing ecosystem, we regenerate the pool of talent and technology, sourced directly from our very own community."
"This is the DESTO way — facilitating evolution to create a revolution. We want to provide the infrastructure for the global community to access their money, make payments, accumulate crypto-assets and generate share profits — without the transactional necessity of a single bank. Our API takes the place of banks, and in doing so, welcomes billions of financially disenfranchised into a cashless world of cryptocurrency and blockchain possibilities."
To ensure an ecosystem of full liquidity for its token, the company has also implemented DESTO CX, its branded exchange licensed from MatchTrade, where DEO tokens can be bought and sold. Furthermore, merchants utilizing the DESO PAY and APP functions can reap the benefits of instant market liquidity for both cryptocurrency and fiat (to follow).
On the nature of DESTO CX and its future, the statement concluded: "We currently license the initial trading platform technology behind our DESTO CX exchange from MatchTrade, our trusted partner. Following the ICO, we will subsequently jointly build our own proprietary multi-asset cryptocurrency trading platform, in collaboration with MatchTrade."
About DESTO:
DESTO is poised to facilitate the current blockchain evolution to create an unprecedented financial revolution of global inclusion.
It is utilizing mobile and smartphone technology to widen the net of cryptocurrency and cashless payment solutions to include 25 million unbanked individuals within the next 5 years, representing 1% of the total global sum of unbanked individuals.
It is positioned as the leading contender for cashless payments, and is hinged by its own cryptocurrency liquidity exchange.
To learn more about DESTO's mobile payment solutions, the DESTO CX exchange and its ICO, or to purchase DEO tokens, please visit: www.DESTO.io
Join the conversation: https://t.me/destoplanet
Media Contact:
Desto Blockchain LLC
Attn: Media Relations
913 N Market Street, Suite 200,
Wilmington, DE 19801
Phone: (302) 884-7669, Fax: (302) 884-7668
[email protected]
Press Release Writing and Distribution by professionals for the Cryptocurrency industry. Steve Stanley, has written thousands of Press Releases and countless Articles spanning every industry and niche. It is easy to find his work on Google News and hundreds of other news outlets. There is no doubt that he is one of the only experts in his field when it comes to I.C.O: You can learn more about him and his services at http://ico-prmarketingservices.com