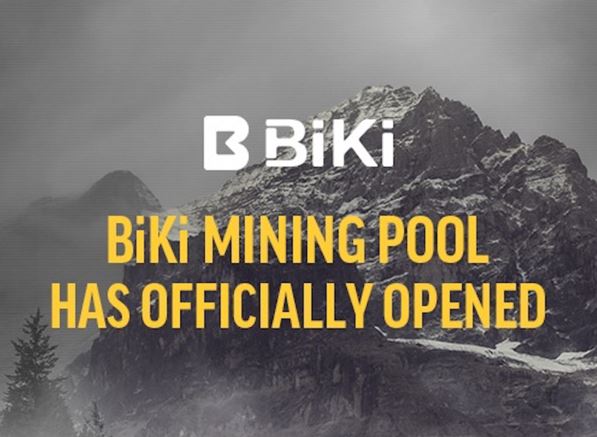 19th November, Singapore – The comeback in staking this year has seen Proof of Stake (PoS) mining pools rolled out on exchanges such as Coinbase, Binance, amongst others.
One of the most recent additions comes from digital assets trading platform BiKi.com. The new BiKi Mining Pool adds staking and wealth management operations to its trading platform.
Since its official opening in August 2018, BiKi.com is considered one of the fastest-growing cryptocurrency exchanges. With an accumulated 1.7 million registered users, 130,000 daily active users, over 2,000 community partners and 200,000 community members, it has managed to climb the exchange rankings and is currently Top 20 on CoinMarketCap. Backed by co-founder of Huobi, Du Jun, the exchange has received investments from Genesis Capital, FBG Capital, ChainUP and others.
The young exchange is choosing to enter the market at this time for good reason: New tech solutions on the scene means that BiKi can now implement solutions to counter traditional PoS mining pain points.
To obtain financial incentives or income through asset pledging to PoS projects is the essence of traditional PoS mining. There are pain points though that have proven to be challenging, namely:
Meeting certain thresholds for participating in PoS mining;
Lock-in periods before users can be released from the pledge;
Complicated and varied operations unique to the various projects.
Hence when users have multiple PoS certificates, managing them all could prove to be challenging.
Compared to traditional PoS mining, simplicity and service are at the core of the BiKi user interface:
Staking operations require users to simply hold digital currency in their BiKi accounts;
To lock a position, user just needs to select the "lock staking" option on the BiKi Mining Pool page. If the user selects the "HODL staking" option, not only will the service not lock the user's digital certificate, the digital certificate can also be traded or replenished at any time.
The license system in the account can also be directly used as the PoS basic resource through the authorization platform.
Does not charge any fees for user's pledge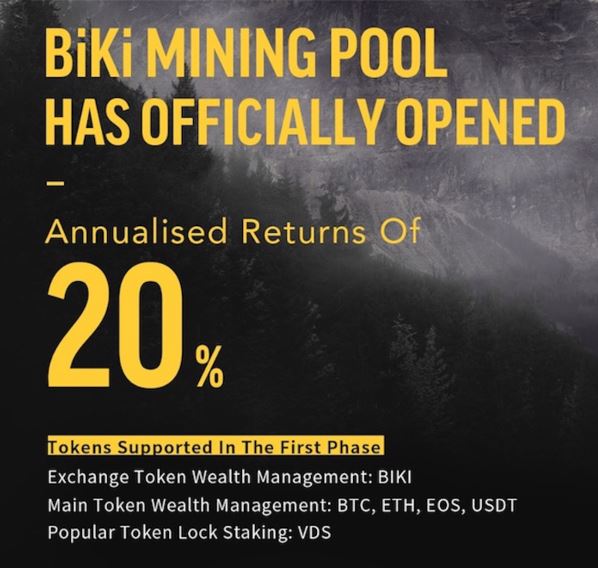 For the first phase, PoS Staking and wealth management are for mainstream, platform and popular currencies. The mainstream currencies included are BTC, ETH, EOS, USDT and the BIKI platform currency. Popular project VDS has also been selected. Compared to other exchanges, BiKi's annualized returns of 20% from its mining pool is currently the highest in the market, with the next highest at only 12.7%.
By Ceecee Wong
Blockchain: 0x93bac665562d9fbf9ede3e9c7db995412ba060cde45ea3287a20b5aea9178905