Today we will be taking into account the past trends of the Stellar cryptocurrency and market opinions available online in order to create an XLM price prediction for October 2019.
Stellar Lumens Overview
Stellar is a blockchain-based network that is aimed at facilitating decentralized and fast fund transfers and exchanges between crypto and fiat currencies. The blockchain is based on a unique consensus method called the Stellar Consensus Protocol. The project was launched in 2014 by the co-founder of Ripple and founder of Mt. Gox, Jed McCaleb.
Stellar was built with a focus on integrating distributed ledger technology (DLT) into the current structure employed by financial entities.
XLM Price Prediction: Analysis
Stellar debuted the month at $0.061540, experiencing a downward trend which let the coin to close at $0.059103. The following days, XLM tried to reach $0.06 levels but failed, hovering at around $0.058-$0.059 support levels. On October 7th, Stellar opened the day at $0.059079 and finally passed the $0.06 level, peaking at $0.062234 and closing at $0.061397.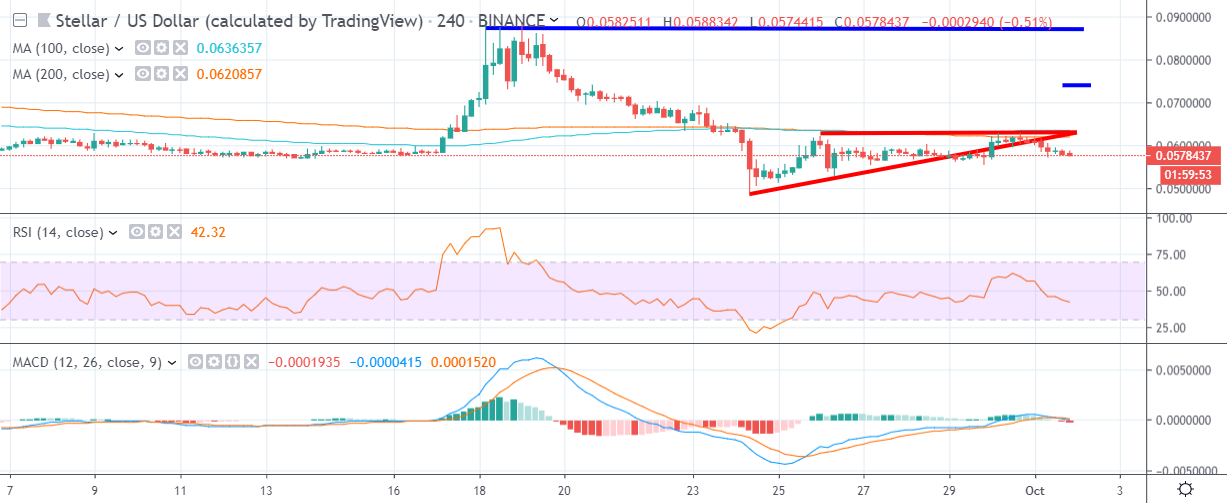 Stellar then experienced a growing period until October 10th, leading to a high of $0.063403, but the coin did not manage to keep its new resistance levels for long, slowly going back down to $0.06 levels for the next days. On October 15th, XLM shot back up to $0.064919, reaching that week's high of $0.065527.
Until October 24th, XLM fluctuated between $0.062 and $0.064 levels, and then dropped to $0.060058, losing its support levels of $0.061. That day, Stellar had its lowest value at $0.059206 and closed at $0.060612.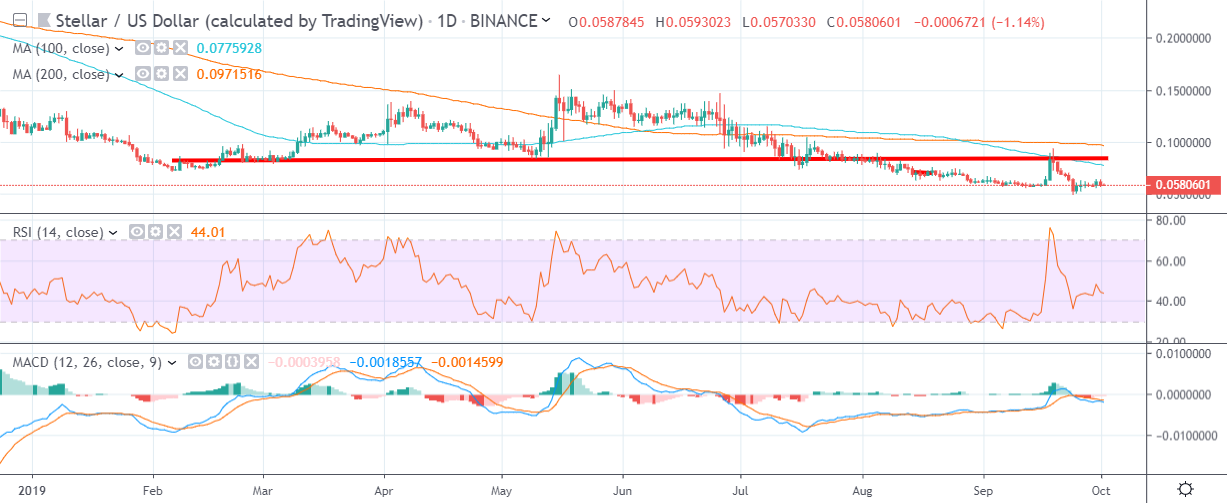 On Oct 25th, the coin had an opening value of $0.060642, and showed signs of recovery, with its highest at 0.064598, and the lowest value at $0.060078. XLM had a closing value of $0.063761. The following day, XLM opened where it left off at $0.063740, and continued the bullish trend, hitting its highest value for the month at $0.066609, but towards the end of the day, the coin lost some of its new gains and closed at $0.062557. October 27th opened at $0.062585 and continued growing throughout most of the day, reaching 0.064588. Today, October 28th, the coin maintained its ascending trajectory, surpassing its last monthly high, peaking at $0.067071.
XLM is currently trading at $0.064664, with a growth of 2.73% in the past 24 hours. Stellar is currently ranked at 11th place, with a market cap of $1,295,847,095, having a 24-hour volume of $367,231,352.
In our XLM price prediction, we will be looking at Stellar's relationship with Bitcoin. With correlation measured on a scale from -1 to 1, XLM has so far had a correlation coefficient of 0.90+ throughout most of its past price trends, with small dips to zero due to XLM not being able to keep up with bitcoin's sudden price surges.
Stellar Project Developments
Last month, Stellar had a mostly positive performance, which was further boosted by the announcement from the former Mozilla COO and his affiliation to the Stellar Foundation.
According to reports, Stellar Lumens (XLM) are working towards expanding their dominance on the market. From the head of partnerships for Stellar Foundation, Lisa Nestor, is currently engaged and active in various countries all over the world (mainly South America and America) in order to improve all of Stellar's strategic partnerships.
XLM's current partner list includes big companies, such as IBM, Big Blue, Microsoft, and Intel. Top crypto exchange Binance has also recently included support for Stellar Lumens, as well as staking functionality for the coin on its special staking platform.
On October 1st, Stellar implemented Stellar-core v12.0.0, which brought stability improvements and three Core Advancement Proposals. The rest of the month did not see any announcements on new developments from the team.
Stellar Lumens (XLM) Price Prediction: Market Opinion for October 2019
As several crypto sites have made their own XLM price prediction for the month of October 2019, we have decided to incorporate some of them in our article to give you a better feel of how the market feels towards the coin's possible future evolution.
Longforecast
Longforecast expected Stellar to have an opening price of 0.062 Dollars, which is close to the actual price of the coin on October 1st. They predicted that the highest value the coin will reach this month is set at $ $0.076, and the lowest price set at $0.057. The forecasted month average is at $0.067. The Stellar price that will close the month is expected to be at $0.071, change for October 14.5%.
30rates
30rates estimated that the Stellar price prediction on Tuesday, October 29th, XLM will have a minimum price of $0.063, and a maximum of $0.073, with a closing price for the day at 0.068 dollars a coin.
The XLM price for Wednesday, October, 30th is expected to have a minimum price of $0.061, and a maximum of $0.071, with a closing price for the day at $0.066 dollars a coin. The last day of the month, Thursday, October 31, is forecasted to have the lowest value at $0.066, with the highest at $0.076, and a closing value of 0.071 dollars a coin.
Randforecast
Randforecast also predicted the maximum and minimum value for the last day of the month of October:
Tuesday, October 29: price 0.0681543 USD, high 0.0729733 USD, low 0.0633353 USD;
Wednesday, October 30: price 0.0667764 USD, high 0.0715953 USD, low 0.0619575 USD;
Thursday, October 31: price 0.0715822 USD, high 0.0764002 USD, low 0.0667642 USD.
The site estimated that the coin would open the month at 0.0646993 USD, with its highest value at 0.0763932 USD, while the minimum price would be at 0.0571228 USD. The averaged price was calculated at 0.0674462 USD. The site estimated that the coin would close the month at 0.0715756, change for October 10.6%.
Audtoday
Audtoday calculated that Stellar would have the following values in the following days:
Tuesday, October 29: price 0.0683068 USD, high 0.0751374 low 0.0614742 USD;
Wednesday, October 30: price 0.0683068 USD, high 0.0751374 USD, low 0.0614742 USD;
Thursday, October 31: price 0.0751374 USD, high 0.0819656 USD, low 0.0683068 USD.
Cryptorating
Based on its past trend analysis, Cryptorating predicts that on October 29th, XLM will have a price of $0.066790, with a change of 3.46%.
Stellar Lumens Price Prediction: Verdict
This has been our price prediction for XLM for the month of October. Keep in mind that no one can accurately predict the price of any asset, and all the information is mostly an estimation on the course of the coin's performance, so we urge you to use this data wisely in your trading.
Featured Image: Investing Heaven

coindoo.com is author of this content, TheBitcoinNews.com is is not responsible for the content of external sites.