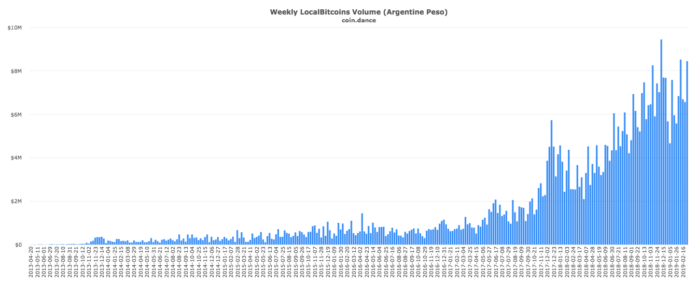 The Argentinean crypto market is growing at an exponential rate. While the overall cryptocurrency industry has ebbed and flowed with market sentiment, the industry in the South American nation has defied the odds, and more citizens now prefer transacting in crypto than before.
The trend began last year when the country's inflation rate reached a record 47 percent. The figure is still a fraction of the 84 percent peak experienced in 1991, but enough to alarm the citizenry. Consequently, more Argentines are seeking refuge in cryptocurrencies, with Bitcoin being the most popular.
Current statistics indicate that there has been a significant upsurge of cryptocurrency trades in the country. Weekly trades on the P2P crypto trading platform LocalBitcoins currently average over 6.5 million Argentine pesos. This is according to CoinDance estimates. Trade volume has been climbing steadily since December 2017 and peaked at just over 9.4 million pesos a week towards the end of last year.
Apart from the tumbling value of the country's national currency, a general mistrust of Argentina's banking sector has lured the masses towards cryptocurrencies. The financial industry has, in the past, proved to be highly mercurial, at one point freezing millions of bank accounts for months causing a nationwide freak-out.
As explained by Santiago Siri, an Argentinean investor and founder of blockchain start-up Democracy Earth Foundation, the event that occurred in the early 2000s has been a searing reminder to common citizens that banks simply can't be trusted.
Speaking to CoinDesk, the tech exec offered some insight on this, revealing, "I was raised with my father telling me never trust the Argentine peso and my story was the story many Argentinians had."
This level of trepidation has led to a general preference for non-government controlled monetary depository systems.
Siri also talked about the growth of the Argentine crypto sector, noting that despite the wider cryptocurrency market downturn, the Argentinean industry has hardly slowed down. Trade volume is still high and crypto-blockchain industries are on the rise. Other key elements driving growth right now are innovation and the diversification of cryptocurrency use in everyday life.
A Rise in Use Cases
Argentina's Banco Masventas was the first bank in the world to offer bitcoin payment options. Its innovative crypto payment system, which was launched in May last year, is made possible through a partnership with Bitex, a leading cryptocurrency exchange in the country. The new service enables customers to bypass the SWIFT network and send funds across 50 countries.
Crypto use among government institutions also recently reached a major milestone after the country accepted payment in bitcoin from Paraguay. Paraguay bought pesticides and fumigation items worth about $7,100 and paid for the purchase in bitcoin. The new development was first reported by local news network Cripto247.
Another recent paradigm-shifting development was allowing the use of bitcoin to make transportation payments. Announced in February, this option will be specifically available to Sistema Único de Boleto Electrónico (SUBE) cardholders.
SUBE is a credit pass used within Buenos Aires and other major cities. It's connected to the Argentine Secretary of Transportation and was introduced in 2009 to get rid of the passenger receipt issuance process, which took a significant amount of time.
Venezuela's Influence
The current political wrangle in Venezuela has contributed greatly to the crypto revolution in Argentina. It has forced many Venezuelans to leave the country. A significant number of them have settled in neighboring states such as Bolivia, Brazil, Colombia, and Argentina.
Due to the nation's largely ineffective international money transfer system, which has borne the brunt of crippling U.S. economic sanctions, Venezuelans have had to rely on cryptocurrency platforms to carry out remittances and store funds.
Many still use these alternative systems to send funds back home while in the diaspora, subsequently contributing to the growth of the crypto sector in Latin America. Analysts also believe that Venezuelan refugees have helped spread the crypto culture across South America.
Crypto Companies Setting Up Bases in Argentina
Demand for crypto-related products is reportedly on the rise in Argentina. More crypto companies are setting up bases in the country as the market continues to expand. Chicago-based ATM service provider Athena Bitcoin is among them. The company has already begun installing machines in various strategic locations in Argentina.
The Odyssey Group, another U.S. company that offers financial solutions, has already outlined plans to install about 1,600 crypto ATMs in the country by the end of 2019. The machines will have the capacity to undertake both traditional fiat operations and digital currency transactions.
Many crypto start-ups in Argentina see its national currency woes as a catalyst that will push more citizens into acquiring cryptocurrencies and subsequently lead to bigger industry investments.
Bitcoin is currently the most preferred cryptocurrency among Argentinean users. However, preference for other cryptocurrencies, such as Ethereum, Litecoin, Bitcoin Cash and Zcash, is expected to grow as the market matures.
(Featured Image Credit: Pixabay)
The post The Argentinean Crypto Market Defies Crypto Winter appeared first on CoinCentral.
Coincentral.com is author of this content, TheBitcoinNews.com is is not responsible for the content of external sites.