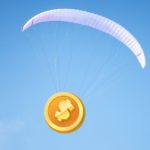 If you are looking to get some free coins this week, continue reading our article to find out what airdrop options are available:
Qitcoin
End date: 15 January
Estimated value: $75
Qitcoin is a blockchain-based payment network that enables users to buy and sell shares with cryptocurrencies. The platform was developed on top of a private blockchain, with the aim of providing a secure and user-friendly. Qitcoin will also feature easy cryptocurrency payments integration, in addition to an arbitration system that is completely digital.
You want the latest news about Crypto? Sign up to our weekly Newsletter!

The ultimate goal of the platform is to bring together all companies, employees, and business assets in one place, to increase the efficiency, transparency, and reliability of these businesses.
How to participate in this airdrop:
Register for an account with the required information.
Follow Qitcoin's Twitter account. (+25 QTC)
Join Qitcoin's Telegram Group (+25 QTC) and Telegram Channel (+25 QTC).
To receive more QTC tokens, complete the other social tasks. The total you can get for completing all the tasks is around 175 QTC ($75) tokens.
By referring a friend, you can receive 25 QTC ($10) for each referral.
Requirements:
Wadz
End date: 18 January
Estimated value: $100
Wadz is a comprehensive payment processing app based on blockchain, which aims to incentivize data ownership for both consumers and businesses and to improve how payments are made.
Through Wadz, users will be able to spend any cryptocurrencies they hold, and the app will also feature crypto payment integration for merchants which will allow them to accept cryptocurrencies for their products and services. Merchants can then hold the cryptos as they received them, or convert them into fiat currency via the Wadz merchant app.
How to participate:
Visit the Wadz Giveaway page.
You can log in either with your email or Twitter account.
Follow Wadz's Twitter page (+1 Entry) and retweet this tweet (+1 Entry).
Join the Wadz Telegram Group. (+1 Entry)
You will receive more entries if you complete the other social tasks.
10 random participants will be given $100 each worth of WTK tokens.
Requirements:
Energi (Bithumb)
End date: 17 January
Estimated value: N/A
Energi is a cryptocurrency that attempts to merge smart contracts, governance and self-funding treasury in one blockchain platform.
Energi intends to establish a self-funding and governance system, which will be based on the most advanced technology, including full smart contract capabilities, as well as infinite scalability for the blockchain.
Bithumb is a well-known South Korean crypto exchange through which the airdrop will be hosted.
How to participate:
Visit the Bithumb Airdrop Page.
Register for an account and then have your email verified.
Supply the required personal information for the KYC Level 2.
For each referral, you can receive 2 NRG ($2). (Max. 6 NRG)
Requirements:
Foton USD
End date: 21 January
Estimated value: $200
Foton USD (FUSD) is a crypto asset that was developed to serve as a stablecoin, having the US dollar tied to its value at a 1:1 ration.
The stablecoin facilitates fast, global transfers, with the advantage that it is also programmable.
Foton was created in order to lessen the instability that is brought on by crypto volatility, to ease international fund transfers, and to also simplify and improve the transfer and payment process of other cryptocurrencies.
How to participate:
Go to the Foton USD Airdrop form.
Join the Foton USD Telegram Group and Telegram Channel.
Go to Twitter and follow the official Foton USD page and retweet this tweet and tag 2 friends from your list.
Go to their Facebook page, like and repost the pinned post.
Enter the required information in the Airdrop form and receive 200 FUSD ($200) tokens.
Earn additional coins by referring other users. 30 FUSD ($30) for each referral.
Requirements:
Telegram
Twitter
Email
Facebook
Orchid by Coinbase
End date: 21 January
Estimated value: $12
Orchid is an open-source platform that aims to promote decentralization and anonymity for internet users. The platform was developed by Orchid Labs in order to keep the internet a free and global resource for everyone.
Orchid was designed as a decentralized marketplace that will facilitate anonymous communication and virtual private networking, and a bandwidth market in which node providers are able to promote their services via the Ethereum blockchain by staking OXT (Orchid's native cryptocurrency). For more information, access their Telegram channel.
How to participate:
To take part in the airdrop, go to the Coinbase Airdrop Page.
Sign up for an account on Coinbase, supply the required personal information, and pass the KYC. (Mandatory)
Go to Orchid and sign up on the OXT waiting list. (Mandatory)
An email will confirm your participation in the airdrop.
Watch the videos and answer the questions in order to receive OXT.
Earn an additional $10 worth of OXT for each referral (Max. 4 referrals).
Requirements:
Conclusion
This has been our list with some of the top crypto airdrops that you can take part in this week. Be sure to follow the instructions of each airdrop carefully in order to receive your free tokens.
Featured image: Thecoinrise
source: https://coindoo.com/top-airdrops-this-week-january-2/
TheBitcoinNews.com is here for you 24/7 to keep you informed on everything crypto. Like what we do? Tip us some BAT

Send Tip now!