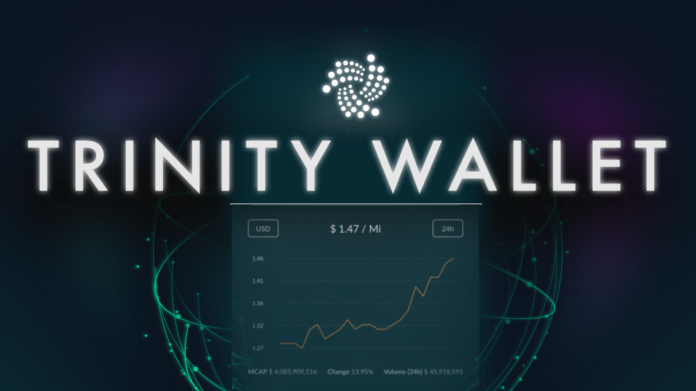 Trinity Mobile version 0.6.0 has been released. This build contains a number of significant changes and improvements to the wallet.
Notably, Trinity will now query multiple nodes when obtaining address balances and spend statuses, thereby vastly improving network security. The mobile UI has also been overhauled, including new components, animations and modal designs to make for a more cohesive and interactive app experience.
If you experience any issues with the build, then please report them on our Github repo. As ever, if you want to give feedback or join the discussion surrounding the Trinity project then join the #trinity-discussion channel on the official Discord server. We welcome community contributions to the project, and if you have a feature in mind that you would like to work on then please don't hesitate to submit a PR or contact us in the #trinity-dev channel. We will be more than happy to guide you.
Additions:
– Add node quorum – Trinity will query multiple nodes on particular API calls (wereAddressesSpentFrom, getBalances and getLatestInclusion) and only accept a result with 67% consensus, otherwise fallback to a safe result (#631)
– Add multi account polling -> accounts do not need to be selected to update (#841)
– New slider and progress bar component on Send (#514, #781)
– Page transition animations (#514, #595)
– Dashboard animations (#595)
– Tabbar animations (#595)
– Modal window redesign and update styling for all modals (#514)
– Display an alert if an update is available (#617)
– Confirmation slider component (#514)
– Update receive page UI (#796)
– Add additional spend status check on send (#862)
– Add address validation check to ensure last trit is 0 (#868)
– Validate https default port for custom nodes (#849)
Fixes and improvements:
– General UI overhaul (#514, #595, #624, #669, #771)
– Upgrade to React Native 0.57 – various improvements, including performance (#438)
– Re-enable SeedVault on iPhone X/XS/XR (#623, #624)
– Replace loading animation (#781)
– UI fixes for iPhone X/XS/XR (#624)
– Fix frozen splash screen on Android (#855)
– Animate onboarding complete balloons (#781)
– New Crowdin translations (#974, #938, #934, #917)
– Fix progress step translations (#843)
– Fix dimensions issues (#980, #982)
– Increase space between Settings columns (#972)
– Refactor: Move native proof-of-work & hashing to SeedStoreCore (#775)
– Remove unresponsive nodes from default nodes list (#970)
– Add request timeouts for wallet primary node – reduce delays throughout app (#951)
– Fix modal multirender issue (#959)
– Update Android biometric UI (#931)
– Fix account info alert colour (#929)
– Align text input on delete account (#929)
– Fix snapshot transition text cutoff (#929)
– Ensure UI is reset with Android back button press on transfer confirmation modal (#929)
– Fix findSyncedNodes implementation – fixes quorum bug leading to long network delays (#915)
– Fix modal layout issues on Android and iPhone X (#916)
– Leverage new IRI 1.6 'features' prop to check attachToTangle availability (#913)
– Check for NaN values in seed picker — fixes characters showing on multiple rows (#850)
– Suggest to check device time in event of wrong 2FA token (865)
– Fix account selector for account names with special characters (#896)
– Fix account name opacity during certain tasks (#834)
– Do not animate chart on tab switch to balance page (#834)
– Fix animation directions in settings (#881)
– Fix bug where dashboard is blank after setting Biometric auth (#881)
– Fix View Addresses scrollable area (#834)
– Fix attaching addresses of a different account in snapshot transition (#889)
– Refine quorum timeouts (#903)
– Remove getLatestInclusion from Quorum (#900)
– Ensure node health check uses correct timeout (#884)
– Remove unnecessary sync checks (#884)
– Prevent RNDeviceInfo from creating a UIWebView -> load time improvements on iOS (#873)
– Reset node list on state migration (#810)
– Fix topbar opacity and spacing (#796)
– Fix Android alert padding when modal is open (#796)
– Update transaction history modal buttons (#796)
– Fix issue where slider moves to the left side of the sed progress bar (#796)
– Block requests to nodes running beta, alpha and release candidate IRI releases (#805)
– Fix bar colours (#809)
– Assign account index to accounts in state (#715)
– Fix text field keyboard avoidance (#767)
– Minor localisation improvements (#718)
– Update info box styling (#514)
– Fix crash when file system permissions are denied on Android (#719)
– Preserve order of themes (#763)
– Fix typo in privacy policy (#689)
– Dependency updates and fixes (#438, #636, #731)
– Fix bugs with QR code scanner and update styling (#781)
– Disable back swipe gesture on iOS ( #781)
– Ensure checksum is displayed in View Addresses (#646)
– Fix Android account name cut-off (#595)
– Fix Android chart interpolation (#595)
– Fix address paste alert (#514)
iota-news.com is author of this content, TheBitcoinNews.com is is not responsible for the content of external sites.