Long-Term Outlook
Tron (TRX) Weekly Chart – Source: Tradingview.com
A look at the weekly chart for TRX/USD shows that price is currently trading between the 21 and 50-period moving averages at $0.0245.
It has failed twice to break out above the resistance area near $0.033.
Last week's candle was a bearish hammer, and there has not been a lot of movement on this week's candle.
If price breaks down below the 21-period MA, the next significant support area will be found near $0.012.
If the price reaches that area, it will create a double bottom (bullish reversal pattern).
As for the indicators, the RSI is at 50, indicating neither overbought nor oversold conditions.
The MACD is losing power and has struggled to break out in positive territory.
Given this information, I am undecided on the long-term outlook.
Medium-Term Outlook
Tron 3-Day Chart – Source: Tradingview.com
A look at the 3-day chart shows that after reaching the resistance area near $0.03, price created a double top combined with bearish divergence and promptly fell back to the 21-period MA.
The previous 3-day candle was a bearish one which took us below the 21-period MA.
Price is also trading inside the negative Ichimoku cloud.
The MACD has made a bearish cross and is dropping. The next minor support area can be found near $0.019.
Tron Daily Chart – Source: Tradingview.com
A look at the Daily chart shows that price is trading inside another minor support area, found by previous tops and the 0.21 fib line.
The MACD has rejected a bullish cross and is continuing to fall.
Given this information, I am bearish on the medium-term outlook.
Short-Term Outlook and Price Prediction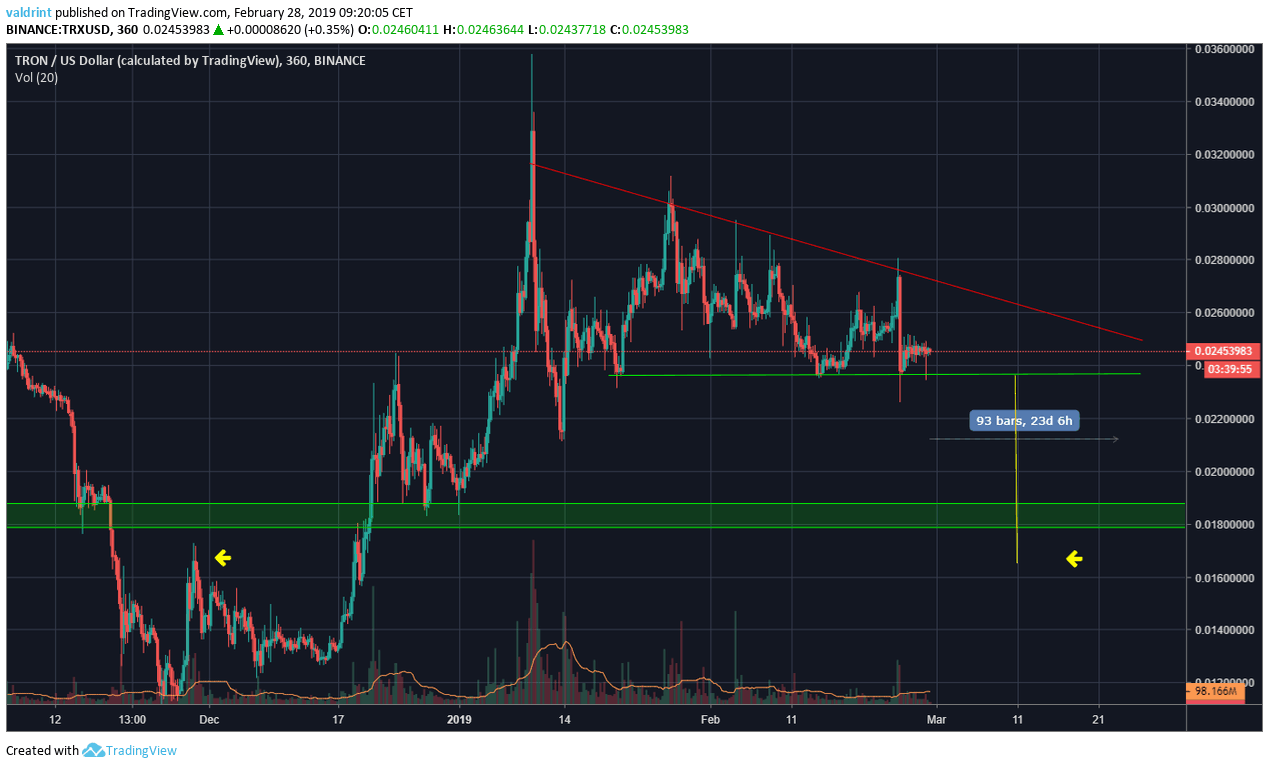 Tron 6-Hour Chart – Source: Tradingview.com
A look at the 6-hour chart gives us a clear structure in which price is trading in.
Price has been trading in a descending triangle since January 16th.
The support line recently got validated for the 4th time, while the resistance line has been validated 5 times.
The descending triangle is projected to end in 23 days.
A breakdown of the entire length of the triangle would take us slightly below the support area near $0.018, close to the top at the end of November 2017.
Price Prediction:
I believe that during this week the price will remain trading inside the descending triangle.
Conclusions:
There is a medium-term bearish divergence.
Price has made a double top.
Price is trading inside a descending triangle.
Latest Tron News:
DISCLAIMER:
Investing or trading in digital assets, such as those featured here, is extremely speculative and carries substantial risk. This analysis should not be considered investment advice, use it for informational purposes only. Historical performance of the assets discussed is not indicative of future performance. Statements, analysis, and information on blokt and associated or linked sites do not necessarily match the opinion of blokt. This analysis should not be interpreted as advice to buy, sell or hold and should not be taken as an endorsement or recommendation of a particular asset.
RELATED ARTICLES
MORE FROM OUR PARTNERS
Advertisement
blokt.com is author of this content, TheBitcoinNews.com is is not responsible for the content of external sites.