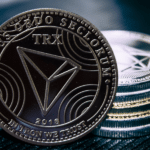 Today, we will be taking into account the past price trends and market opinions of TRX in order to help you formulate a Tron price prediction for November 2019.
Tron Overview
Tron is a blockchain project that was developed by Justin Sun, a former employee of Ripple and a serial tech entrepreneur. The native coin of the platform, TRX, was designed as a payment method for online content creators and publishers.
You want the latest news about Crypto? Sign up to our weekly Newsletter!

The goal of the platform is to create a global entertainment network that is powered by blockchain. TRON is based on a decentralized environment that has an open-source code where all users are allowed to store, publish, and distribute content.
According to Justin Sun, Google Play and the App Store only cater to the content needs of a limited number of users.
In June 2018, TRON launched its own mainnet, the day being now known as TRON's Independence Day. The mainnet release moved TRON from the Ethereum blockchain on its own blockchain, which granted independence to the TRX token. The TRX token was previously built on Ethereum's ERC-20 protocol, but now TRX functions on its own architecture.
The launch of the TRON mainnet also enabled the development of dApps on the TRON blockchain, outing the TRON project in direct competition with Ethereum, as it featured higher transaction speeds and scalability. Although TRON still has a long way before it reaches Ethereum's popularity.
Currently, TRON has a trading price of $0.017176, ranking in 11th place with a market capitalization of $1,145,301,631, and a circulating supply of 66,682,072,191 TRX. Tron has decreased with 9.48%, and the 24-hour price volumes show that $1,137,753,710 worth of TRON was trading.
Tron Price Prediction: Analysis
Towards the last days of October, TRX saw a surge in price, which brought the coin to new monthly highs. On October 30th, TRX was trading at $0.022002, but the next day it slowly started descending to $0.020099.
This downward trend continued until November, as Tron opened the month at $0.019902 and was traded at around that level for the remainder of the day.
On November 2nd, Tron continued to follow the downtrend of Bitcoin, Ripple XRP, and others, with the price continuing to go down. Tron TRX was trading at $0.019673 but managed to briefly touch the $0.20 resistance level.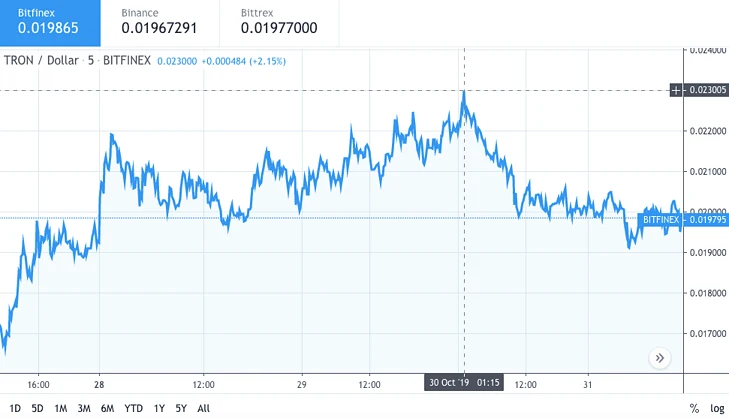 Source: Cyptopolitan
Up until November 7th, Tron continued trading between the $0.0193 and $0.0199 support levels, and occasionally touching $0.020.
On November 8th, the coin went below the $0.019 mark for the first time that week, closing at $0.018794.
The following three days, the coin traded between $0.0187 and $0.0197, struggling to get back to its former support levels.
On November 12th, the coin opened the day at $0.019091 and maintained a steady value throughout the day. November 13th saw some improvements, as TRX reached $0.020237, and closed the day at $0.020113.
November 14th saw a promising start, with $0.20, but it slipped to $0.019 towards the end of the day. Tron once again began falling on November 15th, as it went down again to $0.018 levels. The trend continued in the following days, when on November 18th, the coin reached a new low for this month, $0.017202, closing the day at $0.017397. Today, November 20, TRX is trading at $0.017128.
The current resistance, pivot, and support levels have been calculated at:
Resistance Level (R3): 0.02012
Resistance Level (R2): 0.0195
Resistance Level (R1): 0.0185
Pivot Point: 0.0178
Support Level (S1): 0.0168
Support Level (S2): 0.0162
Support Level (S3): 0.0151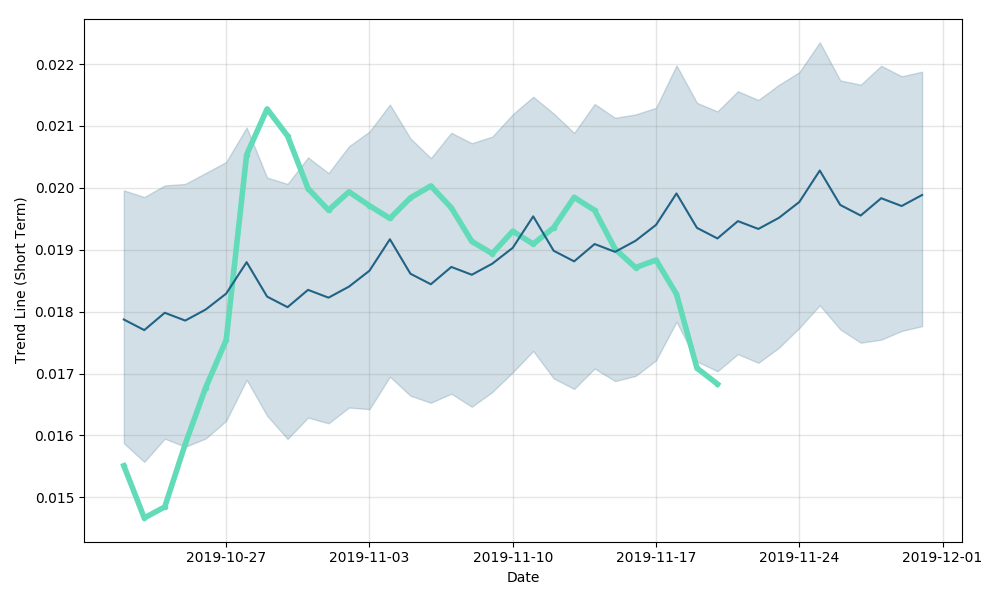 Source: wallet investor
Developments
The Medium blog of Tron is very active, posting almost daily news regarding project updates, sponsored competitions, partnerships, and many others.
On GitHub, the project has 42 repositories, but only two developers, however, they seem to be very active, as updates were performed just a few hours ago.
The CEO of the project, Justin Sun, also has strong ties with market leaders, as well as previous partnerships with BitForex, FX market company – Shiftmarkets, and Chinese exchange OTCBTC. It is certain that the founder's influence in the crypto market will garner him more prominent partnerships in the future.
On October 28, the president, Xi Jinping, has revealed the acceleration of blockchain adoption, which boosted the price of Tron with 25% in the last 24 hours of that day, taking TRX from $0.016195 to $0.019132.
There have also been rumors that the Dai stable coin will be implemented on Tron and Binance chains via the Loom network layer 2 scaling solution.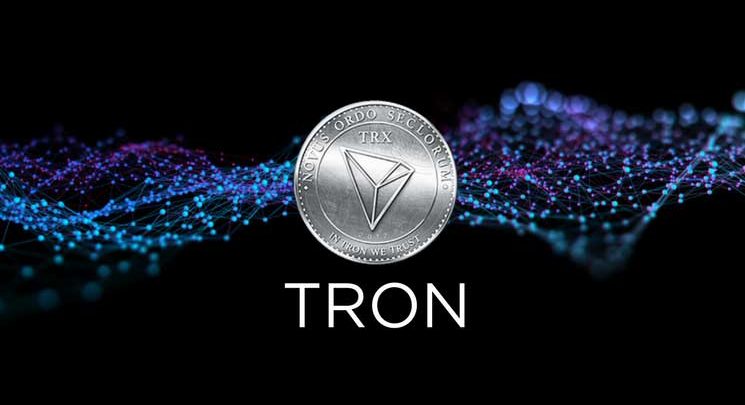 coinpedia.org
Tron Price Prediction: Market Opinion for November 2019
There have been a few crypto websites that have made their own TRON price prediction for November 2019. To have a broader view of the market, we decided to incorporate some of these forecasts:
Cryptorating
The Cryptorating website predicted that in one week (26 November), the coin will be trading at around $0.021761, with an increase of 27.26%.
Cryptoground
Cryptoground also made a forecast for 26 November, foreseeing that the coin will be trading at $0.0165, with a loss of -5.70%.
Digitalcoinprice
Digitalcoinprice forecasted that Tron will have a trading price of $0.03076739, with an increase of 75.6 %. This is one of the more optimistic predictions.
Bitverzo
Bitverzo issued price predictions for Tron for the remaining days of November, along with the average, low, and high values of each respective day.
Wednesday, November 20, 2019: average $0.014926, low $-0.020469, high $0.050714;
Thursday, November 21, 2019: average $0.016136, low $-0.017571, high $0.049593;
Friday, November 22, 2019: average $0.016547, low $-0.018248, high $0.052267;
Saturday, November 23, 2019: average $0.015817, low $-0.021129, high $0.052502;
Sunday, November 24, 2019: average $0.015477, low $-0.020329, high $0.051640;
Monday, November 25, 2019: average $0.014522, low $-0.019646, high $0.048376;
Tuesday, November 26, 2019: average $0.014042, low $-0.022223, high $0.047405;
Wednesday, November 27, 2019: average $0.014727, low $-0.022271, high $0.050933;
Thursday, November 28, 2019: average $0.015938, low $-0.018132, high $0.050105;
Friday, November 29, 2019: average $0.016349, low $-0.019754, high $0.049723;
Saturday, November 30, 2019: average $0.015619, low $-0.018490, high $0.051191.
Gov.capital
Gov.capital predicted that Tron will be trading in November at $0.02021, with a maximum value of $0.0204, and a minimum value of $0.0200.
Tron Price Prediction: Verdict
This has been out Tron price prediction for November 2019. We hope that the information that we provided will be of help in your TRX trading.
Featured image: beincrypto.com
source: https://coindoo.com/tron-price-prediction-november/
TheBitcoinNews.com is here for you 24/7 to keep you informed on everything crypto. Like what we do? Tip us some BAT

Send Tip now!