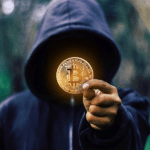 With most crypto services demanding KYCs and identity verifications, it is understandable why some users are looking for an anonymous Bitcoin wallet.
Our list for today has various options from which you can choose your own anonymous Bitcoin wallet in that you can privately and securely keep your BTC funds.
Samourai Wallet
Samourai is a privacy-focused Bitcoin wallet, which employs various technologies to keep your identity and transactions anonymous.
In order to maintain your anonymity, Samourai uses Ricochet and Stonewall technologies. Ricochet is an on/off toggle that prevents transactions from being flagged as suspicious, even if they are blacklisted by Blockchain surveillance algorithms.
Stonewall modifies transactions in order to prevent them from leaving any public associated metadata, increasing the difficulty of linking inputs to outputs of a transaction, making clustering wallet addresses, and generating higher entropy than standard Bitcoin transactions. This makes your transactions harder to analyze and track down to the original sender.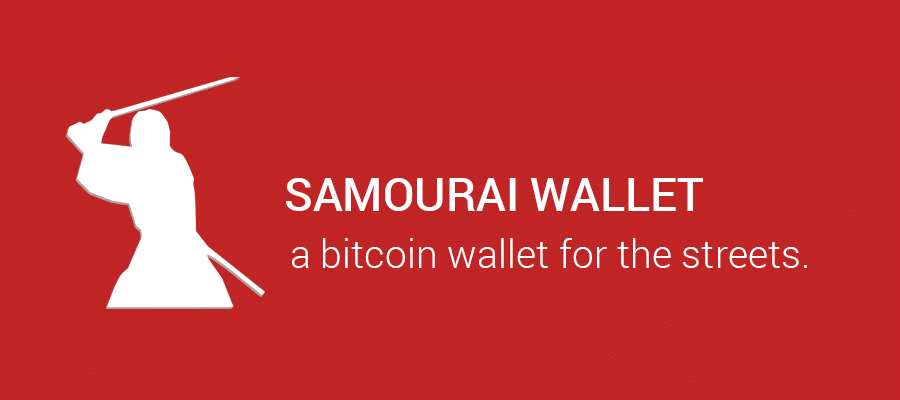 Samourai Wallet also features offline functionality, which enables you to send coins to the relevant recipient through SMS or a mesh network.
The encryption standard the wallet uses is AES-256 and has no server communication. It is protected by PIN code and has a seed phrase backup for key recovery.
Samourai also has alerts if you have used the same address before, preventing unintentional address reuse. It supports the routing of all transactions through Tor and VPN enabled, which allows you to use an anonymous IP address.
The wallet features SegWit support that reduces the BTC transaction fees when broadcasting them over the network. It is also compatible with mobile devices working on Android and Windows, Mac, Linux desktop operating systems. Due to its anonymity features, Samourai is the best anonymous Bitcoin wallet that you can find.
Ledger Nano X and S
Ledger is a known and reputable producer of secure Bitcoin and cryptocurrency hardware wallets.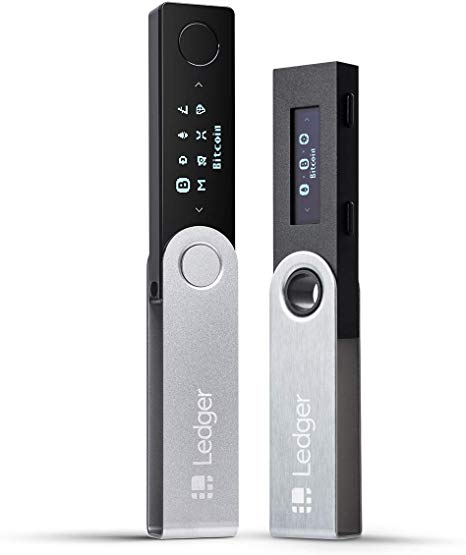 Their most known products are Ledger Nano S and Ledger Nano X, which are both highly-praised wallets due to their sturdy security and versatility. Each wallet supports thousands of cryptos and tokens in addition to Bitcoin.
The wallet has NIST certification for True Random Number Generator in order to secure signatures. It is a Hierarchical Deterministic wallet, having over 100 wallets, each being capable of creating millions of unique addresses.
Ledger enables you to create hidden wallets, with the data of these being hard to tell apart from random bytes, and only the owner can know their location.
It also features 24-word mnemonic backup to allow you to recover your funds in case the device is broken.
Rahakott Wallet
Rahakott is another anonymous Bitcoin wallet that supports a variety of other cryptos. It has processed so far over 20 million dollars in BTC.
No personal ID or information is required for signing up for a Rahakott account. The wallet is translated in 4 languages (English, Chinese, Japanese, and Russian), and a new one can be created in under 15 seconds.
Rahakott allows you to deposit and transact with 6 cryptocurrencies (BTC, BCH, LTC, ETH, DASH, and ZEC).
The wallet also has additional security features, including OTP, password, and 2-FA authentication. It has SegWit integration, which enables you to pay lower fees when transacting with BTC.
It features an inbuilt address mixer, that makes it almost impossible to track transactions. The wallet has an extra "Strong Mixing" feature that intentionally breaks the connections between receiving and sending addresses, which also impedes tracking. In order to use Strong Mixing, you need to have at least 10 x the network minimum fee, and you will have to pay one percent of the total transaction cost.
The Rahakott wallet is available through the web interface on any browser. With strong privacy features and mixing options, this makes it the best anonymous Bitcoin wallet on our list.
Electrum on Tails Operating System

Electrum is a lite Bitcoin wallet that was launched in 2011, with its code being open-source under an MIT license.
By using the Electrum wallet on the Tails, it helps Bitcoin users to stay anonymous while transacting through the wallet, as it is an operating system that was designed to protect internet privacy.
Electrum is a non-custodial wallet where no private keys are stored by the wallet, only the user. It is compatible with Windows, Mac OS X, Linux operating systems, and Android mobile devices.
It also supports Ledger, Trezor, and Keepkey integration, but it is not an anonymous Bitcoin wallet by default.
Also, the Electrum wallet generates a recovery seed for backup, it does not require any personal information upon signup, and it is also Hierarchical deterministic.
PINT Wallet
PINT is an anonymous Bitcoin wallet that is designed for mobile use. The wallet supports Bitcoin Cash (BCH), Ethereum (ETH), Litecoin (LTC), Dash (DASH), Dogecoin (DOGE), as well as Bitcoin (BTC).
It is non-custodial, with the keys never leaving the users' device. No personal information, such as phone number or email is required when creating a PINT wallet.
The app also has a Tor routing feature that keeps your crypto transactions unlikable to your actual IP address.
Unstoppable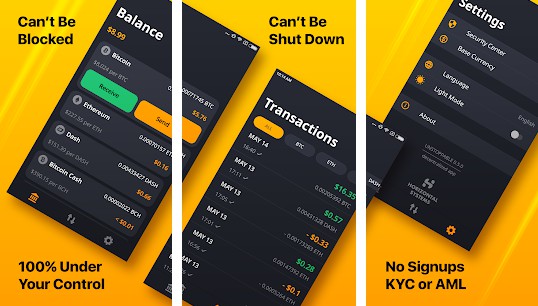 Unstoppable is a decentralized anonymous Bitcoin wallet app that has amassed significant popularity from the crypto community. The wallet is compatible with Android and iOS smartphone devices.
It functions on a peer-to-peer basis, where no information or keys are held on any servers. The only third-party connection is the data sourced for live exchange rates. The code is completely open-source.
Over 50 cryptos, including Bitcoin, are supported by the wallet, including many ERC 20 tokens, BNB, Dai, and Maker.
You will not be required to provide your name or contact details, you will not have to pass any identity checks, and your data will not be stored on third-party servers.
Wasabi Wallet
Wasabi is another great anonymous Bitcoin wallet which is open-source, non-custodial, and completely focused on privacy.
The wallet uses the Chaumian Zero Link CoinJoins on Tor to provide anonymity, with CoinJoins serving as a Bitcoin wallet mixer.
A mixer intentionally breaks up the link between outbound and inbound transactions to prevent tracking the chain of your digital signatures. With these features, Wasabi has the potential of becoming the best anonymous Bitcoin wallet out there.
Wasabi is only compatible with Windows, Mac, and Linux desktop operating systems. There are currently no Android or iOS versions.
Conclusion
This has been our list of some of the best anonymous Bitcoin wallets that you can use to store and transact with your BTC privately.
Featured image: btcplaymania.com
You want the latest news about Crypto? Sign up to our weekly Newsletter!