About 38.9% of Bitcoin-related tweets are posted by US residents and 10.5% come from the UK, according to crypto-oriented data analytics platform, The TIE, and its latest research.
---
The US Dominates the Crypto Conversations on Twitter
Have you ever wondered which countries are the most active at tweeting about Bitcoin and cryptocurrencies? Crypto data analytics infrastructure provider, The TIE, have created a "Geographic breakdown of Crypto Twitter" and revealed its findings via the social media platform.
1/

A Geographic Breakdown of Crypto Twitter

Overall 38.9% of total Bitcoin tweets come from the US and 10.5% from the UK.

The top five countries where Bitcoin is discussed on Twitter are the US, UK, Canada, Turkey, India, and Australia. pic.twitter.com/vUMG9l4KR2

— The TIE (@TheTIEIO) July 4, 2019
As per The TIE, Bitcoin is discussed on Twitter predominantly in the US, UK, Canada, Turkey, India, and Australia. The US and the UK account for half of the BTC-related tweets, which is quite natural, given that they're the largest English speaking countries in the world.
Moreover, the US has the most Twitter users in general, with the UK coming third, according to April data published on Statista.
The TIE compiled a map that shows the geographical distribution of Bitcoin tweets without considering the US and the UK.
Thus, besides Canada, Turkey, India and Australia, other active countries that discuss Bitcoin include the Netherlands, Japan, France, Germany, Brazil, Nigeria, Russia, South Africa, and Indonesia.
What Are the Most Optimistic Countries on Bitcoin?
What's even more interesting, The TIE also touched upon the global sentiment around Bitcoin.
Thus, the US was recently quite positive, with 61.5% of Bitcoin-related tweets being optimistic. The global percentage of positive BTC tweets is 59.8%. On the other end, Venezuela saw the most negative Bitcoin tweets, with 62%, followed by Mexico, Estonia, Brazil, and Ireland. It's surprising to see Estonia on the negative side, especially when the Baltic state has been praised for its e-government initiative and even tried to issue a national cryptocurrency.
The TIE also created a map showing countries with more positive or more negative Bitcoin tweets.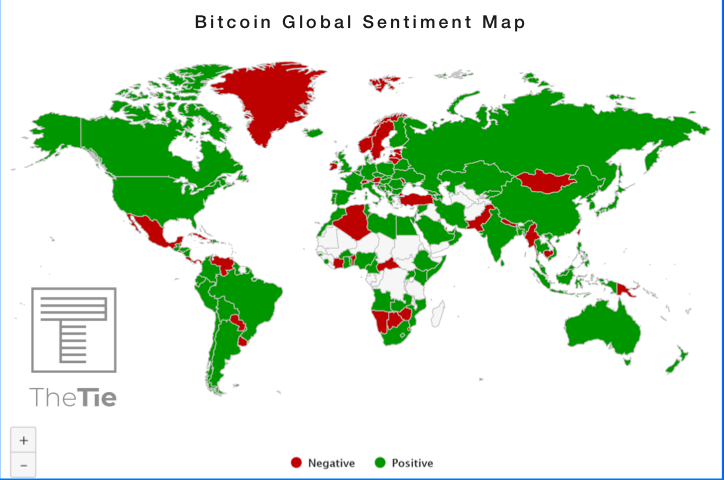 The analytics platform provider found out that the US residents actually tweeted more about Facebook's upcoming Libra Coin (43.8%) rather than Bitcoin (39.8%). The UK is also the second on Libra tweets, followed by France, Canada, and Australia.
Initially, the conversations around Libra were somewhat positive, though they recently turned negative, especially in the US. As of Wednesday, 54.8% of Libra-related tweets were negative.
Do you think Libra will dominate Twitter conversations when it launches? Share your opinions in the comments section!
---
Images courtesy of Shutterstock, Twitter, @TheTIEIO, Statista.com
The post 'A Geographic Breakdown of Crypto Twitter': Research appeared first on Bitcoinist.com.
Bitcoinist.com is author of this content, TheBitcoinNews.com is is not responsible for the content of external sites.