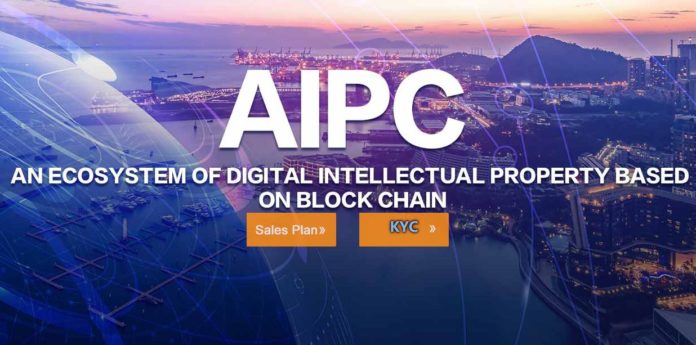 As a new wave of inventors collide with the digital age of cryptocurrency, AIPC saw a valuable asset in a Blockchain based registrar that would allow users to register, upload for copyright and monetize their Intellectual Property. AIPC is introducing a new type of Intellectual Property platform to the Cryptocurrency market that will allow anyone to invest in or purchase Intellectual Property rights.
Hong Kong – April 4th 2018, Alliance Intellectual Property Chain (AIPC) made international headlines today with the announcement of the opening of their ICO Pre-Sale as well as the launch of their new Blockchain based Intellectual Property registrar. The team at AIPC have been engaged in the IP film and television incubation industry and the IP derivatives (games) industry for many years and have a wealth of experience operating on the Blockchain. Members of the AIPC team also have a considerable amount of expertise and contacts within the television and film industry spanning the United States to Mainland China.
Alliance Intellectual Property Chain is a platform for IP asset registration and protection, IP trade, IP incubation and IP commercialization. AIPC, focusing on the use of blockchain technology, makes full use of its inherent features of tamper-proofing, irreversibility, reliability, dependability, decentralization, distributed approach, openness and inalterability and permanency after record, realizes IP determination and protection and incubation of various content. The owners, incubators, investors and buyers of IP can realize value and obtain benefit through determining, incubating, trading, authorizing and being authorized in Alliance Intellectual Property Chain. Users of the AIPC platform can rest easy assured that their Intellectual Property is fully protected and secured on the Blockchain.
During a recent interview, the company spokesperson for AIPC was quoted as saying, "The aim of Alliance Intellectual Property Chain is to determine and register IP, get more people to participate in incubation of IP and benefits from valuable IP. It solves the problem of difficulty in determination and protection in traditional IP and realizes determination of IP copyright. On this basis, it brings in many content incubators to create various forms for IP and increase the influence. It attracts investment and purchase of IP in order to make IP enter into market in various forms and produce benefits." He went on to say, "Since we are the first ICO to enter this IP market we know investors are going to love it. The buzz on the street about our ICO is palatable and our team is very excited for the continued success of our project!"
The Pre-Sale for the AIPC Initial Coin Offering has already commenced and is expected to close on May 7th 2018. During Pre-Sale the Alliance Intellectual Property Chain Coin or AIC token for short, will be available at a cost of 0.0004 ETH per token. Only 126,000,000 Million AIC tokens are available and once sold out no more tokens will be issued.
To find out more about the AIPC Pre-Sale or the revolutionary Blockchain based Copyright platform, visit their official website at http://www.aipc.im/ or download their Whitepaper directly by clicking here.
Join us on Telegram here.
Media Contact:
Alliance Intellectual Property Chain
Attn: Media Relations
Hong Kong
Ph: +852-66157093
[email protected]
Press Release Writing and Distribution by professionals for the Cryptocurrency industry. Steve Stanley, has written thousands of Press Releases and countless Articles spanning every industry and niche. It is easy to find his work on Google News and hundreds of other news outlets. There is no doubt that he is one of the only experts in his field when it comes to I.C.O: You can learn more about him and his services at http://ico-prmarketingservices.com