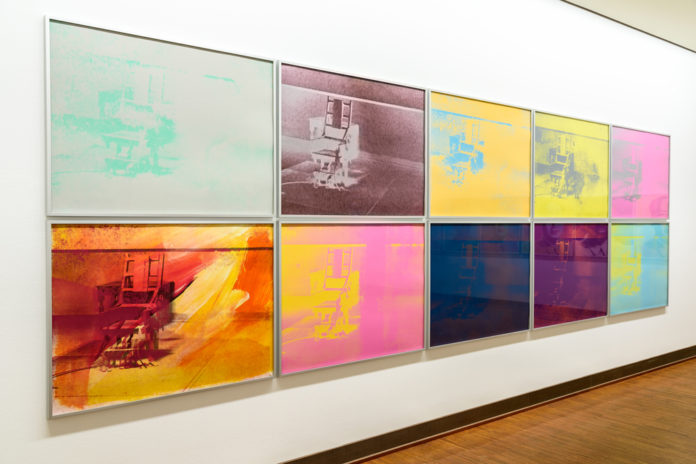 Maecenas' decentralized art gallery has announced that it will be auctioning Andy Warhol's artwork "14 Small Electric Chairs" at the world's first crypto art auction on June 20th. Interested investors will have the opportunity to bid up to 49 percent of the shares in the picture. The new procedure is intended to revolutionize the art market.
Artworks have always been highly valued objects of desire. Passionate collectors spend whole fortunes on an oil painting or a sculpture, if the creator is considered significant enough. For wealthy families, such pieces are reliable and secure assets that they can pass on for generations. However, the art market has always been a world apart. Here, art dealers and gallery owners spend millions on individual works in passing, which is often incomprehensible to outside observers.
How does the art auction work on Blockchain?
The Maecenas gallery owners in London see blockchain technology as an opportunity to revive the art market by "democratizing" it. On their platform they divide the individual works of art into thousands of digital certificates, much like a company that makes itself in the form of shares. These certificates are tamper-proof thanks to Blockchain's cryptographic features, allowing investors to trade digitally with no hassle and middlemen.
Once a piece of art is listed on Maecenas, a bidding process begins. Investors make confident bids on how many certificates they want to buy for what price. Bidders must go through a KYC (Know your customer) and AML (Anti Money Laundering) check in advance. According to Maecenas, crypto technology makes this process safer, fairer and harder to manipulate than previous art auctions. Prices are quoted in fiat and cryptocurrencies, with buyers able to choose how they pay. A separate token called ART should avoid conversion risks.
14 electric chairs
For the first art action on the Blockchain, the dealers have chosen a highly esteemed work by pop art legend Andy Warhol. Warhol revolutionized the art world with his techniques of reproduction in his day. There was no longer a single work by the artist, but entire series. His neon-colored Marilyn Monroes and Campbell's soup jars hang in various designs around the world.
So it is with the "14 Small Electric Chairs", which will be the object of the first crypto auction. In 1960, for the first time, he alienated a picture of an electric chair as part of his "Death and Disaster Series", duplicated it and banned it as an abstract pattern on canvas. His electric chairs are now hanging in numerous museums, including the Tate in London and the Guggenheim in New York.
The now auctioned work was created in 1980, when Warhol reworked his old motifs for his "Reversals" series. The picture is estimated at 5.6 million US dollars, Maecenas has set a reserve price of 4 million. The Blockchain Art Auction will kick off on June 20 at the Dadiani Fine Art Gallery in London.